That's How I Discovered Darjeeling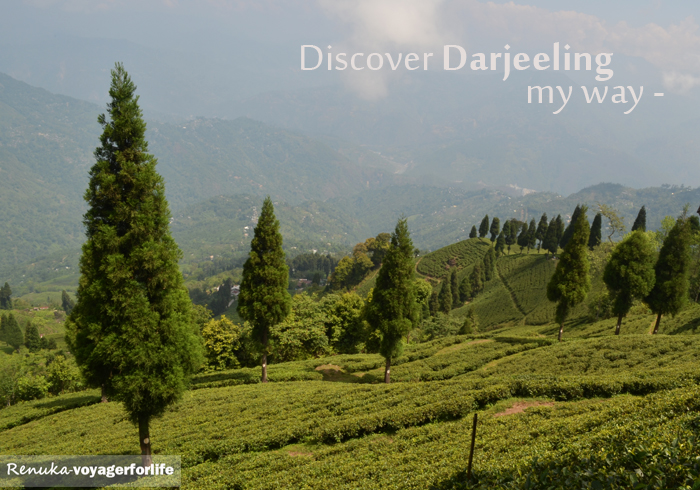 Darjeeling is a legacy. It's not an ordinary destination. I had a void in me as a traveller that always kept Darjeeling somewhere on my radar. Even though I had heard so many bad reviews about it, I still wasn't deterred about visiting it.
I still wanted to make it there.
As I always say that I am a curious traveller, I want to do what I want to do, and I want to go where I want to go. I will probably hit my head on the wall and know that it hurts, but I will still do it once. Since I was in Sikkim, Darjeeling wasn't a distant dream.
When I am fascinated about a place, I draw a certain picture of it in my mind. Somehow, I knew Darjeeling was going to be delightful. I remember my first impression about it – there was a tinge of glow in my heart the moment I touched the brinks of Darjeeling district. I could feel a difference in the air. The pine trees on my both sides hinted at the secret treasures that I was about to unravel.
I DIDN'T go to Darjeeling town.
I went to Darjeeling, but not to the polluted, busy and commercialized Darjeeling town. I chose to stay in the quietude. I explored the offbeat Darjeeling – the villages, the tea gardens, the lesser-known towns, the British heritage, and enjoyed mingling with the Nepalese folks.
Lamahatta
Lamahatta was my first layover.
I kept it pretty off-the-cuff. When I was heading to Lamahatta, I didn't have any idea about the place. I wanted to go somewhere else, but didn't find a room there, so I had to settle for another accommodation, which landed me in Lamahatta.
Lamahatta is a small village, which is also one of the best spots to have clear glimpses of Kanchenjunga Mountains. 
Goomtee Tea Estate & Resort
Goomtee Tea Estate & Resort got me a chance to stay at a vintage bungalow.
Now there was another surprise waiting for me at Goomtee Resort. I didn't know it was a British-era cottage, which was turned into a resort for travellers to enjoy a stay in the midst of nature and taste the freshly harvested Darjeeling Tea.
Dilaram Village & Tea Gardens
Kettle Valley Home Stay introduced me to Dilaram Village and its tea gardens.
After the colonial stay, I had the warm hospitality of a Nepalese family in store for me. My hosts at Kettle Valley were exceptionally nice. They unveiled the real gems of Darjeeling to me by taking me for village walks, tea garden trails and also educating me on little nuances of their local traditions and everyday life.
Kurseong
I discovered Kurseong, a lesser-known town in Darjeeling district.
It was not on my itinerary. I never planned to explore Kurseong, but it just happened by chance. That's the beauty of travel. While I stayed in Dilaram at Kettle Valley, I managed to know a town like Kurseong too.
Darjeeling district has hill stations like Darjeeling, Kurseong, Mirik and Kalimpong
Darjeeling Town
I made a day trip to Darjeeling town.
Yes, I mentioned in the beginning that I didn't go to Darjeeling. I wanted to imply that I didn't devote much time in the commercial town. But I did take a quick trip to the main Darjeeling town as well. I must say that when I reached there, I was smugly happy to have made the right decision of not making it my base.
The Darjeeling hill station is clearly waning. It is far from the charms of the old classic Darjeeling. Although the attempts to make the whole district a tourist web are quite evident, there are still many 'untouched' places that I wish remain undiscovered for the rest of life.
So, now you know how to explore Darjeeling, right?
Have you been to Darjeeling? How was your experience?
If you enjoyed this post, you can –
Subscribe to receive 'new post' updates through Email.
---
---