My Food Trail In Mumbai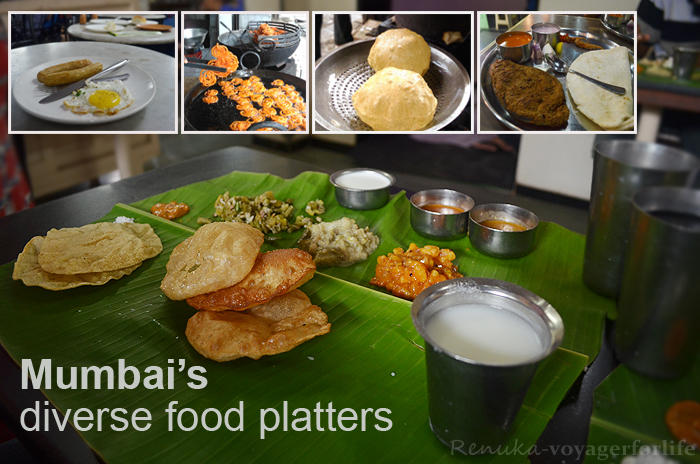 It was my husband's idea that we take a food trail in Mumbai. Since he's lived in Mumbai for quite a few years now, and is a foodie, he knows a great deal of eateries in the city. So, the long weekend couldn't keep us at home. We were out to taste different regional cuisines of India in one city!
I have to say that Mumbai is an amazingly diverse city. Who says it lacks space? In fact, it has place for everybody! Coming to food, which is the topic for today, Mumbai offers a great variety. I think you need quite a few long weekends to be able to taste all kinds of cuisines that are available here.
For today, let's talk about Irani, Malvani, Udipi and Punjabi food in Mumbai –
We started our food trail with breakfast at Kyani bakery and restaurant in South Mumbai. It was my first taste of an Iranian cuisine. Although the breakfast options were simple and quite similar to what we usually eat, they had their own unique flavours. Besides the Iranian tea, we had Bun Maska, sausages and three different types of egg preparations. I'd say the Iranian flavours are subtle, but delicious.
After a heart and stomach full of Iranian food, we headed for a Malvani lunch at Malvan Katta in Dadar West. According to Wikipedia, Malvani cuisine is the standard cuisine of the Konkan region of Maharashtra and Goa, and some northern parts of West Karnataka. Although Malvani cuisine is predominantly non-vegetarian, there are many vegetarian delicacies. Although it is an independent cuisine, it overlaps Maharashtrian cuisine and Goan cuisine.
We had Bhakri (chapati made with rice), Kombdi Vade, Sol Kadhi (made from the kokam fruit and Coconut Milk), mutton curry and a couple of fish dishes.

We lunched at Udipi Shri Krishna restaurant in Matunga the following day to enjoy a South Indian 'plantain leaf' platter. Matunga is a mini South India in Mumbai. Besides the South Indian restaurants, you can also see the glimpses of culture and traditions sprinkled all over the place – temples, flower vendors and traditionally dressed men and women.
Although I don't really relish South Indian food, I love the veggies that an Udipi platter serves – it's so delicious and healthy. But, whoever is a fan of Rasam, Sambhar, wet curries and Paayasa, you must try an Udipi platter in Matunga.

Now the third day of our food trail was in JTB Nagar, which is a Punjabi neighbourhood of Mumbai. To have an authentic Punjabi breakfast in Mumbai, you need to eat at Guru Kirpa – Amritsari Kulcha and Dilli de Chhole Bhature. It's a small, modest shop run by a Sardar. He's a nice fellow, who seems enthusiastic about serving his guests. Of course, I had a great time gorging on the Chhole Bhature and Kulche, but I also loved the fact that I could reminisce Delhi and its delectable Punjabi food.
Well, the post is not over yet. I'm looking forward to more such food trails in Mumbai.
Have you had a chance of tasting varied cuisines in your city?
If you enjoyed this post, you can –
Subscribe to receive 'new post' updates through Email.
Become a fan on Voyager For Life Facebook page.
---
---