Where To Stay In Ziro Valley?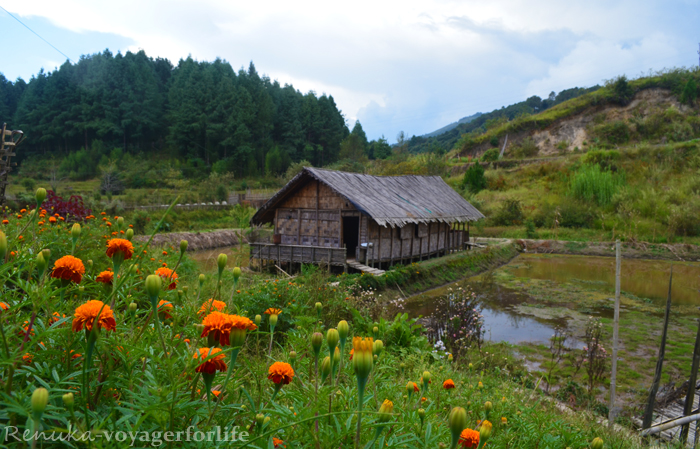 I have been writing about Ziro valley of Arunachal Pradesh. It's time I talk about the best places to stay in Ziro. I'd like to mention that though there are quite a few nice home stays in Ziro (there are some in the Apatani villages also), Siiro Resort is perhaps the coziest stay in the valley.
Why I loved my stay at Siiro Resort –
It's in the midst of nature
The first thing to like about Siiro Resort is that it's nestled close to the mountains. It gives you a feeling that you are in a remote place, where you can just be with yourself and admire the nature's beauty.
I personally love such places because I don't have to rush. I don't have to look at my watch. I can just be with absolutely nothing on my mind.
Yes, all you hear at Siiro is the chirping of birds. It is located away from the market and the buzzing city area, which makes it a peaceful place. If you are someone who likes peace and quiet, Siiro would delight you!
It's comfortable and cozy
Who wouldn't like a comfy and cozy stay while away from home? Siiro Resort has nice rooms with clean bathrooms. Most of the rooms have balconies. I enjoyed having my morning tea sitting in the balcony overlooking the mountains.
It's a good place for morning walks
I like places where I don't have to think where to go and what to see. Siiro Resort has such beautiful surroundings that you can sight-see on impulse. Although I sleep in, I usually wake up early on my travels to experience the freshness in the air and the warm glow of the sun. I'd say that Siiro was a perfect place for morning walks.
There are some beautiful places nearby
The best part about staying at Siiro Resort is that there are quite a few nice places to visit around it. The Apatani villages are not very far. You can explore the villages, the farmlands and the vineyards on a day tour. In fact, you can create your own itinerary and tell the manager at the resort, and he would take you around (in exchange of a fee, of course). It is always good to explore a place with a local, because that helps you extract the insights of a place better.
The resort staff is hospitable
Besides the perfect setting of the resort, what I liked about Siiro was the hospitality of the staff. They were always available whenever I needed anything. They were polite and courteous. I'd also like to appreciate the manager Tallo, who was nice and friendly.
If you plan to visit Ziro Valley, I'd recommend you to stay at Siiro Resort. However, be aware that there is no WiFi or phone connectivity in the property premises. You'd want to buy a local SIM to stay connected to your people at home.
Practical Information: Siiro Resort is 122.3 km from Lilabari Airport, Lakhimpur Assam. But, due to bad road conditions, it takes longer than usual to reach Ziro.
What places in Arunachal Pradesh would you recommend for a comfy stay?
Note: I was hosted by Siiro Resort. But, as always, all opinions are my own.
If you enjoyed this post, you can –
Subscribe to receive 'new post' updates through Email.
---
---