Shimla – A Sojourn To Remember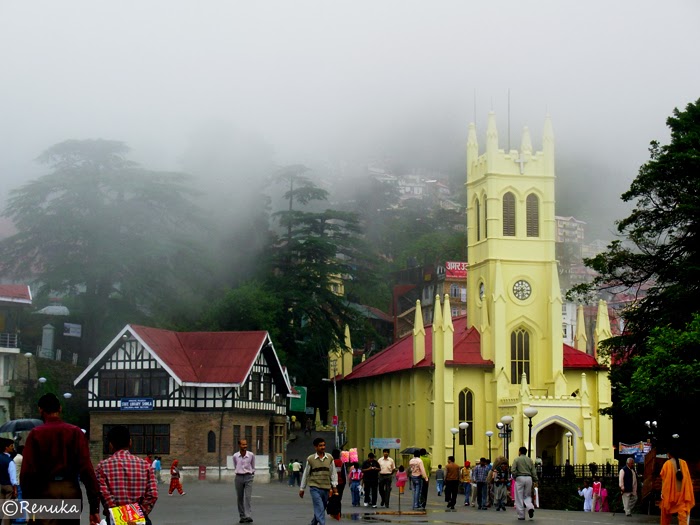 I reached Kalka station early in the morning and could already feel the advent of chilling waves heading from Himachal. However, I was too lazy to pull out my jacket from my bag, or maybe I was just too excited to reach Shimla! Without wasting a single minute, I quickly hired a taxi to reach my destination. I was really thrilled to see the mountains after a long time. Besides, it was my first photography trip ever, so the excitement was soaring high! I was eager to experience the sheer joy of doing my favorite job and holidaying too!
There is something about Shimla that as soon as you get there it just envelopes you in its charm. There's an aura about it that never seems to fade. It's an amazing blend of modernity and tradition. If you want to feel the joy of living like a free bird, this place is worth a visit. One can really abandon the baggage of worries in the mind and savor the charismatic ambiance to the full.
Mountains, valleys and cedars are all in place, however what adds to the hill station's delight are its locals who are unfazed by the world and its artifice. If I were to define the beauty of Shimla, I would simply say that it's like chewing moments with ease. If you want to visit Shimla for its natural beauty, think twice because when you are here mountains are far away! The city of Shimla, is extensively built on the hills, which covers most of the area. However, that doesn't deter a traveler at all. To experience the magic of this place, grab yourself a bench and gazing would be the best activity one could think of, especially on a sunny day. On a misty day, of course, a coffee would complete the picture.
Predictably, I began my excursion with the Ridge, which is at the top of the hill station. It's a popular hangout place where tourists lounge, go for horse-riding or simply saunter. The place has Shimla's landmark – the age-old Christ Church, which can be seen from afar. Its grandeur stands still and glorious. Period. There's also a library adjacent to the church. All in all, it's a place that allows you to slip into a perfect paradise – colonial architecture, soothing breezes and carefree people. What else do you need for a holiday?

Shimla is a commercial hub, which is encircled by various other modest hill stations – Naldehra, Chail and Kufri. The more you explore, the more beauty you get to feast your eyes on! The only thing that may put off a traveler is walking. Yes, walking in Shimla is quite taxing. Make sure your partner isn't lazy because there's no way you can explore this place if you don't put your best foot forward.
I remember I started walking aimlessly while clicking pictures and reached Vice Regal Lodge, which is now an Institute of Advanced Studies. Thankfully, it was raining, which made my expedition a more beautiful experience. I enjoyed taking a stroll inside the premises, amidst the ruined building in the backyard. Though rain was not good for my camera, I locked some gorgeous shots of fresh green grass and flowers, which were coated with raindrops.

Monkeys can really perturb you, but if you resolve not to feed them, keeping them at bay is not a difficult job. Other than that, it's a refreshing experience all through. Accommodation in Shimla is easy and quite reasonable, food is delightful, and you have freedom to just move around on your own, at your own pace.
Garden at Institute Of Advanced Studies
If you enjoy chilly breezes, evenings are particularly more fun. All you need is a good cafe with a cozy ambiance. Wrapping myself in a shawl, I checked into Barista. A steaming hot cappuccino came to my rescue. I thought I got a glimpse of my 'city life' for a while. I loved to see people taking the business of relaxation so seriously. Everyone had their own space and everyone enjoyed being in Shimla!

Next day, I woke up to a misty morning. Blue mountain ranges with a dash of fog took my breath away! For me, it was a great scope for photography. It took a spur of the moment to decide to get on a bus for
Kufri
and
Chail
. It was already rewarding while I was still halfway through. I had already started marveling at the scenic views on the way. I could not help gasping at the glorious mountains.

Kufri is dry during summers, so there isn't much to see when it's not snowing. However, Chail was a welcome surprise! I didn't expect Chail to be so exquisitely beautiful. I had a big wholesome platter for lunch, followed by tea, which pleased my heart to the core. The restaurant was part of the Chail Palace Hotel and garden, where we had halted.
Sun sets behind the Himalayas
As all good things come to an end, my trip to Shimla had to cease. I packed my bags and checked my train timings on my ticket. My train was in the evening from Kalka. I still had a few hours to myself.

After checking out from the hotel, I simply sat down to watch the day go by and that is quite a rich experience in this summer capital. As the sun decided to retire leaving behind its domineering resonance, I too gave in to its majestic hues.

Have you visited Shimla? Would you like to?

Enjoyed this post? Subscribe to receive 'new posts' update straight in your inbox!
---
---