Classic Shimla!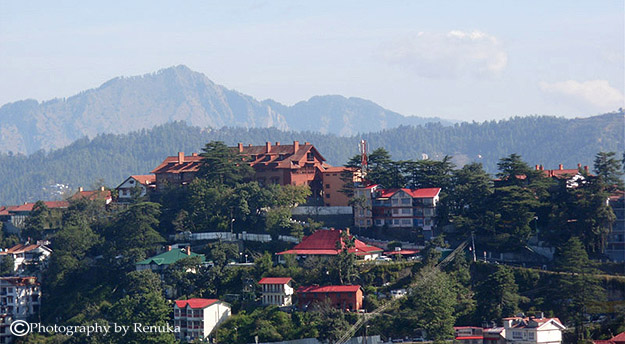 Have you ever wondered what makes Shimla a hot favorite with tourists? I have, and I am here to find out the answer. I have been to Shimla quite a few times, so by now I am kind of used to its essence and charm. There's definitely a magnetic quality about this hill station that captivated the British for so long, and now it's an easy reach for any regular tourist.
Here's a quick look at what really brings you back to Shimla –
The Himalayas –

Whether coated with mist or snow, blue mountain ranges look just adorable. No questions there! Shimla reigns supreme with glorious Himalayas for view.
Sunshine –

There's nothing better than a sunny day in a hill station. The idea of spending a day at leisure with no agenda on mind comes naturally, and that's pure indulgence!
The Buzz, The Liveliness –

Tourists of all kinds are scattered all over, which makes the ambience very colorful and happening.
Interesting Shops and Stores –

Shopping is one of the things that you wouldn't want to miss out in Shimla. If you love to read, check out the book stores on Mall road. For those who like antique home décor pieces or crockery stuff can check out Lakkar Bazaar.
Food, Coffee and Tea –

Can you do without them? Shimla simply bustles with a variety of snack options. You can munch while enjoying the scenic views, as there are many eateries at your disposal.
Colonial Backdrop –

If you are in Shimla, how can you not talk about its colonial appeal? It is known to be the British Summer Capital, thus its elegance is quite evident everywhere. If you appreciate old English buildings, there's no place better than Shimla.
The Ridge
Nagar Nigam Building
Beautiful Trails –

Hiking is a pleasure as long as you are keen to explore. There's a lot that you can discover on your way. Shimla has plenty of surprises. Keep your camera ready – you may spot a gorgeous castle in the midst of lush, dense deodars!
Short Excursions –

You can take quite a few short excursions like Naldehra, Kufri and Chail.
Luxury and Class –

Shimla is one destination, which goes beyond its crowd and popularity, and offers privacy to those who seek it. You can stay at a luxury hotel overlooking the mountains and enjoy some quality time with your family or friends.
Glimpses Of Charming Old-world –

To peep into the times past, have coffee at Indian Coffee House. It's a popular place that offers simple Indian breakfast.
Simplicity –

Shimla is a place for everybody – young or old, affluent or middle class. Its inherent simplicity fascinates all kinds of people with ease.
Churches and Temples –

There are quite a few old classic churches and temples in and around Shimla, which tourists love to visit.
The Mall Road
The Himalayas
Feel-good Ambiance –

There's something in the air that makes you feel very good about being in Shimla. Loitering on the Mall road or grabbing an ice-cream and lazing around at the Ridge – that's a picture perfect day!
Toy Train Joyride –

If you haven't traveled by toy train from Kalka to Shimla, there's something missing in your trip. The train crosses 103 tunnels to reach Shimla, offering many beautiful sights on the way.
Well, I think the list is endless!
Do you have anything else to add? What captivates you about Shimla?


---
---