Matheran – An Inviting Monsoon Trek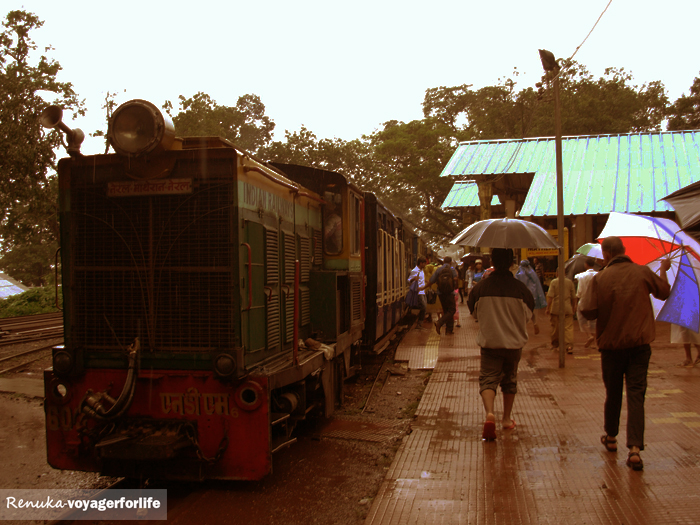 My first escape from Mumbai was Matheran – it's a small hill station ideal for trekking. It had been quite a while since I had trekked, so the idea of a monsoon trek intrigued me. I set out with my backpack and umbrella to this forestry hill station around 100 km away from Mumbai.

It had already started raining in the morning and if I were in Delhi, I would have happily slept under a blanket with absolutely no inclination to go out. But Mumbai rains invite you for an exhilarating day out!
I reached Matheran at around 12 o'clock. The atmosphere was all misty conjuring up for a thrilling trail through the forest. There were various trekking groups, while I was alone. So I simply tagged along a pony rider. He offered me to take a pony, but I preferred to walk. He was pretty amazed to know that I came all alone! He asked me, "Aap akele agaye (You came all alone?), to which I retorted politely, "a solo trip gives you more freedom to do your own thing". Knowing that I was a tourist all on my own, he took care of me through the trek.
It's a distance of around a km from the taxi stand to reach the Matheran railway station and the market. Alternatively, you can travel on a toy train from Neral to Matheran. Just where you exit the station, there is a line-up of shops, restaurants and hotels, which allow you to take a break and refresh yourselves and then set out for the rest of the trek.
I halted at Garden View Restaurant for lunch. It was a simple, basic eating place with both outdoor and indoor seating. I placed my order quite quickly and the service was quick too – a bowl of steaming hot noodles arrived in no time! I had a good time noshing, while watching passersby, ponies and the drizzling.
Being solo, I was a bit jittery when I resumed my trek after lunch. As you delve into the forest, there are several paths that lead to different sightseeing points. Thus, I stopped and wondered for a while before speeding up for a trail. My fears subdued soon when I saw a few ponies appearing from the haze. I followed them and I was a happy trekker again!
Although trekking through the forest while it's raining was not something new to me, the experience was different. It was adventurous in its own way! I went through a range of emotions during the trek – slight fear, excitement, thrill, joy and abandonment.
There are moments when you just succumb to nature. The moment I reached my first spot for a lake view, all I could see was haze, gradually the wind got harsh and it started raining. Even my umbrella could not save me! I still managed to click a few pictures. Frankly, I didn't know what I was clicking because I could hardly see anything! But the experience was still rewarding – kind of therapeutic.
One spooky garden
Who would dare to enter that gate?!

I was spellbound to see many beautiful spots on the way – they were private properties and gardens with lots of lush grass and trees. Mist had added a very spooky quality to the whole atmosphere. For a while, I felt lost – I didn't know where to go. The next moment a lady vendor invited me for a cup of tea. Even though I didn't really intend to have anything, I still went inside the little shop. The moment I sat down to sip tea, it started raining heavily with harsh sounds. I wondered for a while, what am I doing here – all alone in an unknown place in the midst of strangers in such extreme weather?! But that's what I love eventually!
I continued my trek after the tea and followed more trekkers and ponies to lead me to the way to the station. I planned on taking a toy train to reach Neral station, but to my tough luck, I had missed the last train that left at 3:20 p.m. Anyway, I followed a bunch of boys for my way out to the taxi stand. After covering a distance, the boys asked me if I knew the way out. So, none of us knew the way out!
I had more than one fear with me – I was solo, I didn't know the way out and monkeys! Yes, monkeys can really be a nuisance. I was warned by a pony rider not to walk alone because the monkeys could attack.

Anyway, all is well that ends well. I found my way out and headed for the Neral station. 
Do you have a monsoon trek memory that you'd like to share?

Enjoyed this post? Subscribe to receive 'new posts' update straight in your inbox!
---
---