My Experiences In Melbourne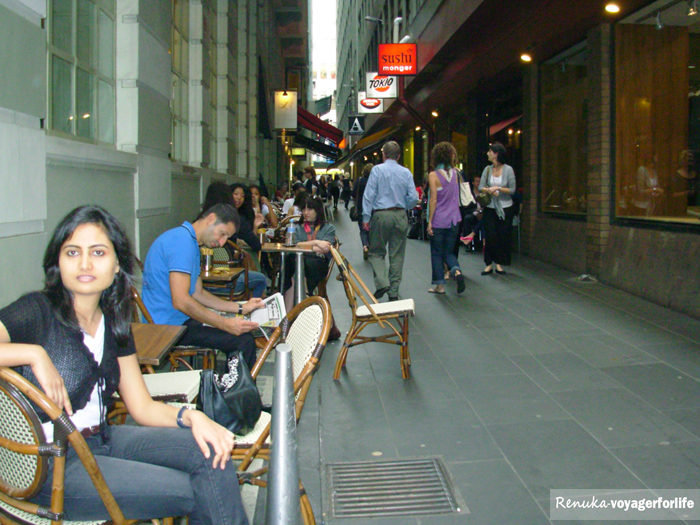 I am fortunate to have travelled to Melbourne – a city of my dreams. If I try to rewind and think of it now, I remember quite vividly that it had always been one of the cities that I fantasised about. Although I didn't know much about it, I was fascinated plainly by its name. I had seen a few glimpses of it in the movies or somewhere, but was oblivious of its character and uniqueness. But when I landed in Melbourne, I found it just as I had visualised it in my fantasy – dainty, quirky and so alluring.
There are some quintessential experiences of Melbourne that a traveller must not miss. It's a city that should be explored with spontaneity. You don't need to worry about things to do or a specific itinerary. 
I got acquainted with it somewhat like this –
Melbourne is full of trams. They look pretty and add an old-world beauty to the city. My sister and I were excited about travelling on a tram. We hopped on one and while we tried to purchase our tickets, the machine didn't work and we ended up travelling without tickets. It was a kind of a sweet adventure for us. We were afraid of being caught by the police, but an amiable local lady who was travelling in the same tram made us feel better about it and told us not to worry.
Melbourne is a coffee capital of sorts. Even we consumed quite a lot of coffee while we were there. It seems like an obvious thing to do while lazing around or even walking. Cafes are mostly seen thronged by all kinds of people. It wouldn't be wrong if I said that it's a kind of a seduction for coffee lovers. 
Melbourne is a walkable city. Pedestrians don't have to bother about traffic at all. The streets are so well organised that you feel like walking endlessly. I don't think I walked so much anywhere else. It's a pleasure to ramble without a care, stop whenever and wherever, glance through the sights, watch trams and other vehicles pass by. 
Sydney, another sizzling city of Australia, is also comfy for amblers.
Lingering in the laneways –
Melbourne has charming laneways. Lingering in the laneways was my most favourite experience. There is so much to see and do – sit and hang out, eat or drink, admire graffiti or simply loiter around. I felt 'laneways' were the place where Melbourne's true character could be found. Later, when I read about the city I realised that I made the right observation.
Savouring the street atmosphere –  
I'd say the 'life on the streets' is the soul of Melbourne. Thus, savouring it comes naturally. There are different engaging elements to take note of – people playing chess, an artist engrossed in painting something, musicians playing different instruments, florist shops, cafes and bars, and people going about their businesses.
Checking out the designer stores and shops –
There are loads of designer stores and boutiques in Melbourne. Although we didn't shop too much, checking out different shops was fun. If you have time and patience to explore, Melbourne is a shopaholic's paradise. Don't be intimidated by brands and labels, there are lots of cheap (yet good) stuff available too.  
While my sis wanted to check out more shops, I decided to saunter around Swanston Street. That's when I visited St Paul's Cathedral, which is located right opposite Flinder's Street Station. It's a lovely church with a great exterior and interiors.  
It was my dream to ride on a carriage like a princess. I fulfilled it with my sister on our last day in Melbourne. Initially, she wasn't too keen for a carriage ride, but when I insisted she agreed. Our carriage rider was a girl by the name of Marriane. Although the ride didn't last too long, it was a lovely experience. It's a good way to soak in the city's sights and nuances. 
So, is Melbourne your kind of a city?
---
---