Top 10 Things I love About Travel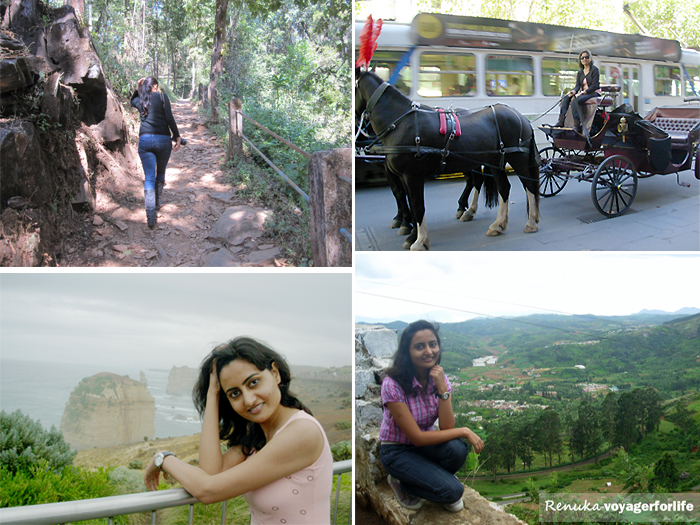 Of course, I love to travel. If you are wondering why do I need to even mention it, let me tell you that I love to talk about travel as often as possible, because that gives me a chance to inspire people about this fascinating aspect of life. I'd like to admit that I need a bit of inspiration myself at the moment. Thus, I feel like mulling over this very topic. I would like to share with you what I really like about travel and would like to hear from you as well!
I'd say hiking is my top favourite thing to do on a trip. It's something that I have been doing since childhood. Since I was born in the mountains (Uttarakhand, North India), I got lots of hiking opportunities quite early in my life. It's something that I enjoy the most. Whether it's hiking up the mountains or wandering through the market places and the alleyways, I love the spontaneity of it. You get to observe so much, in the course of which, you learn so much and the best part is that you don't spend a penny!
I love pictures! If you are not new on my blog, you probably know how often I post photo essays. Photography is the number one priority on my travels. The moment I see something worth capturing, I go berserk. I often refrain from visiting a site if photography is prohibited there. There is an unexplainable joy in seeing something from my own perspective and freezing it for life.
Landscapes give me a sense of freedom. I love to be numbed by the far-reaching panoramas. I feel they have a quiet, yet compelling way of enrapturing you. I love it when the sun leaves behind its poignant hues in the sky; I love the imposing mountains and valleys, the serene lakes, the rustic desert, the never-ending sea and anything and everything under the sun.
I have had some really sweet interactions with all kinds of people on my travels lately. Although I am not exactly an extrovert, I enjoy talking to people that I bump into by chance. I feel it adds more meaning to the overall experience of travelling. I usually like exchanging pleasantries with chauffeurs, hotel staff, shopkeepers and random strangers.
While I enjoy walking endlessly, I also enjoy relaxing and doing nothing. I like to find a spot from where I can catch a good view. I like to savour my surroundings. It could be having lunch alfresco under the balmy sun, sitting quietly by a lake or simply lying on a hammock.
Whenever I am able to experience something new or unusual, I feel I have gained something extra on my trip. Like for instance, I never thought I could hitchhike, but I had to do it on one of my trips and it wasn't bad at all! It saved me money and I could rediscover my own enthusiasm for travel.
I like to appreciate the distinctive character of a place. Every city has a certain culture that makes it unique. I like to admire that uniqueness. For instance, Mumbai has an effervescent soul that reflects in its sights and sounds, while Delhi has an old-world classiness embedded in its heritage buildings and squares. 
The most interesting thing about travel is the unpredictability associated with it. Even though you plan everything, there is something or the other that happens on its own – good or bad. Thus, it's important to travel with an open mind and an adventurous spirit. There have been many instances on my travels when I have faced unexpected troubles and also times when I enjoyed something more than I imagined.
I basically travel to feed my curiosity. I am a curious person and I want to discover my planet. Although I travel to a certain destination because I am fascinated by it, I am generally curious about the whole world. Thus, each new travel experience unfolds more of my own life story. The world is full of thrill and beauty, and I am keen to witness it.
Endless variety and possibilities
Variety is the spice of life and travel offers lots of it. There is a wide gamut of things to experience – different cuisines, art and culture, historical insights, raw natural beauty, adventure and so much more. Besides, slow travel allows you to experience a city like a local and know it deeply.
I'm so glad travel has become an integral part of my life and it has given me the power to be myself.
What do you love the most about travel?
---
---