The Funny Indian Train Journeys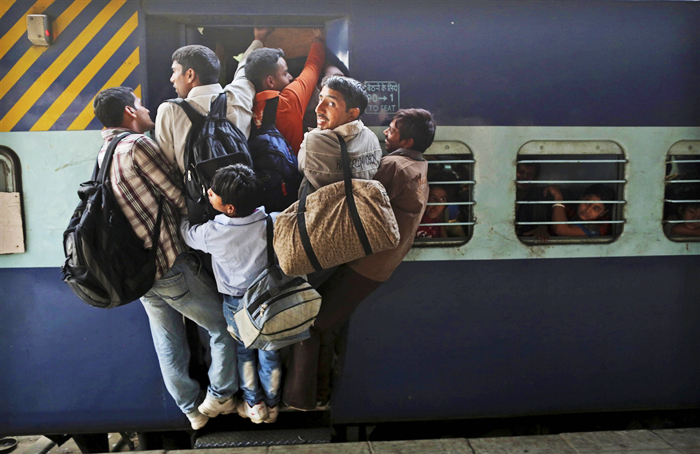 Indian train journeys and humour go hand in hand. If you don't have the ability to take all the drama, chaos and the madness with a pinch of salt, you probably shouldn't travel by a train in India. That said, I would like to acknowledge that travelling on a train in India is an experience. 

Note: All images in this post are sourced from Google. 
I have been travelling on trains since my childhood, so I am used to them and have a bundle of stories to narrate. Here they are in random order –   
I reach the train station and discover that the train is cancelled – It's the most recent incident, which was horrifying when it happened. But now, it's a funny memory. I had a reservation in Mahananda Express (I wasn't aware that it had a bad reputation) and I had to travel from Siliguri to New Delhi. As soon as I reached the station, I could sense a chaos. People had queued up at the ticket counters. Everybody murmured that the train was cancelled. Although dismayed, I still went up to the TT to find out what had actually happened. He confirmed that the train was cancelled (with no trace of empathy). Further, when I asked him if there was an alternative, his response left me even more dejected. He said, "NJP jao aur dekhlo agar kahin jagah mil jati hai tou" (go to NJP railway station and check if you can find a seat in any train).


A sari-clad woman slips inside a train through the window –
Thankfully, I didn't have to travel by this train. My brother and I were standing on the other side of this insanely jam-packed train, which had people literally crammed like luggage in the coaches. There was at least a bunch hanging at the door. We thought we had never seen such a crazy sight. But, we had something better in store – in the midst of all the chaos, we saw a man pushing a sari-clad woman inside the train through its window. Can you imagine it?

A man gets his wallet stolen and is reprimanded by his wife –
I had never witnessed a pickpocket case before. It was so bad. As the train departed the station, there was a bit of a chaos on the train. Everybody was busy settling down. Suddenly, somebody raised an alarm that his back pocket was cut and his wallet was stolen. The poor guy appeared to be so shocked and dismayed. On top of that, his wife rebuked him (harshly) for his carelessness while all the passengers looked on.
Keeping lots of cash in your back pocket on a busy train in India – he pretty much deserved the rebuke of his wife (though I felt bad for him). I hope he learned the hard lesson the hard way.

I almost miss my train –
I was supposed to catch a train from Old Delhi Railway Station to Dehradun. I got stuck in a bad traffic. By the time I reached the station, the train had begun to move. I ran after it in vain. I thought I would manage to get on it. But, my brother, who was with me, stopped me from doing so (he thought I was acting like a Hindi film heroine). After the train had left, a couple of cops advised me to catch it from the next station. So, my brother and I quickly took an auto and reached the next station where the train had stopped for only two minutes. I got on the train and heaved a sigh of relief.
I realized Delhi cops were not all that bad!

A man sleeps under the lower birth –
Travel agents make a great deal of money when we don't book our tickets in time. I, too, had to book my tickets via a travel agent when I had to travel from Delhi to Hyderabad a couple of months back. When I boarded the train, I found nine people in my compartment instead of eight. I kept wondering where the ninth man would settle down when it's time to sleep. Well, I found him making his bed underneath the lower birth.
Anything can happen on a train in India.
Although I don't enjoy train journeys anymore, I believe they have added a significant value to my life as a traveller. Train journeys in India exude a lot of character. The stories and adventures that happen on the trains are unparalleled. I don't think you can experience much on a plane or at an airport.
Have you experienced a train journey in India? Do you have a funny memory or any interesting incident to share?
If you enjoyed this post, you can –
Subscribe to receive 'new post' updates through Email.
---
---