How My Blog Has Changed Me – Celebrating Two years!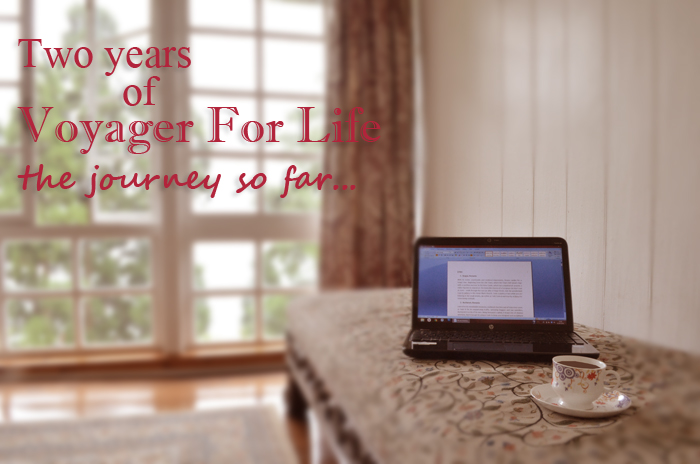 The journey started two years back — I started penning a blog that barely expressed what the voyager in me wanted to say. But, as the time passed by, many stories, adventures and perspectives unfolded. I gradually began to develop a better voice for my thoughts. Seriously, writing a travel blog has been the most liberating experience of my life so far. I get to blend my passions and create something beautiful and inspiring. Although writing and photography have been my passions for quite a long time, putting them on my blog was a step forward.
Travel can be a cakewalk, but travelling like a travel blogger, photographer and a writer is a challenge. I goof-up so many times. I'm still learning from my mistakes. Sometimes, I regret not taking more photographs, not being patient enough for a shot, or maybe not noting down every bit of information. But, I know that as I continue to travel, I will be a better traveller, photographer and a writer.
When I started this blog, I only had my travel photographs to inspire me. I had a vague idea about my mission as a travel blogger. I just got excited with the thought that I had so many beautiful travel photographs and it would be fun putting them on the blog with short write-ups around them. But, I was hesitant about sharing them with anybody. Although I wanted to showcase my photography, I was still unsure about making my blog public. I was totally oblivious about the term 'social media'. The bug hadn't bitten yet.
There was an urge to be known as a travel writer too, but I was totally clueless about its nitty-gritties. I did pitch to a lot of travel editors in hope of getting a chance to write for a travel magazine, but it's not an easy ballgame. Besides, I didn't know the right way to pitch. Then I decided to make this blog a portfolio of my travel stories, which would represent me as a travel writer.
Coming back to social media, I'd say that I was completely naïve. I absolutely had no idea about how to go about spreading the word about my blog. I didn't even know that you are supposed to have a

fanpage on Facebook

, a twitter account or a pinterest board. It took me around three to four months to come to terms with these things. I googled a lot, read a lot and followed all the tips and advice by other big travel bloggers.
Now, when two years have passed, I realize I have explored a different side of me. From being a shy person to a person who inspires so many strangers to travel, I have come a long way. I communicate with so many people across the world through my blog, email and social media. Also, I have done quite a few guest posts and interviews for other bloggerswho belong to different parts of the world.
Here are some of my favourite posts on SOLO TRAVEL —
So, that was a summary of Voyager For Life so far. But, it has a long, long way to go. I promise my readers that this blog is going to have even better travelogues, more inspiration, entertainment and information for you in the days to come. So, keep an eye on it!
Have you landed on this blog for the first time or have you been following it for quite a while? What do you like about this blog? What would you like to change on this blog? Please drop your comments!
If you enjoyed this post, you can –
Subscribe to receive 'new post' updates through Email.
Become a fan on Voyager For Life Facebook page.
---
---