10 Quirky Things About Hyderabad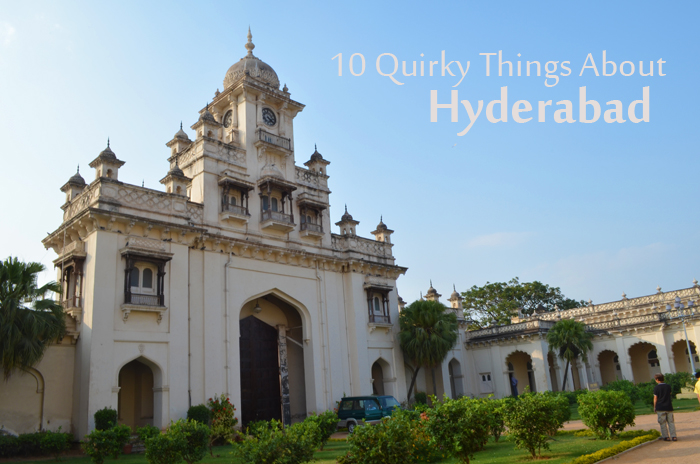 This is the first post in the 'Quirks of Indian cities' series that I talked about in a recent Facebook update –
What is the first thing that flashes in your mind when you think of Hyderabad? Maybe the quintessential Hyderabadi Biryani and the heritage left by the Nizams, right? Each city in India has a certain unique personality to it, and Hyderabad is no different. It's a city that has its own individuality and 'quirks.' Yes, as you spend some substantial time here, you will be acquainted to its various nuances and eccentricities.
Just to tell you that I have been living in Hyderabad for the past one year, which has made me discover it bit by bit. I found it to be an easy-going city so far. I'd be happy to share a few funny, peculiar and cool things about it –  
1.Hyderabad is not a beautiful city.
If I rewind a bit and recollect my first impression about Hyderabad, it wasn't really good. I had thought that I would never want to visit it again. But thankfully, I did make a revisit and got to experience Hyderabad's amazing monsoons, which revealed another side of the city. So yes, Hyderabad doesn't appeal immediately, because of several factors. The roads are not too broad, traffic and pollution are infuriating, and apparently, there isn't much of greenery in the city. But as you spend some time here and explore its different areas, the city vibe begins to grow on you. 
You will miss the winter chill in Hyderabad. Even December-January is a little warm during the day and there is only a slight chill in the evenings. As far as I am concerned, I LOVE IT. If there is one reason I wouldn't want to leave Hyderabad, it's for its warm winters. I love the moderate weather and it lasts quite long.  
And, we are not complaining at all. Well, it's not just about Biryani and the non-vegetarian stuff. Hyderabad is a true-blue foodies' haven. It's like wherever you go in the city, there are so many food chains and eateries that it gets a bit overwhelming when it comes to making a choice.  
Although Hyderabad has adopted a hip culture of multiplexes, shopping malls, cafes, bars and fine dining restaurants, it still has a modest heart. There is a certain charm of wandering the narrow alleys of old Hyderabad and marvelling at the Mughal architecture, while on the other side, there are designer boutiques and trendy pubs in Banjara Hills that appeal to the yuppies. 
The auto guys in Hyderabad are absolutely mindless. It is an utterly ridiculous experience to commute by an auto here. They charge you four times of the valid fare. They have no sense of kilometres, let alone going by the meter. As a local, I take this whole business with a pinch of salt, otherwise these guys can take your happiness for a ride! 
Be it any season, the streets of Hyderabad are decked up with dozens of beautiful fruit baskets and stalls. You can find all kinds of fruits here and that too at quite cheap prices.
Hyderabad is known for pearls and jewels, so the glitter element is pretty obvious. But I found the city quite colourful, too. The display of traditional clothing, bangles and gems in the shops speaks volumes about Hyderabad's age-old love for beauty and shimmer.
Well, chaos is not an alien word in India, but the bustle at Charminar is something to reckon with. If you can take it in your stride, go and experience it once for sure. There is so much happening – the traffic, the hawkers, the people and the shops, yet there is an unruffled glory to it that keeps you sane.
Unlike other big cities in India, Hyderabadis are quite chilled-out. They are not very image conscious. They enjoy life and go with the flow. There are no apparent status distinctions.
As you leave the city fringes, the beauty of rocky hills, fields and farms mesmerises you. When I travelled on the Hyderabad-Bangalore highway, I was awed by the untouched beauty that I came across.
I'd like to sum up by saying that Hyderabad is a highly liveable city with all the comforts, yet it keeps you rooted in simplicity. 
Is Hyderabad your kind of a city? Would you consider living here?
If you enjoyed this post, you can –
Subscribe to receive 'new post' updates through Email.
---
---