Benefits Of Traveling In India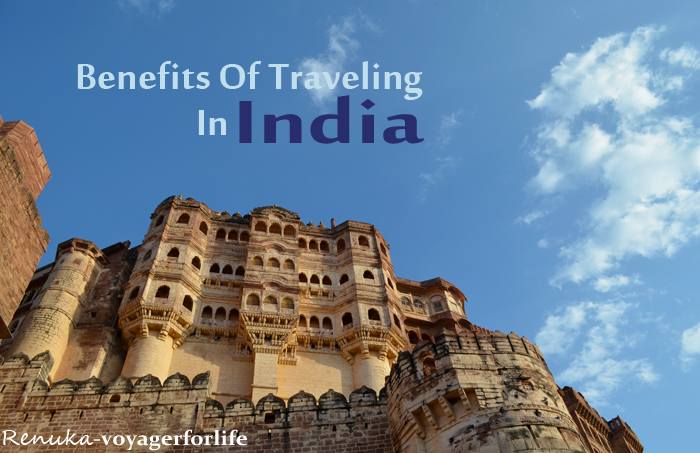 India is a jackpot for a true-blue traveler! Well, I am not saying so because it's my native country, but because it's genuinely a great country. As long as you can handle a few 'not-so-inviting' things about India, it can offer you remarkable experiences. The most common opinion about India is that it's dirty, overwhelming and crazy. Most foreigners have mixed feelings for India, as it annoys and fascinates at the same time. But, once you have tasted its love, you will be captivated for life.
I have had many interactions with many travelers from different parts of the world, and I have come to a conclusion that they all basically love India. There are some who find it a difficult destination, some who are wary of travelling here and then there are some who would like to avoid it totally.
So, today I would like to tell all my fellow-travelers all across the globe that INDIA is your 'home away from home' – be here to experience it.

BENEFITS OF TRAVELING IN INDIA –

India is one of the budget-friendly destinations.
The first benefit of travelling in India is that it's not an expensive country for a foreign traveler. Yes, it is pretty expensive for Indians, but quite affordable for foreigners. A standard hotel room should cost you between INR 1000 – 2000 per night, and a standard platter of food should be around INR 200 – 300 (or even lower). But of course, you need to be well-researched in order to make sound judgments and pick only what's suitable for you.
Shimla: The Himalayan range
You can enjoy slow-pace travel.
Since India is not so expensive, you can have a long stay here. It is one of the countries ideal for slow travel. You don't have to rush through destinations. You don't need to follow a set itinerary. You can pretty much go with the flow and savor each city, village and region according to your own whims.
Luxury hotels in India: Udai Kothi in Udaipur
You can afford luxury without hurting your pocket too much.
Yes, luxury isn't a far-fetched affair for foreign travelers in India. There are many luxurious hotels that offer rooms ranging between INR 6000 to 10000 per night. One such hotel is Udai Kothi in Udaipur, which is not just super comfy and plush, but has lots of character and style.
Most Indians speak English.
Besides Hindi as the national language, India also has a web of innumerable regional languages. However, English is a commonly spoken language in India. Most Indians speak good English, which is one of the major inviting factors for English speaking foreigners. As far as non-English speaking foreigners are concerned, people in India make efforts to learn languages like Spanish and French as well. At one of the hotels in Jodhpur, I found the Indian tourist guide communicating in French quite fluently.
Thar desert in Rajasthan
You can travel spontaneously and flexibly.
Since you don't have to worry too much about your budget, you can be flexible with your travel plans. You can travel on impulse and still won't cringe with every penny that you spend.
Rohtang Pass in Himachal Pradesh
Indians don't charge you for every little thing.
In India, there are a few things that come as perks, such as there is no charge for airport trolleys, and if you want to check out of your hotel and come back to pick your luggage, it's complimentary. I don't know if that's the case in all the other countries as well. But in Australia, they charge for such small things.
Marine Drive in Mumbai
Friendships go a long way.
I am not saying that you should be friendly with any or everybody in India (or anywhere else for that matter), but friendships are valued here. If you are able to build a cordial association with someone in India, be rest assured that it's going to help you a lot. People are basically warm and hospitable in India.
Quiet places in India – Yuksom (West Sikkim)
There are lots of quiet places in India.
Although India is a bustling country, you will still be able to experience peace and quietude here. If you want to stay away from the city traffic and crowd, there are many secluded regions for your relaxation and leisure. And the best part is that you will find many low-cost accommodation options in such places.
Also check out my story on Yuksom.
Fresh organic produce in Tamil Nadu
You will have immense food choices.
Foreigners usually perceive India to be unsafe for their health, but the truth is you can have any kind of food you like. If you wish to have organic vegetarian stuff, you can have it. You don't have to eat the spicy stuff that you are not used to.
Lastly, I would say India has got a lot of variety in everything, so you can really build your travel plans according to your tastes and preferences. For instance, there are accommodation options for every class and budget.
Have you traveled to India? What was your experience like?
If you enjoyed this post, you can –
Subscribe to receive 'new post' updates through Email.
---
---