Darap Village – A Sneak Peek Into A Fantasy World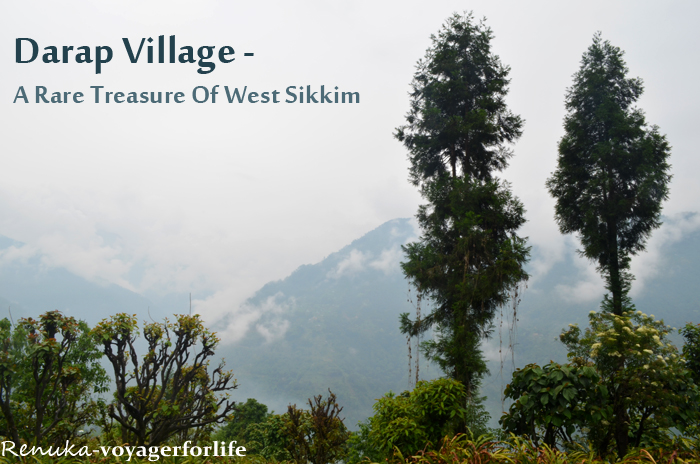 "Our happiest moments as tourists always seem to come when we stumble upon one thing while in pursuit of something else." — Lawrence Block
I found this quote to be bang on for my story about Darap Village. I landed up in Darap Village, while I wanted to go to Pelling. I was oblivious of the fact that I had booked my accommodation in a home stay, which was in Darap Village, and it was a little away from Pelling. So yes, I passed through Pelling, but my actual sojourn turned out to be in Darap Village.
Roses are a common sight in Sikkim.
As soon as I reached my home stay, I realised I had something better in store! I was thrilled to bits to discover that I was in the midst of plenteous natural beauty. All I could see around was lushness and hear a reverberating sound of water running by somewhere. It was all so refreshing and pure.
Every nook and corner is beautified with flowers.
Abundance of love.
The following day, I was all set to go on a village hike with a young local guide, who was also a student. He proved to me a great help, as I had planned a serious photography day. Since it was raining on and off, it would not have been possible without his support. He held my umbrella for me while I took my own sweet time in framing and focussing.
My guide and assistant on that epic day.
As we continued to hike, my guide educated me on many little things about the village, like its inhabitants were a mix of Limboo, Lepcha and Gurang community. The first and foremost thing that I noticed on my own was the blossoming Cardamom plantations. Later, I was told by my guide that it was their main source of income.
Cardamom plantation
My first halt was at a house, which was supposedly 100 years old. Yes, it was that ancient. There was just one old man inside the house, who was sitting by the stove. His kitten kept loitering around him. After a brief chat with the old man, we moved ahead to meet other villagers.
A kitten for company
An ancient house – 100 years old as told by my guide.
The tribal folks in Darap Village looked so fascinating. They dress a certain way, they wear quite a lot of ornaments and they have an uncanny layer of contentment on their faces. I hope you didn't miss the photo essay on the faces of Eastern Himalayas.
This lady appeared out of nowhere, but she looked picture-perfect.
This is the preparation of a Sikkimese local beer – Tongba
I discovered many quirky things about the village life in Sikkim (I don't know if that's the lifestyle in villages everywhere else, too) – as I mentioned earlier, there is a kitten around the stove, perhaps because she wants to stay warm. When I asked my guide about it, he told me they kept a kitten in every house to keep mice at bay.
So story-bookish… isn't it?
Hospitality of the old-fashioned hearth
I was offered tea or water at almost every house that I visited. All of it seemed to me a storybook kind of a fantasy – cute little huts, old-fashioned hearth and the queerly dressed tribal people.
She's heating the vessel to prepare tea for me.
…And here's my tea! (Notice the mug! It's so pretty!)
Straight out of a story book
The classic old woman, who gave me my best photographs ever.
My absolute favourite was an old woman, who stood outside her hut as we approached. It was all misty and surreal around her hut. She had expressions of an English royal lady and even her attire was so old-worldly and charming. Her smile had a certain conceitedness that she wasn't aware of. It seemed as if she had got bored of her palace and moved into a hut. My camera was dying to capture her wrinkles. While I was on top of the world to have photographed her, she kept saying "I am old, I am old".
Well, I was certainly on a high while trailing through Darap Village – meeting villagers, exchanging smiles and pleasantries, sipping their smoky water, and lapping up their simplicity.
Have you experienced a 'fantasy world' like this? Is Darap Village your kind of an offbeat escape?
If you enjoyed this post, you can –
Subscribe to receive 'new post' updates through Email.
---
---