'Solo Travel' vs. 'Family Holiday'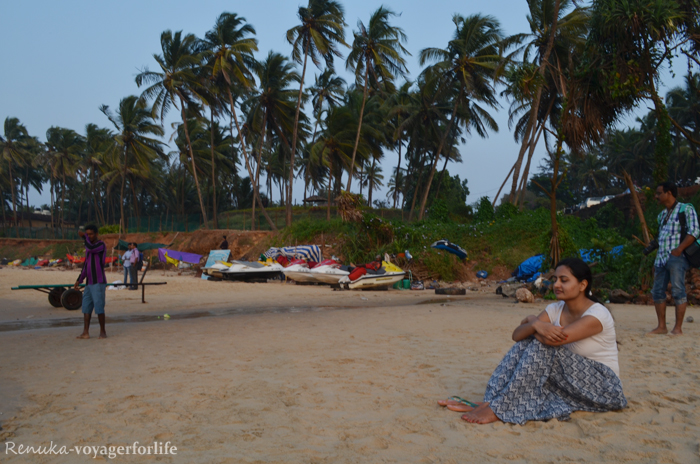 On my recent trip to Goa, I realized that family travel is wonderful, but solo travel is better on any given day! For the past few years, I have travelled alone so much that travelling with people sounds like an uninviting idea to me. I mean I can travel with people, but with only those who are like me – who are as curious as me, who like adventure, who have tons of patience to get a photograph right, who can wander without an aim and who have a sense of wonder for ordinary things of the destination in question.
If you are laid-back, get tired too soon and don't care to explore something different, I really don't want to travel with you! But, don't get me wrong! I am not judgemental about those who are unlike me – those who have different ways of travelling than mine. So, coming to my family, I'd say I have the most supportive people behind me. I can't thank them enough for being there for me always.

The 'guilty' conscience creeps in
But, I feel guilty when I travel with my family, because they care for my interests so much that they seem to just wait while I do my own thing. For instance, they didn't quite enjoy lingering around in Fontainhas, an old Latin Quarter of Goa, but they still let me wander around and take photographs. Although they didn't show even a hint of boredom, I felt guilty within me that they were not enjoying. My attitude and feelings reflected in my photographs, too. I didn't take the kind of photos that I could have. I'm sure I would have done a better job had I been alone and without a streak of worry at the back of my mind that someone was waiting for me.
Left – My family waits as I take photographs at Fontainhas. 
It's hard to avoid the 'blame' game
No matter how cooperative you try to be, conflicts do arise at some point or the other. In my case, I like to be spontaneous with places that I visit. I don't let disappointment weigh me down. If I don't like a particular spot or place, I simply come back. But when you travel with your family, the 'blame' game does come into the picture once in a while. For instance, you suggest a place that you read or heard about somewhere, which turns out to be sordid, get ready to listen to a few grumbling remarks. I'm sure you are nodding in agreement.
A glimpse of South Goa countryside
You can never have enough time
Everything is time bound with family. I have to tell you this – On my insistence, we visited Loutolim Village in South Goa, which was nothing out of the ordinary. But I am sure there are lots of beautiful places in South Goa, which probably are farther than where we went. Had I been alone, I would have taken the trouble to travel as far as I could and discovered something worth writing home about.  
It was both 'family' and 'solo' travel for me
It was a dual trip for me, where I savoured the family togetherness and also did a few things alone. But I am not complaining about that! I absolutely LOVED both the experiences!  
Things I enjoyed with my family –
– Relaxing on the beaches
– Barbecue in our apartment balcony
Having breakfast at Verendah Restaurant, Panjim City
Happy times! 🙂
Dinner at Living Room, North Goa
Barbecue – The most fun part of our stay in Goa
– Evening and morning strolls along the Goan homes in Saligao
– Visiting the local bakery of Saligao
– Visiting the art gallery in Panjim City
My morning walk in Saligao
Chasing the sunset alone…
Family travel is refreshing, but solo travel is enriching
I wouldn't be wrong if I said that I was split between my family and myself. I'd say that family travel is necessary. It's a great way of refreshing your relationships. There are a lot of moments of laughter, warmth, silliness and fun. On the other hand, solo travel is introspective and a genuine rendezvous with a place.
I think I'd like to conclude by saying that you can take a 'holiday' with your family and 'travel' on your own.
What do you think? Do you also think that SOLO TRAVEL is better any day?
If you enjoyed this post, you can –
Subscribe to receive 'new post' updates through Email.
---
---