An Abandoned World Called Lakhpat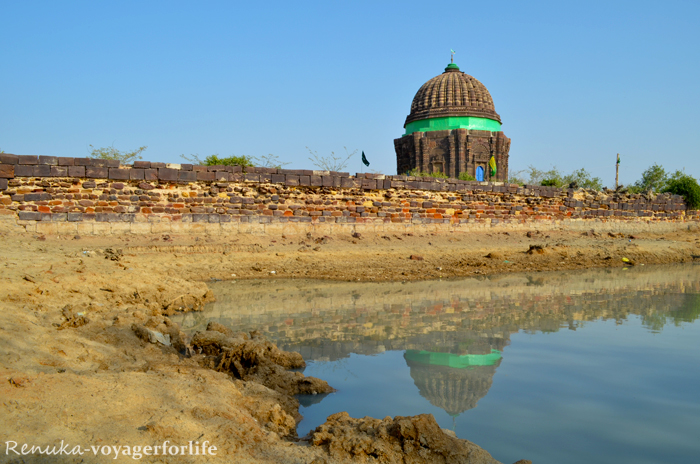 Lakhpat is a package of stories. It's a majestic world that has endured the assaults of times and now rests in its unruffled glory. When I went to Lakhpat, I went to see the Lakhpat fort, but when I returned, I returned with Lakhpat – a world of its own. Besides the fact that it's only 35 km from the Pakistan border, which intrigues you in the first place, Lakhpat has many gems to unearth.


Wikipedia – "Lakhpat is a small town and sub-district in Kachchh district in the Indian state of Gujarat located at the mouth of Kori Creek. The town is enclosed by 7km long 18th-century fort walls."
The door of Akbani Mahal
The fort is in a ruined state – the gates have fallen, the walls are broken and battered, and all you see around is bushes and barrenness. The Chhakra (auto) guy who got me there played my guide as well. He knew quite a lot of things about Lakhpat, which he kept sharing with me as I moved around. Lakhpat used to be a very prosperous land of traders before 1819 when an earthquake changed its fate. Lakhpat literally means millionaire. Interestingly, though, it still has shades of royalty in its wrecked state.
Catching up with the BSF staff
I began my discovery of Lakhpat from the edge of the fort, where there was a stairway leading to a border outpost that had two army men on duty. I was in awe of them and the place. It was around 4 in the evening, but the sun was still blazing, which made me spend some time under the outpost shade and have a conversation with the army men. We chatted about everything from border security to Hindi movies. They were quite amazed to see a woman travelling alone and were happy to have a word with me.
The white temple in the middle of the sea was built by the producers of the movie Refugee.
Our men at the border
Later in the evening when the sun mellowed down, I bade the army guys a very reverential goodbye and moved ahead to explore the rest of the fort. As I mentioned earlier, the fort is in ruins now, I found nothing but the walls around. I just hoped to see something pleasing to my eyes. The auto guy had mentioned about a tomb and a pond, which hinted at something marvellous. And yes, it was marvellous indeed! The tomb, known as Kubo tomb, was built by Pir Ghosh Mohammed alongside a pond, which is not an ordinary pond, but is supposed to have healing power in its water. I was told by my auto guy and a young chap (who apparently takes care of the tomb) that the pond water is blessed by the Pir and can heal skin ailments. Well, I was more impressed by the tomb's architectural beauty – it was black, yet had a divine charisma entrenched into its carvings. I liked what the young chap said to me, "Uss zamane mein logon ki ruh saaf hoti thi, nazar paak hoti thi. Aaj ke daur mein koi itni khoobsurat imarat nahi bana sakta." (People of the olden age had purity in their souls, and thus could build such beautiful monuments. It's not possible for the people of today to execute such pure art.)
Kubo Tomb
The water of the special pond changes color – blue to white
A place where peacocks make appearances
Lakhpat isn't the kind of a place that overwhelms you in an instant. But, if you have the curiosity to unravel its treasures, it leaves you speechless with its 'faded' beauty. After the tomb, I walked ahead to be enamoured by the random sights of village huts, remnants of old walls and peacocks prancing around. It was almost like when I thought that there was nothing more to see, I stumbled upon something that dragged my attention.
The existence of peacocks says a lot about Lakhpat's royal past
The walls still stand tall
The settlement at the fort
Ruins and glory of Lakhpat
That's how you spot peacocks at Lakhpat Fort
The balcony hints at the ancient splendor
There is a broken Custom House, which was the chief administrative office for trade in the mid 19th century. It was known as the Chowk Bazaar or the Bada Bazaar. Just close to it is Akbani Mahal, which was home to an affluent trading family of Lakhpat. While I was greedily taking photos of the ruined glory of Lakhpat, a man who resided there asked me inquisitively, "What will you do with these pictures?" But as he walked along, he kind of comprehended my passion and indicated that there was so much more to photograph. Ah! Yeah, I knew. I wish I could grasp and capture all of it.
The custom house
The broken walls of Akbani Mahal
The stones at Lakhpat Fort are unique – they are known as thumri.
So yes, Lakhpat is a place where people reside; it's a place where Muslim mosques and tombs exist alongside the temples and the Gurudwaras.
Pir Sayed Shah Tomb
Towards the end of my Lakhpat discovery, I halted at Pir Sayed Shah Tomb that I had spotted from a distance and was already fascinated by its white exterior. All I thought in my heart was that Lakhpat was a bundle of surprises that unfold at every step of the way.
Practical Information: Lakhpat is 134 km from Bhuj and 90 km from Devpur. It is advisable to hire a taxi to get to Lakhpat as the journey is quite long and tiring.
Have you been to a place that left you totally awestruck?
If you enjoyed this post, you can –
Subscribe to receive 'new post' updates through Email.
---
---