Where Am I Going Next?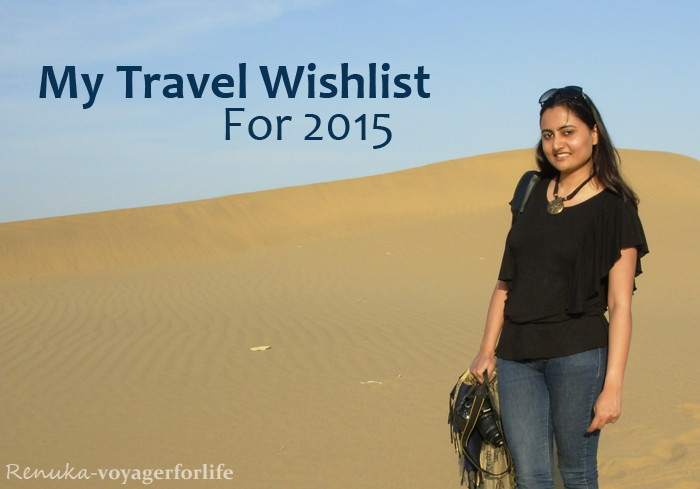 Although it's exciting to talk about one's travel plans, I find it a little inappropriate. And thus, I am writing this post after a lot of mulling over and a bit of hesitation. I always maintain that I am a spontaneous traveller, and most of the time I don't choose my destinations. I travel as and when it's possible. But, I am consciously making a change this year – an upward change in my travel life.
As I have said before that I am still struggling money-wise and it's not really rosy to be a freelancer, travelling frequently is a difficult choice for me. Nevertheless, my courage, determination and passion to live my dream will take me to many new places this year. As long as you want to do something, money does come along sooner or later.
So, here come my travel plans for the year ahead –
I am going to Gujarat this month! I had got intrigued about Bhuj last year and wanted to make it there in October, but that didn't work out for me. Anyway, I am finally going there. Before I head to Kutch, I hope to explore a bit of Ahmedabad, too. I have heard that it's currently one of the most liveable cities in India. So, I am really curious to feel its vibe. I chose Kutch to be my main destination in Gujarat, because I am avidly keen to unravel its rustic life. One of my favourite movies, Lagaan has played a big role in enticing me to travel to Bhuj. Let's see to what level the reality matches up to my fantasy.
I don't just want to visit Panchgani as a traveller, but it's also very much needed that I get acquainted with it. I wrote a novella four years back (I can't believe it's been that long!), which is set in Panchgani and thus, I want to visit it to be able to give my story a more realistic touch. So, Panchgani will be more of a writing break for me.
My Kashmir trip is long overdue and now I really want to get done with it. I am hoping to make it there in April or May. I was supposed to be there last year in the summer right after my Darjeeling trip, but it couldn't happen. I was trying to hit too many goals together and all of it seemed too far-fetched at that time. I realised that Kashmir needs a lot of research and planning. Oh yes, I have my eyes on good flight deals!
I really wish Ladakh is off my bucket-list this year! I have read, heard and seen so much about it virtually that I feel deprived as a traveller and as a photographer. I want to go there primarily for the landscapes. I am waiting to squeal like a child at the first glimpse of the divine land called Ladakh. Ah! I am planning to combine Kashmir and Ladakh. I want to head to Kashmir first and then take a road trip to Ladakh. Does that sound like a good idea?
Also, I might look out for some nice Ladakh Tour Packages.
Jaipur, Pushkar and Chittorgarh
I am dying to revisit Rajasthan during the monsoons this year! It is my ultimate favourite destination in India. However, I will consciously avoid going to the places that I have been before and explore some new ones, such as Jaipur, Pushkar and Chittorgarh. But I am flexible with my plans. I want to keep it spontaneous and just follow my heart wherever it leads me.
So that's about it. I don't have anything on my mind for autumn as of now. All I can say is that there is going to be a big surprise for me and for my readers towards the end of the year. 
What about you? Tell me one destination that you are determined to tick off in 2015?
If you enjoyed this post, you can –
Subscribe to receive 'new post' updates through Email.
---
---