Manali – An Escape To Countryside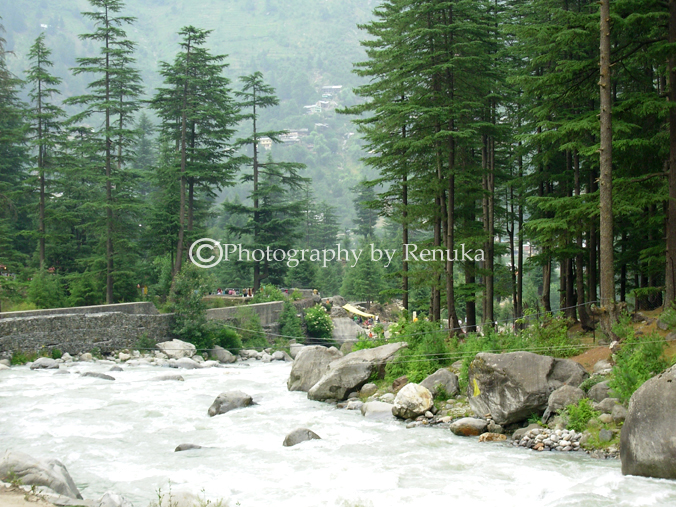 Reverberating river by your side, soft and balmy breezes, fragrant flowers and fruits, chirpy birds, hills and dales around… sounds like a trip to childhood, right? Yes, Manali is a place where you can abandon the baggage of responsibilities and rest in the lap of nature.
I absolutely love the idea of outdoor eating and lounging – I remember, I was very particular about sitting endlessly under an umbrella and enjoying my morning tea followed by a sumptuous breakfast. My idea is never to visit all the famous spots one after the other and come back. For me, the real excursion is when you are laid-back and carefree. That's what you can experience in Manali. Every traveler has his or her own way of exploring a place – some like to rush through things and cover most of the touristy places. However, it's a slow traveler who can truly touch and feel the pristine beauty of Manali.
Also read: My Favorite Places For Slow Travel
A beautiful lawn by the river

In my opinion, a place should offer you something interesting even from your hotel's lobby or from your room's window. I was so delighted to open my room's window in the morning and sit by it for a while.
Manali is pretty crowded and polluted, so if you would really like to see the place, explore its countryside. Keep it slow and simple, don't rush into things. Keep it a surprise; don't get a tour guide, simply set out on your own to find 'your kind of place'.
15th Century Hadimba temple

Van Vihar is a nice morning place, where you can spend some quiet time and walk in the midst of trees. There is an ancient temple, by the name of Hadimba at Van Vihar. It is quaint and beautiful. I found its architecture quite interesting. There were many people who visited it.

To be honest, I was put off by Manali's over-crowded atmosphere, however I was relieved to discover its picturesque trails. While trekking through the countryside, I found many grain fields and orchards, which is an unusual bargain for a townie.
To my delight, I found an Italian restaurant, IL Forno, settled beautifully with a backdrop of lush greenery. I enjoyed wonderful spinach pasta, which was a perfect way to sum up an afternoon.
IL FORNO, Italian Chef – An unassuming restaurant with interesting wood architecture

Well, there's never enough that you can extract out of a place – there's always more to explore, more to experience.
Have you been to the rural side of Manali?

Enjoyed this post? Subscribe to receive 'new posts' update straight in your inbox!
---
---