My Favourite 'Chai' Experiences In India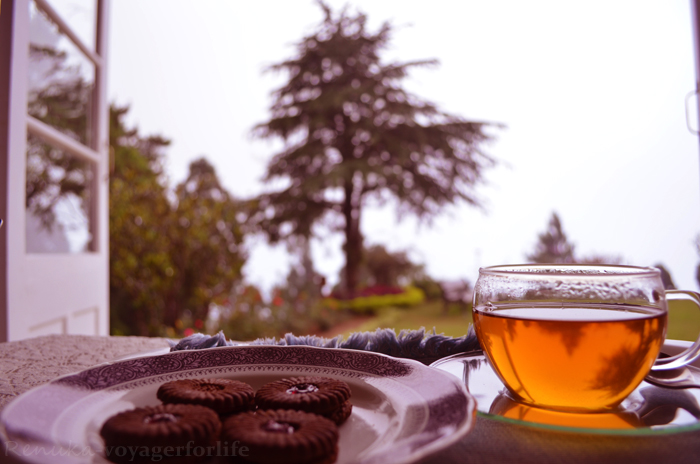 A cup of Chai in India holds a lot. There's definitely more to a cup of tea than its aroma and taste. Tea is a kind of necessity. It's an emotion, an expression…a medley of thoughts. A cup of Chai in India is an excuse to celebrate so many little things – the rains, the morning newspaper, the late-night chitchats, the train journeys, the much-loved friends, the not-so-loved guests at home…and so much more.
Chai has been a significant part of my travels, too. Although I can live without tea at home, I crave for a good cup of tea while I'm travelling. There's something about Chai that enhances the joy of your experiences. But, do you get good tea everywhere? Umm… Not really. While tea is so important in Indian living, it's not so easy to find a real good cup of tea. There's this extra sweet, over-boiled tea that you get anywhere and everywhere in India. Well, that's not my cup of tea.
The tea that I'm talking about is the real good tea. The tea that refreshes, delights and makes you happy.
Before I talk about my favourite Chai experiences in India, I'd like to mention what inspired me to write this post – it's this beautiful post by travel blogger, Candace Rose Rardon "Home is a Cup of Tea", which made me think about my tea experiences in India. Candace has weaved an exquisite post on tea, which also showcases her brilliant sketches.
So, let me share the stories of

my best 'tea' experiences in India.

One cup at a time –
Kashmir, one of the dream places I have been to, serves good tea all the time. Yes, it's not just about one or two instances. But, I had good tea throughout my stay in Kashmir. And, I had quite a variety of Chai experiences – homemade tea, restaurant tea, small tea-shop tea and tea in a village home.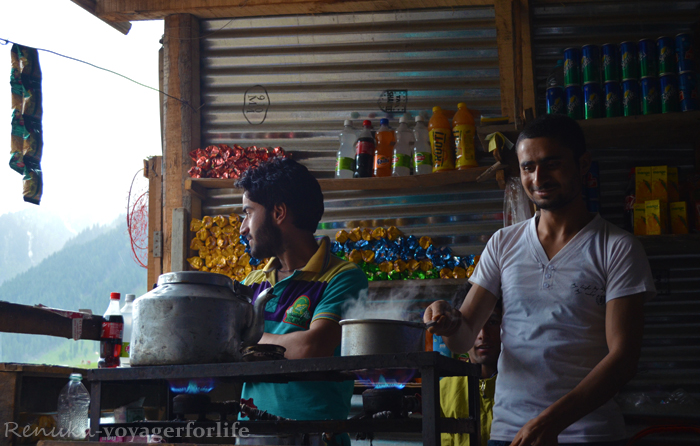 Kashmiris are known to have Nun Chai, which is salty in taste. I won't say that it gives you that Chai ka maza (tea flavour), but you can enjoy it like a soup. Another tea Kashmiris have is Kahwah, which is the tea without milk. It's prepared with dry fruits and whole spices like cardamom and cinnamon. The usual milk tea is called 'Lipton' in Kashmir, which is zaikedar (flavourful).

Darjeeling
I had always dreamt of having tea straight from a Darjeeling tea estate. So, when I stayed at a tea resort in Darjeeling, enjoying an aromatic, flavourful tea was a foregone conclusion. A typical Darjeeling tea is the black tea, which is savoured without sugar. Well, I used to add sugar to my tea, but the locals told me to have it without sugar for better flavour.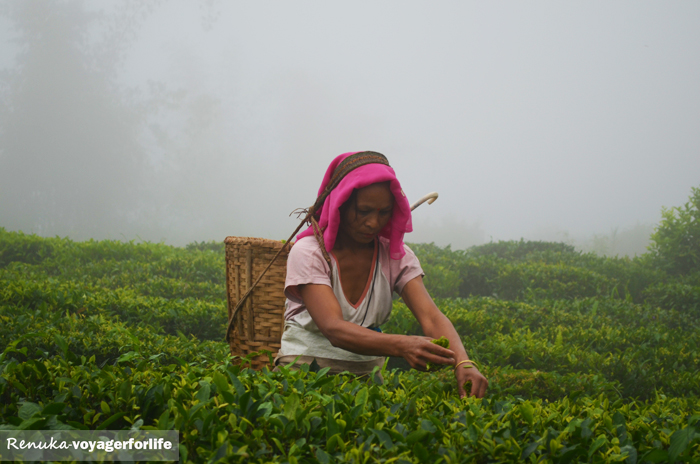 A Darjeeling tea has three distinctive features – the aroma, the colour and the taste. It's simple and it's delicious. The locals also add a few whole spices to their tea, such as bay leaves, cloves, etc. I loved my cup of Chai so much in Darjeeling that I got a couple of packets for home as well.
My most unusual tea experience was brewing my tea myself in a home stay. As I mentioned that they usually make black tea, so when they add milk in it, the tea gets spoiled. One morning, I requested my hosts to let me brew my tea myself, the way I like it. The experience of brewing tea in a traditional 'Darjeeling' kitchen was really fun.
I guess the whole of Himachal serves good tea, but I loved Chai particularly in Chail and Kasauli. I enjoyed tea at Chail Palace, a heritage Hotel and at the Ros Common, a colonial bungalow in Kasauli. These places hold a very special place in my heart, because I started travelling with such little hill stations of Himachal.
The Chais I had in Chail and Kasauli were nothing special in terms of the ingredients used or the method of making. They were just delicious. The quantity of sugar, milk and tea was perfect. But, the best part was the homeyness that came with those cups of chai.
Mountains and Chai make a great combination. Isn't it?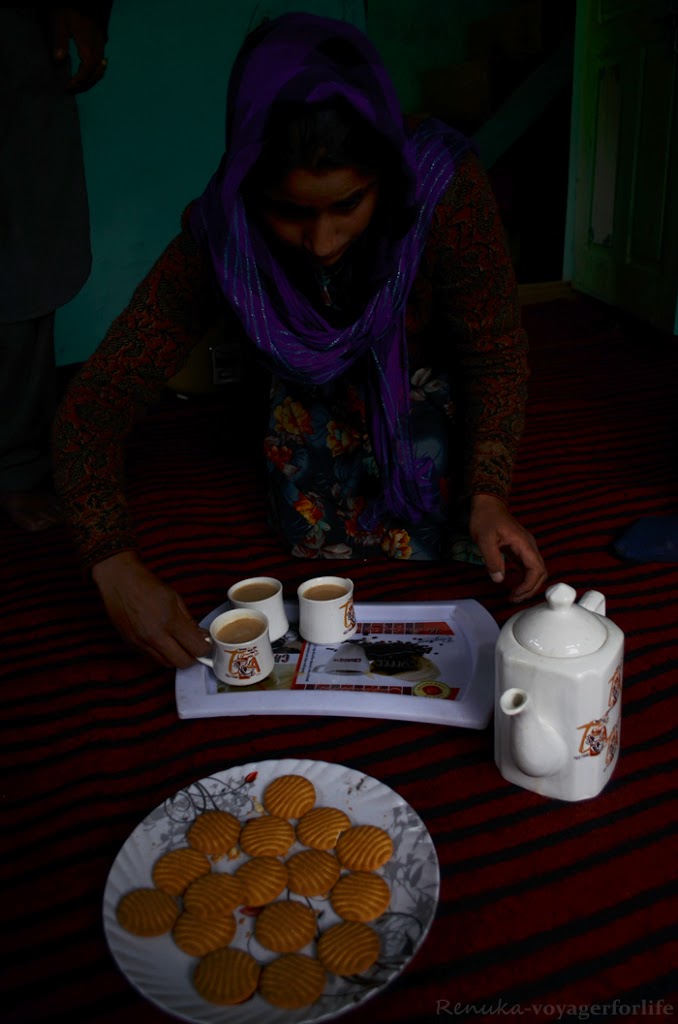 Ooty is also known for its tea gardens, which makes the experience of tasting some great tea quite obvious. But, there's more to it. Besides loving my chai in Ooty, I also loved the way they made it. There's a distinctive way of brewing and filtering tea in Ooty. You can stop at any small tea and snack shop and you will discover a particular way of making chai, which is interesting to watch.
So yes, Ooty is also a great Chai destination. Fortunately, I enjoyed the Ooty Chai in the rains, which is just so amazing.  
I will always remember my cup of chai at my home stay in Dirang Valley. The lady of the house used to brew fabulous black tea. She used to add cardamom and cloves in it, which made the tea taste so nice. I even bought the tea that she used, but I have realised that even if you bring the same tea home, it doesn't really taste the same. I guess it loses its authenticity in a different environment.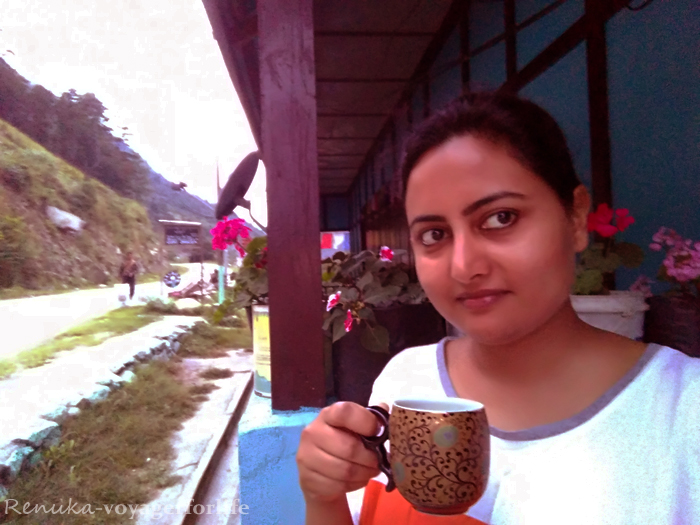 So, that was my 'tea' journey through India. Some other places that I have hazy memories of good tea are Mussoorie, Nainital, and Shimla. I guess hill stations really know the knack of brewing good tea.

What about you? Do you like chai?

Where have you had your most favourite tea?
If you enjoyed this post, you can –
Subscribe to receive 'new post' updates through Email.
---
---