Thar Desert – A Safari To Remember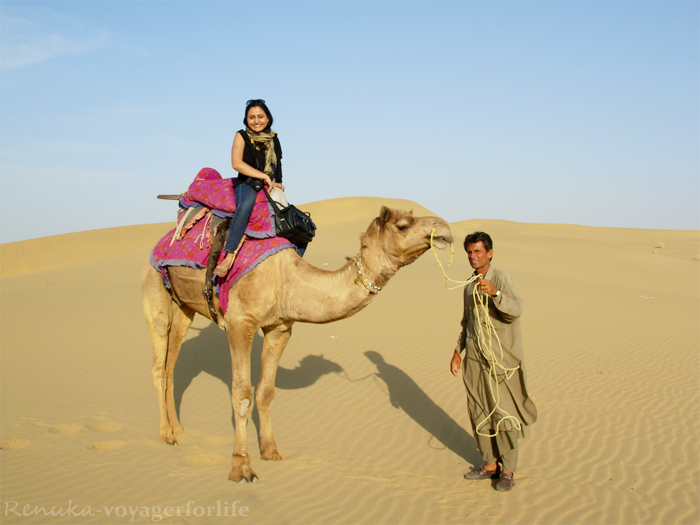 It was my scariest solo expedition! Yes, I was jittery like a cat on a hot tin roof! My heart and my mind were not in sync. Let me begin from the beginning – I reached Jaisalmer around 12:30 in the noon. I was very warmly received at the bus depot and escorted to the hotel Deep Mahal in the Jaisalmer Fort. I bonded instantly with the hotel staff – they took care of me like family.
Even though I was badly tired, I was keen on the desert safari the very same day. Since my trip was a short one, I didn't have much time to relax. I had a brief discussion with the hotel manager about the safari packages and agreed on the evening safari option. I could snooze for a little while as I had to leave at 3 in the afternoon for my solo desert safari. My moment of fear started when one of the staff at the hotel told me that the desert was 50 km away from Jaisalmer.
It was the month of March – almost the end of tourist season, last few days for travel agents to make money, which left me with no bargaining option! I had to agree to the package price and I had to travel alone. 
Both my chauffeur and the hotel manager tried their level best to make me feel comfortable about the fact that I was going to the desert alone. The chauffeur was quite chatty. He didn't keep quiet, even for a minute. He told me how a girl fell from a camel and got hospitalized. Obviously, that piece of anecdote added to my misery!
I had mixed feelings about the lonesome desert safari that I was going to take. I had my fears, but at the same time, I was eager to see the desert. It was my first ever desert safari. I had never ever sat on a camel before.
I reached the desert quite sooner than I expected. When my cabby stopped the car and asked me to get down, I was a little taken aback.  There were two camel owners with their respective camels. One of them gave me a weird look. But I got down anyway, because I had to. What else had I come for? I nervously went to my camel and sat on it with the owner's help. I was scared, but I followed their instructions.
I was stiff for a while. I thought to myself that what am I doing here? I couldn't see a soul around and I am riding on a camel in the heat of the day with two strangers! It doesn't sound very sane. But, it was rewarding!
The two owners were riding on one camel and they made me ride on the other one on my own. They were riding ahead of me. They understood my nervousness, and thus, ensured that I was at ease. One of them said, "Look around and enjoy. Keep fear at bay!"
Gradually, I was okay with the camel and the desert. They thought that I was nervous about the camel ride, but my anxiety was more to do with the feeling of desertion. There were barely any tourists around.    
A conversation with my camel owner
There was a drift in my emotions when we halted for a recess. I got down from the camel and sat in the sand to take rest. My camel owner offered me water and settled down to recline under a bush. That was 'the moment' of my excursion. My anxiety had turned into joy.
I asked him about their way of life, where they lived and other usual things. While I chatted with him, I realized how fortunate I was and what a tough life they led. For me, it was such an exciting deal to experience a camel safari in a desert, but for them, it was a daily routine. I wondered at how hard they worked to earn a meal on their platters.
The camel guy kept asking me if I was enjoying. He cared for my fun. It is something to reckon with. I mean, they do the same toilsome job every day with the same undeterred spirit.
I was at ease! Yes, after moments of a little jerky camel ride, somewhat scorching sun, feeling of vagueness and recklessness I had slipped into an unspoiled world of purity, respect and beauty. What I experienced was not something ordinary. I was bestowed upon so much of care and warmth by illiterate strangers in a deserted land.  
The camel safari ended around dusk. I was left at a point where I could sit and gaze at the sunset. Now I was happier because I got to see other tourists also. It was a picturesque atmosphere – camels sprawling after a hard day, tourists all set to be numbed by the twilight hues and I was ready to pounce on the orange sun with both my cameras.
Balancing childhood mischief with the need to earn 
While I was taking pictures, a couple of little boys came up to me with a hope of getting a chocolate. Unfortunately, I did not have any. I told them so, but they were determined to get a chocolate from me. They told me quite boldly that I should check my bag and I should find one for sure. As I really wanted to give them something, I gave a 10 rupee note to both of them respectively and told them to buy a chocolate for themselves.
Later, I discovered that the little boys were actually camel riders. I saw them taking their tourists on their camels. I was amazed at such innocence and mischief, yet a sense of responsibility to earn.
As the sun set, camel owners left their respective tourists at the desert resort and went on their ways. They lived in the nearby villages. All of it seemed so surreal – the way things melted.
Leaving behind the lasting impressions in my heart
It was more than an expedition for me – I learned so much. From braving my way alone to a desert for the first time in my life to glimpsing at 'life' in the desert, which is an adventure for us, but a mundane reality for the inhabitants there.
Have you ever traveled alone to a desert and come back with heart-touching memories?
---
---