5 Reasons Northern Kashmir Is Calling You!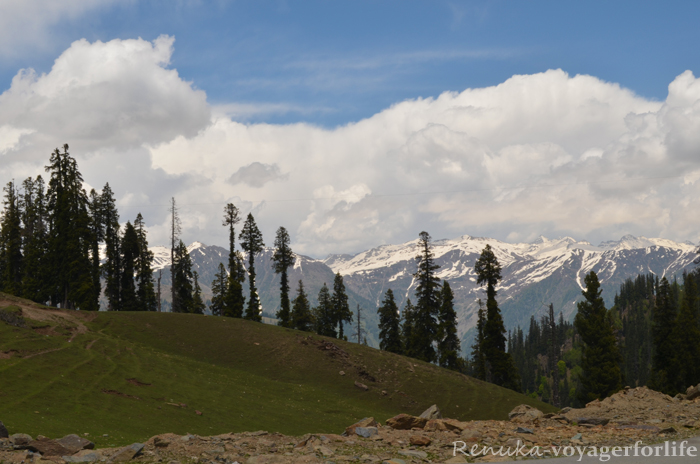 Northern Kashmir is slowly coming out of its shell and beginning to beckon tourists' attention. The fact that it's close to Azad Kashmir makes it even more inviting (at least I think so). 
As soon as you touch the brink of Baramulla, the landscapes begin to change into somewhat coastal, which is totally unexpected in Kashmir! It's truly an experience to travel by road in Kashmir. You get to see so much of Kashmir that's so 'not-talked-about' – sprawling farmlands, lakes reflecting mountain faces, pretty village houses and so much more.   
I can never get tired of saying that you need to visit Kashmir quite a few times to discover it deeply. I have promised myself that I'm going to explore Kashmir in its every season – I'm yet to see it in spring, autumn and winter.    
Here are 5 reasons to explore Northern Kashmir –
The uphill drive to Razdan Pass
The high point of Northern Kashmir, literally, is Razdan Pass, which is at the height of more than 10,000 ft. Grab a cup of tea with plum cake and enjoy the expansive views of the snow peaks on one side and the blue mountains meeting the lake on the other side.   
It's a vantage point where you can halt for a while and catch some fresh air. Wullar Lake, known to be the largest freshwater lake in Asia, gets its water inflow from Jhelum River. There's also a manicured garden that adds to the beauty of the lake. Make sure you stop by here around dusk.
Rugged landscapes towards Gurez Valley 
When you descend from Razdan Pass for Gurez Valley, you get to see a range of (slightly) rugged mountains with streaks of snow thrown here and there, along with dry trees that add a melancholic texture to the landscapes.
Unspoiled beauty of nature
Northern Kashmir is soaked in wild natural beauty. You'd feel like stopping and spending at least a few moments at possibly every turn. There are some really unique waterfalls that seem so ignored. I mean I was more amazed by the fact that you get to see such divine beauty in an ordinary environment.
Fortunately, Northern Kashmir has tourists in just the right measure. You are likely to find curious travellers and photography enthusiasts, who explore the region on bikes or even bring their private cars. So yes, tourism is slowly picking up in places like Kupwara, Lolab Valley, Chatpal, Gurez and Tulail Valley. But I hope it doesn't get overtly touristic like Gulmarg and Pahalgam.
Is Northern Kashmir on your wish-list?
If you enjoyed this post, you can –
Subscribe to receive 'new post' updates through Email.
---
---