My Solo Adventure In South Australia – BAROSSA VALLEY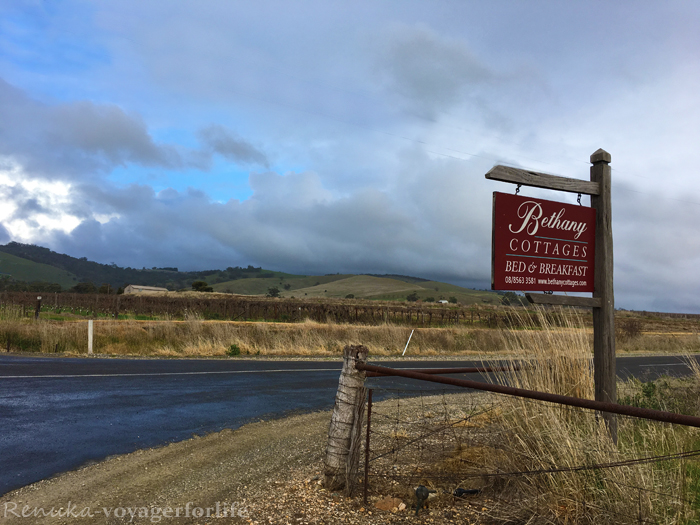 Perhaps South Australia is the best place for solo travel. Well, I say so because I had my first taste of solo travel abroad in Australia – I went to Adelaide and Barossa Valley all alone. So, was the experience any different from my solo travels in India? Nah… I think solo travel is great anywhere in the world. But yes, South Australia will always hold a special place in my heart.
To be honest, I was a little wary of doing certain things in a foreign land, such as walking alone in a deserted place. As an Indian, the part that amuses me about foreign countries is the dearth of people on the road. Their neighbourhoods are so quiet. You barely see a soul around. So, when you walk on the road it gives you a strange feeling that you shouldn't be seen on the road and should be hiding somewhere like everyone else.
So how did my solo adventure turn out to be?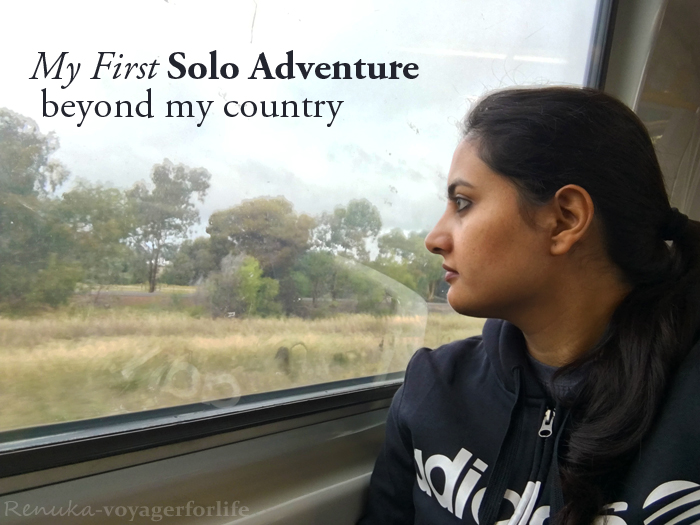 Though I landed in Adelaide (from Melbourne), I started my trip with Barossa Valley. The first thing that I loved about Adelaide was its people. The moment I stepped out of the airport, I was embraced by an intrinsic geniality that a solo traveller longs for. I hopped on the bus available at the airport that takes you into the main city. I was still a bit indecisive about going to Barossa Valley, as my trip was a short one. But, I still went to the train station to inquire about the journey. There isn't a direct train to Barossa Valley. You need to take a train to Gawler, which takes an hour to reach, and from Gawler you need to take a bus to Barossa, which takes 30 minutes or so.
There was something inside me that told me to skip Barossa Valley, but the curious me still purchased the ticket to Gawler. And, I loved my train journey! It was so easy to reach Gawler, and the station was so quiet and vintage. Then, as I hopped on the bus to Barossa, I passed by some mellow landscapes of vineyards and hills.
My 'edgy' walk to Bethany
Tanunda, the main town of Barossa Valley, is where my bus dropped me. The moment I got off the bus, I headed to the tourism office to inquire about how to reach Bethany village. The name 'Bethany' fascinated me, and so I was eager to visit it. But, to my dismay, I was told that there's no public transport available for Bethany. I could go there if I had my own car. Well, I still wanted to go. So, I asked them if I could walk to Bethany. To my joy, they said that it would take 40-45 minutes to reach Bethany if I walked fast.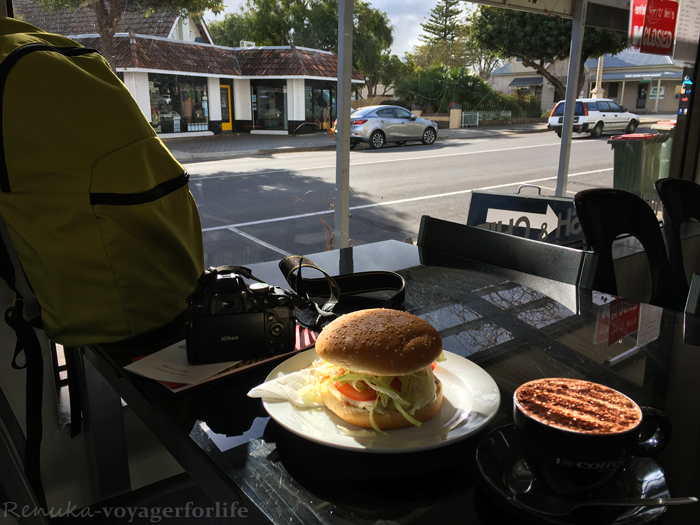 My quick lunch before heading to Bethany
I didn't follow the Google map. I just asked for direction two-three times from different people and kept walking until I reached my destination. It's a straight highway road from Tanunda that takes you to Bethany. It's an easy walk. But, I was scared.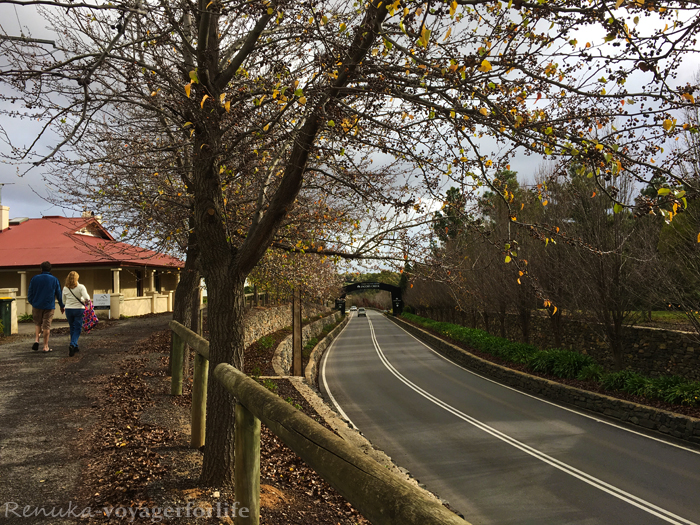 The highway begins here…
Barossa Valley looked so deserted. There was nobody around. I mean it's strange not to see a single person for 40-45 minutes… Anyway, I kept walking because I was exceedingly curious to see Bethany. My constant thought throughout the walk was 'I hope it's safe to walk on this highway all alone, while the weather is also unpredictable'. It was an overcast day with occasional rains. But, I still wanted to do what I wanted to do – visit Bethany.
I kept following the sign boards. And finally, I saw this board –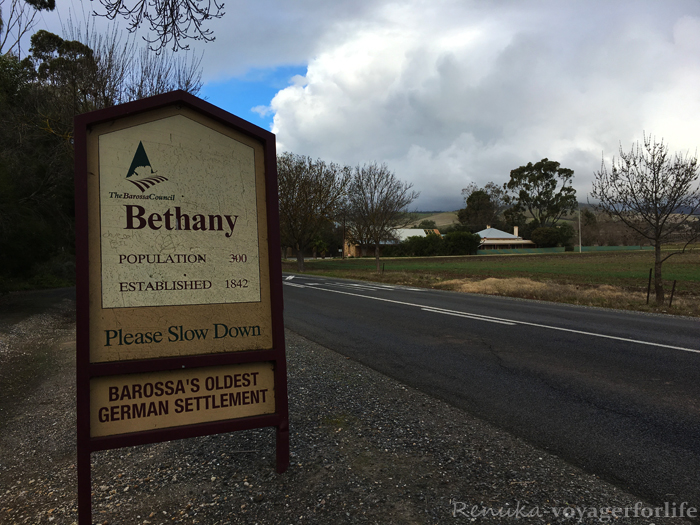 Finally, I reach Bethany.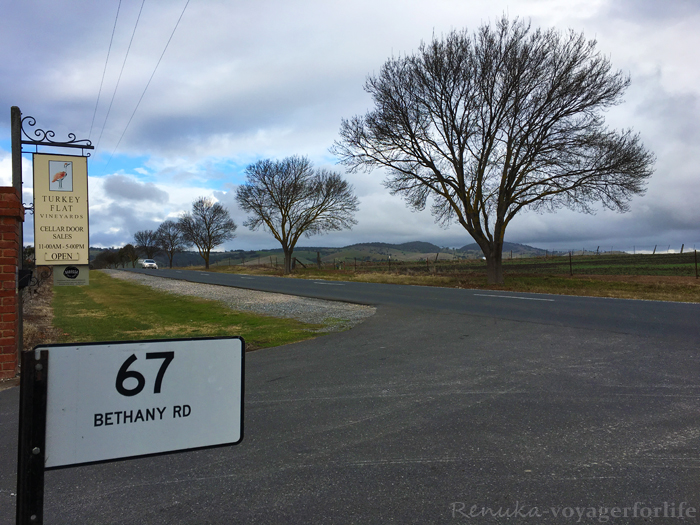 Such sign boards relieved me.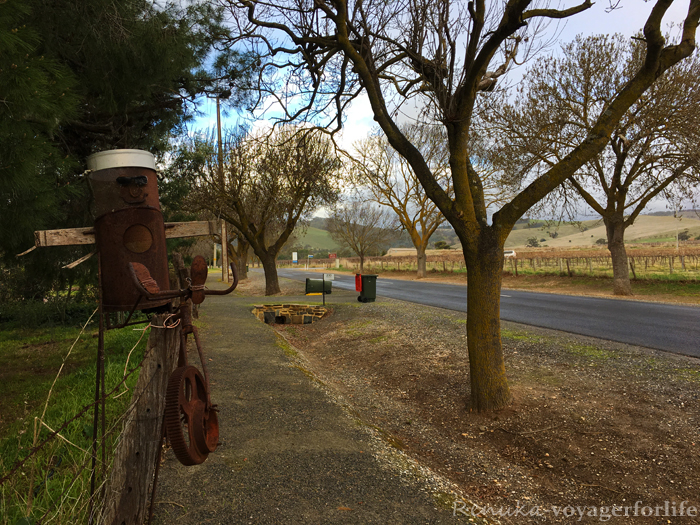 A few rustic elements that made my lens happy.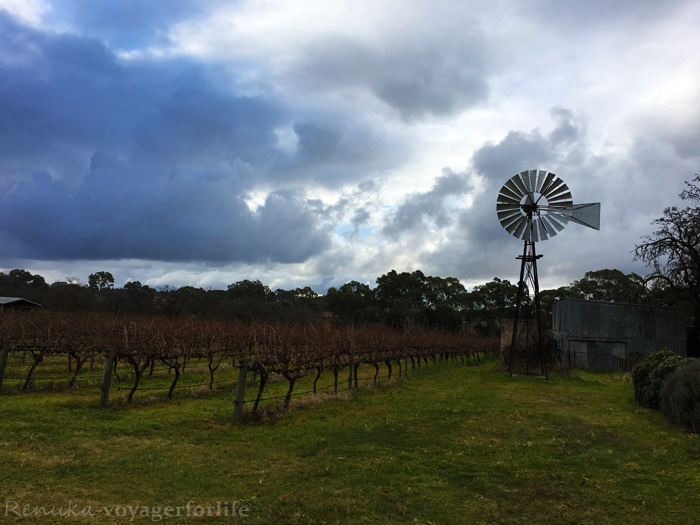 …and some more.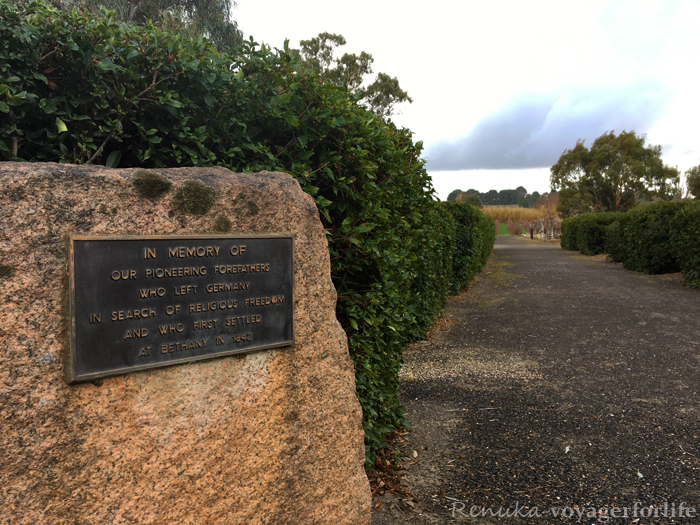 One interesting site that you should visit…
… a touch of spookiness isn't a bad idea on a solo trip. What say?
I was joyous to have made it to Bethany. Although the village didn't turn out the way I had imagined it, the feeling of being alone in a totally deserted, unfamiliar place was thrilling. Each house that I passed by was shut as if nobody lived there. I happened to sneak inside the backyard of a house for shade when it started to pour suddenly, and I found this beautiful orange tree –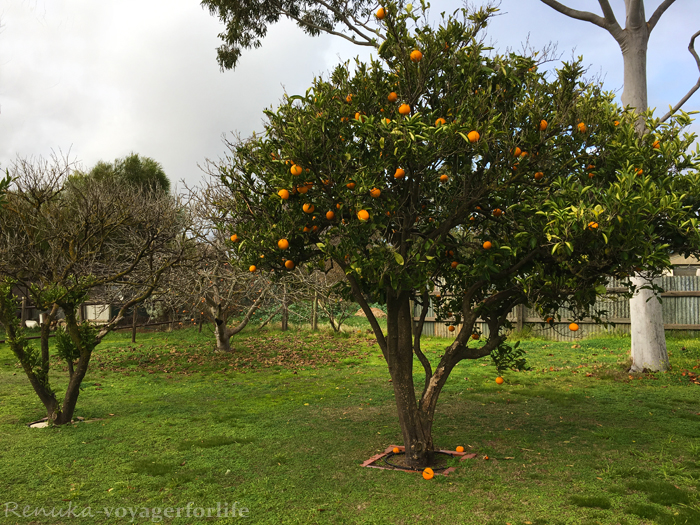 Why did I not pick up those oranges?
Well, orange and lemon trees are a common sight in Barossa Valley. I regret not plucking an orange to reward myself for my solo, edgy walk.
Should you visit Barossa Valley during winters?
No. I'd recommend you should skip Barossa Valley during winters because the vineyards are bare-branched and the hills look dry. The streets and squares are extremely quiet. There's absolutely no buzz around. So, the voice that told me to skip Barossa Valley was right.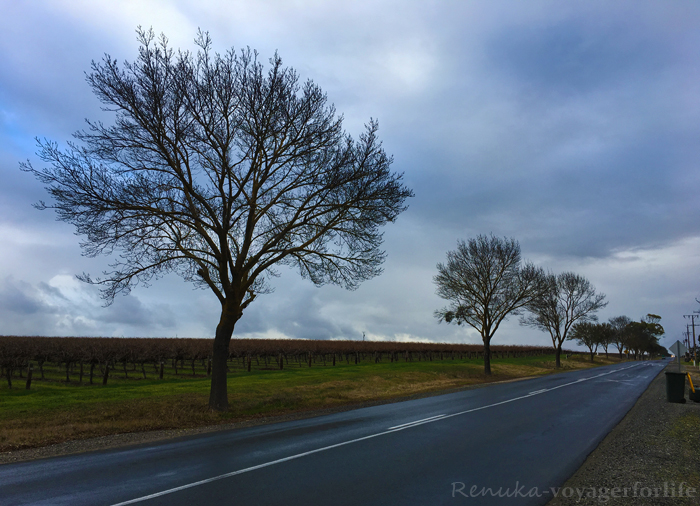 Bare-branched and deserted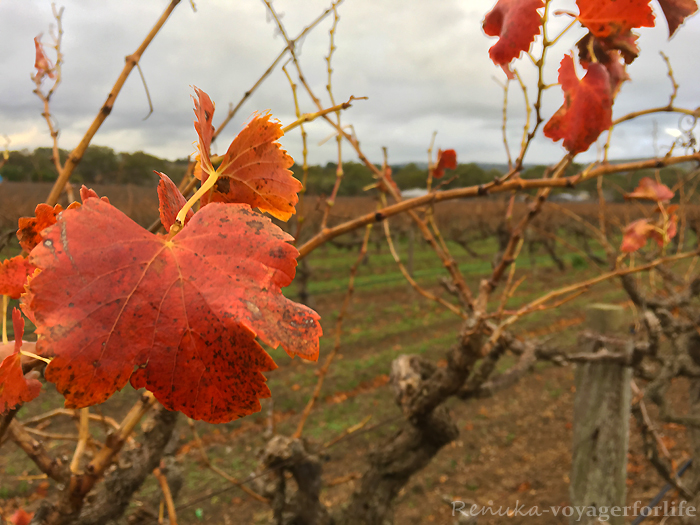 The last few hues of autumn…
But, travel is different for different people. I'm not trying to act like a naysayer here. You might enjoy the dry and deserted Barossa Valley. However, spring would be the best time to visit it when the vineyards are in full bloom. Barossa Valley is known for wines, after all.
Tanunda, a charming little town
Besides the wineries, Barossa Valley has a great history to narrate. So, make sure to visit its old sites, especially the museums and the churches. I didn't really do anything that a tourist would typically do in Barossa – wine tasting, unearthing its history or tasting the traditional cuisine, because as I mentioned it was not the perfect season. I'd have loved to taste the wines in the midst of a blossoming vineyard, which would have been a real experience.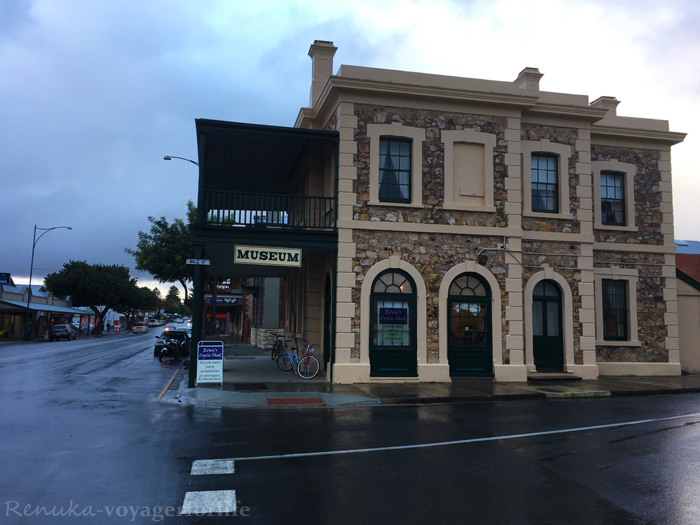 One of the things to do in Tanunda is to visit such museums…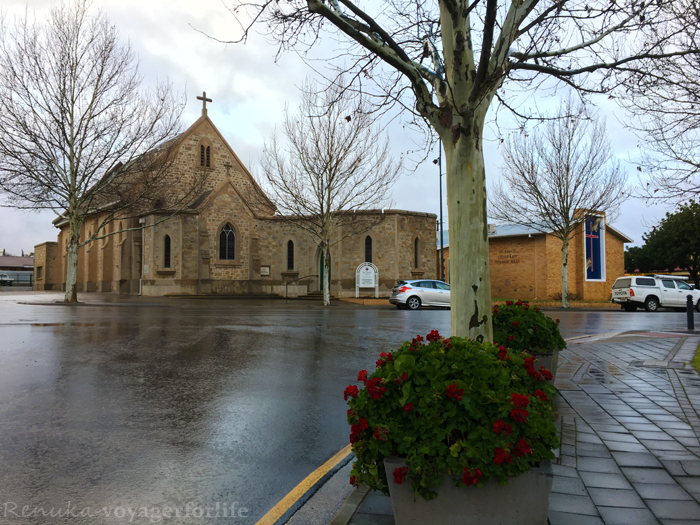 …and these churches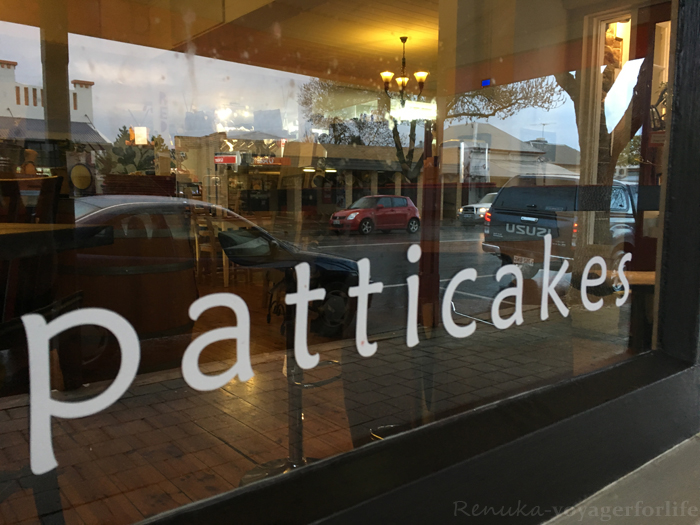 …and explore some cute, little shops like this.
Besides, Barossa Valley is huge. I just explored a little part of it. So, my recommendation would be to stay there for at least a couple of days to be able to explore it deeply.
I'd like to sum up by saying that all travel experiences are good. The feeling of being alone, talking to locals, wandering, experiencing the weather, the food, the local transport… everything together makes you part of the place that you visit. So, experiences and adventures that you create as a traveller are always better than what you find in the brochures.
HAVE YOU travelled alone anywhere other than your own home country?

How was your experience?
If you enjoyed this post, you can –
Subscribe to receive 'new post' updates through Email.
---
---