What Makes Melbourne So Mesmeric – A Photo Essay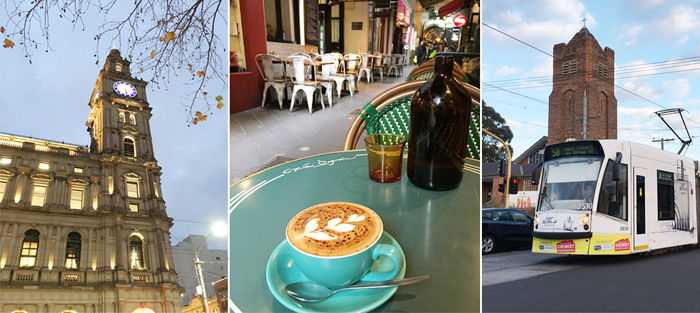 Melbourne is like a dream. It's one of my favourite cities in the world. Yes, I know I have seen only a bit of the world, but I'd still say that Melbourne is the city where I'd want to go again and again. It's absolutely my kind of a city. When I visited Melbourne for the first time in 2011, I had no idea that I'd ever get a chance to go there again. My first visit was a real short one, so although I was able to grab its essence, it left me curious (or should I say craving for more).
Well, my second sojourn in Melbourne was quite long, which gave me a chance to explore it at a slow pace. I savoured Melbourne. So, as I mentioned Melbourne is like a dream – It's slow, it's mesmeric. It's vintage, yet very contemporary. There's something so distinctive about Melbourne that you won't get a similar vibe anywhere else.
Just to give you the facts, Melbourne is the capital of Victoria (south-eastern state of Australia) and the second most populated city of Australia after Sydney.
Enjoy 'my guide on top things to do in Melbourne' in pictures –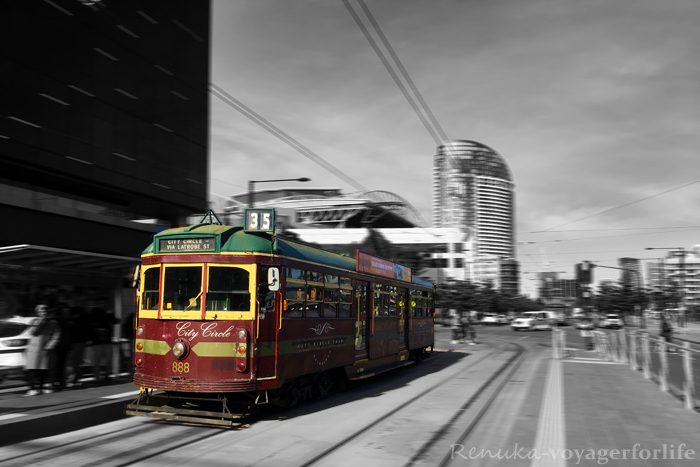 TAKE THE VINTAGE TRAM RIDE – I'd say traveling on a City Circle Tram is like enjoying the icing on the cake. It's the free tourist tram of Melbourne that passes by eminent tourist attractions in the Central Business District.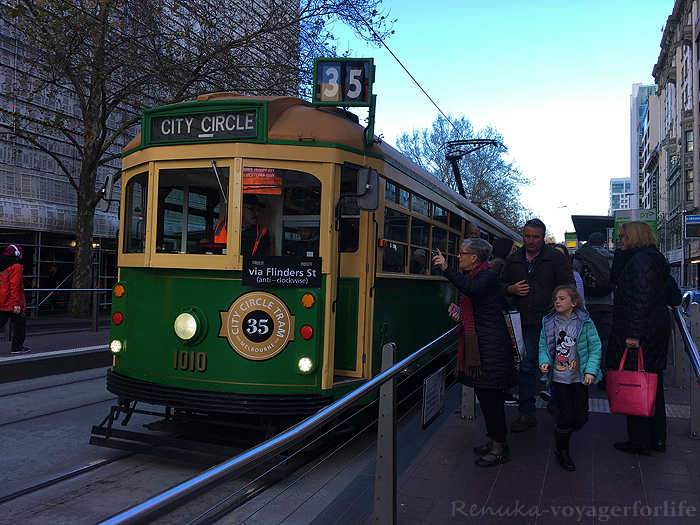 Charming, isn't it? Trams make Melbourne distinctive – the slow pace of life. Some may not like it, but I love it.
There's this 'free tram zone' that you must take advantage of. Travel within the free tram zone and enjoy the glimpses of Melbourne.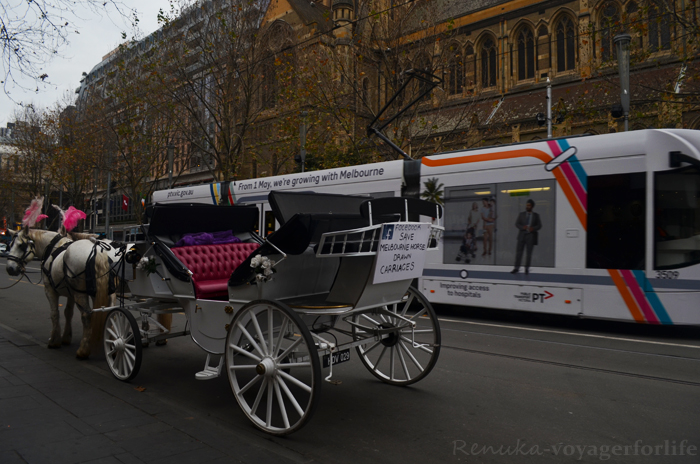 Enjoy a carriage ride. But, if don't want to bother the horses, simply take some pretty photos and move on.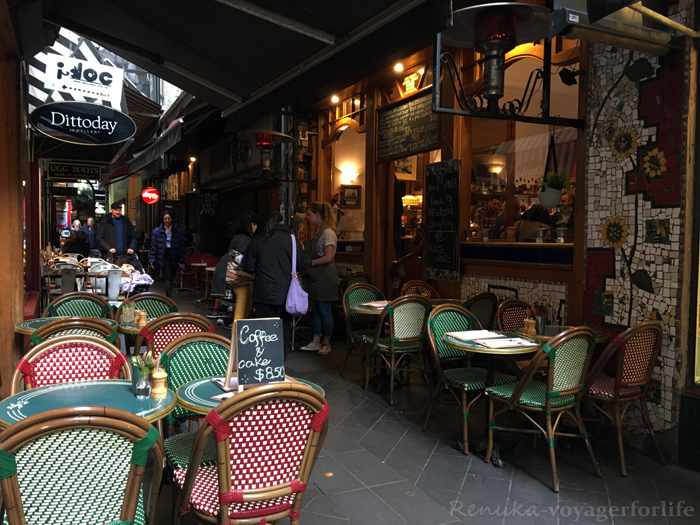 SIT IN A LANEWAY CAFE – Your Melbourne experience is incomplete without a sip of great coffee in a laneway cafe. I'd suggest sit there for sometime and notice the little nuances. Though your coffee won't be hot enough to keep you seated for very long, you can still sit and just be… Also, make sure you enjoy the laneway coffee-sipping during the day time, as the cafes begin to shut quite early in the evening (by 6 pm).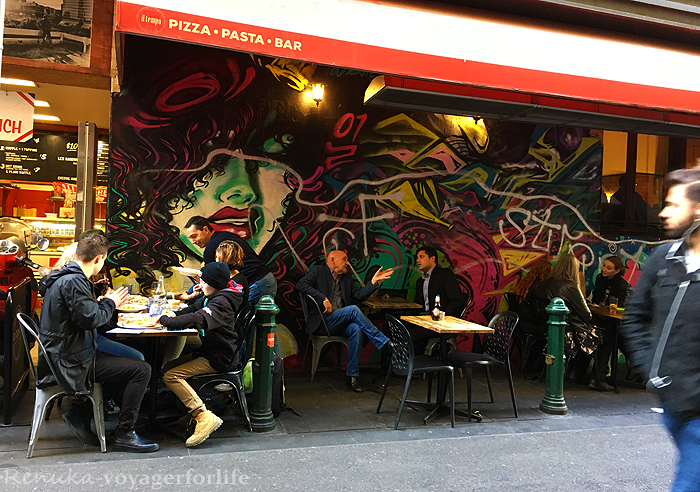 This laneway cafe is at Degraves Street – it's really quirky and pretty.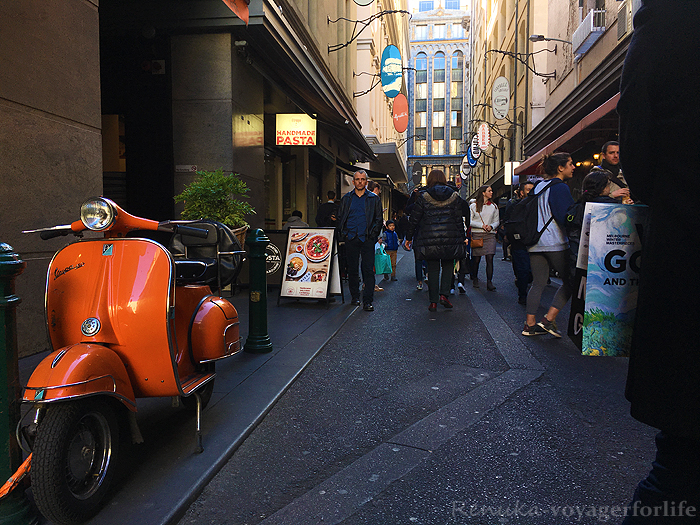 Make sure to stop and notice the cute elements like this orange scooter.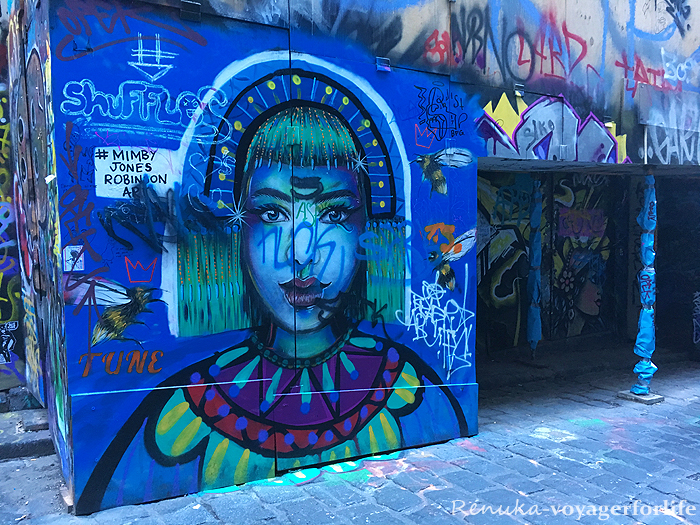 DON'T FORGET TO VISIT THE HOSIER LANE – It's just a couple of minutes walk from the Flinder's Street Station. It's a must-visit if you appreciate quirkiness and art. It's so much fun! Besides the compelling vividness, the lane is worth a dekko for the 'selfie' madness of the people.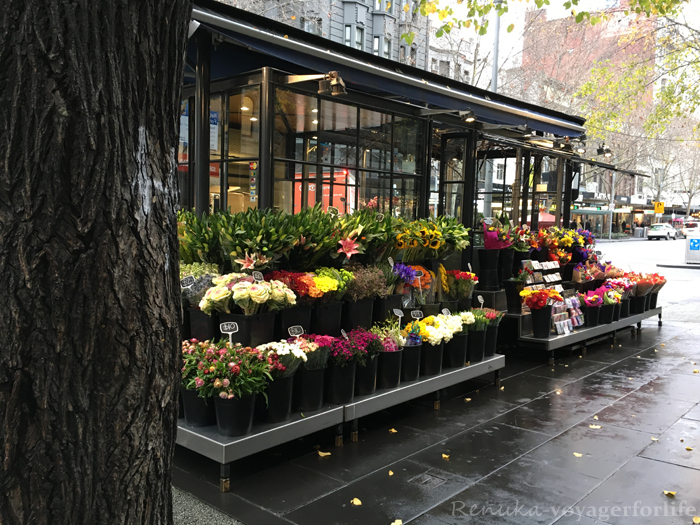 WANDER THE SWANSTON ST AND COLLINS ST – One of my most favourite things to do in Melbourne is to wander the streets. Just keep walking and admiring the prettiness everywhere.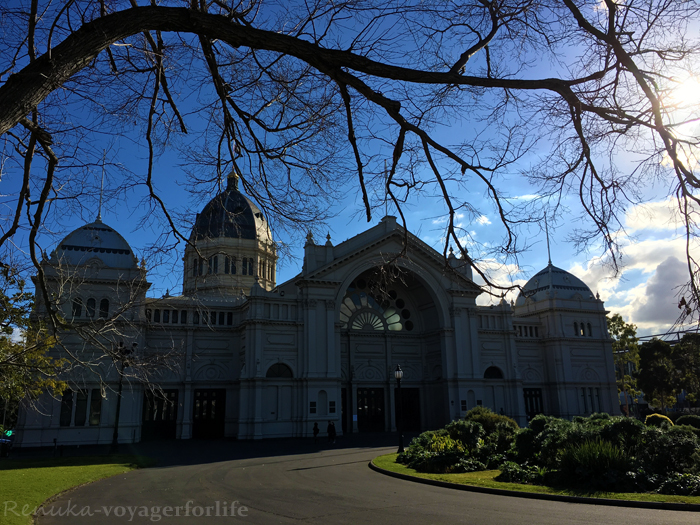 MELBOURNE MUSEUM – Though I didn't go inside, I'm sure it's worth checking out. I just loved the building from outside. It's on Nicholson St, Carlton. It's also a great place if you want to relax in a park after a lot of walking. There's plenty of lushness in the premises.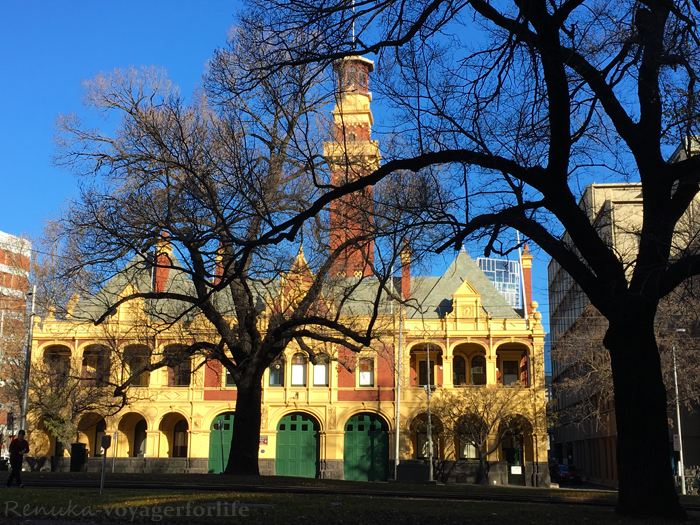 SPOT GORGEOUS BUILDINGS – Melbourne has quite a lot of old buildings, too. So, it's not just about contemporary architecture. I spotted this beautiful building while walking through Fitzroy, a neighbourhood in Melbourne.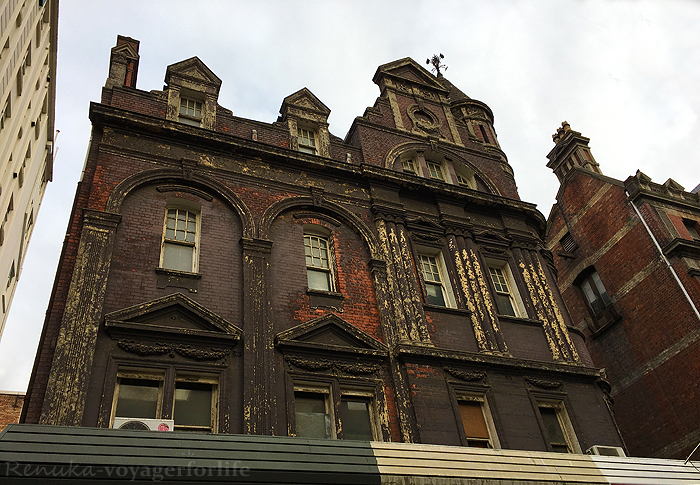 This charming old building is somewhere in the City Centre, so you should be able to spot it easily. Make sure you walk a lot!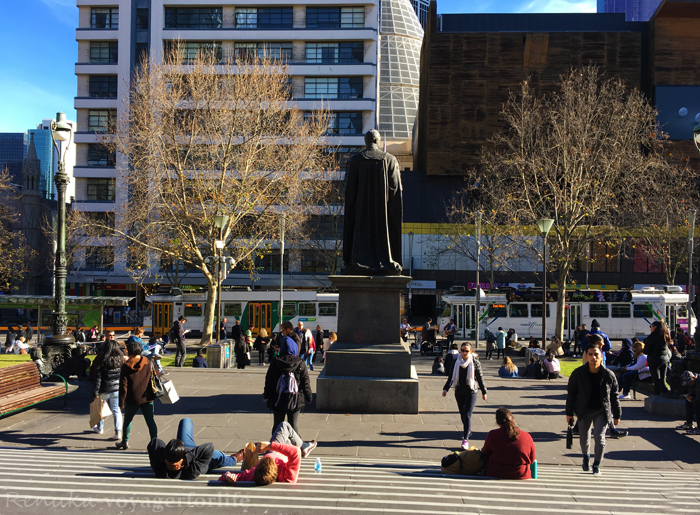 DO AS THE LOCALS DO – Grab a take-away coffee and find a comfy place to relax. This is the front yard of State Victoria Library. It's one of the favorite places of locals for soaking in the sunshine and just being…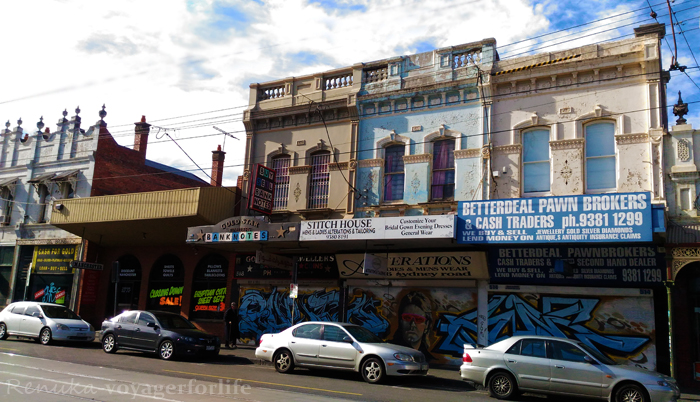 TAKE A MULTI-CULTURAL TOUR OF MELBOURNE – Enjoy the 'multi-cultural' layer of Melbourne by walking down a street with Middle-eastern and Asian shops and restaurants. This one is Sydney Road in Brunswick. You will find a different style of architecture, the atmosphere of the shops is unlike the rest of Melbourne. So, it's an offbeat Melbourne for you!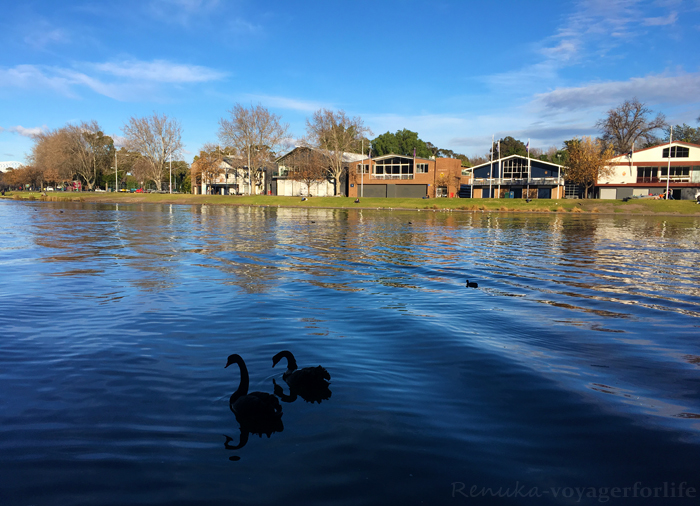 HEAD TO YARRA RIVER FOR SOME ROMANCE – It's a perfect place for love and poetry. There's a lot going on around you, but you still find solitude and peace in the midst of it all. That's the magic of this place. Just sit by the riverside, watch the ferries go, sip wine with your favourite people, or simply be alone. Who cares?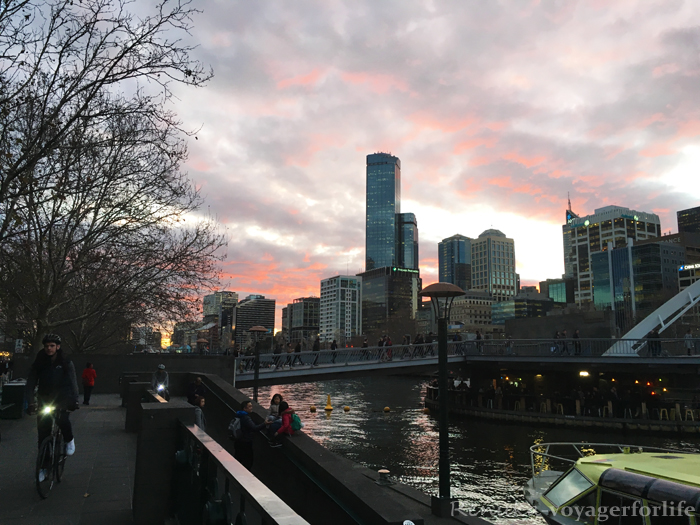 PAINT YOUR SPIRIT WITH THE EVENING HUES – Did you notice the orange sky hidden behind the clouds? That just adds to the magic of  a fun evening at Yarra.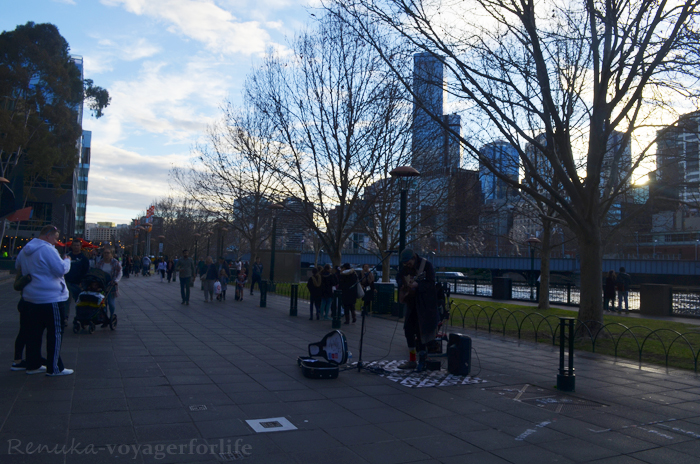 TAP YOUR FEET TO SOME LIVE MUSIC –  You will find scenes of live music everywhere in the CBD of Melbourne. And, it's really good.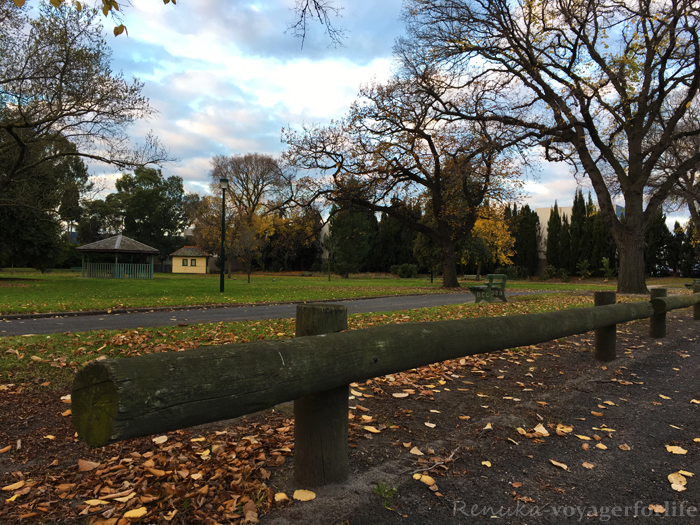 MAKE AN AUTUMN VISIT – Melbourne is beautiful in autumn. Well, it's beautiful through the year but the autumn colours do add an extra layer of beauty to everything. So, if you are visiting Melbourne during autumn, stroll through the parks, enjoy the browns, reds and oranges…let the dry leaves promise you something sweet. 🙂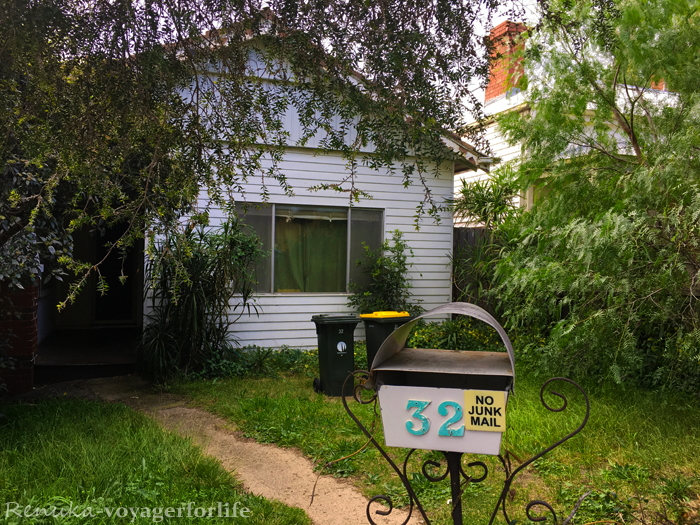 EXPLORE THE SUBURBS – Perhaps the most offbeat thing to do in Melbourne is to explore its suburbs. I loved my long walks through the streets in Brunswick – spotting pretty houses, cute cafes, old churches and lovely parks.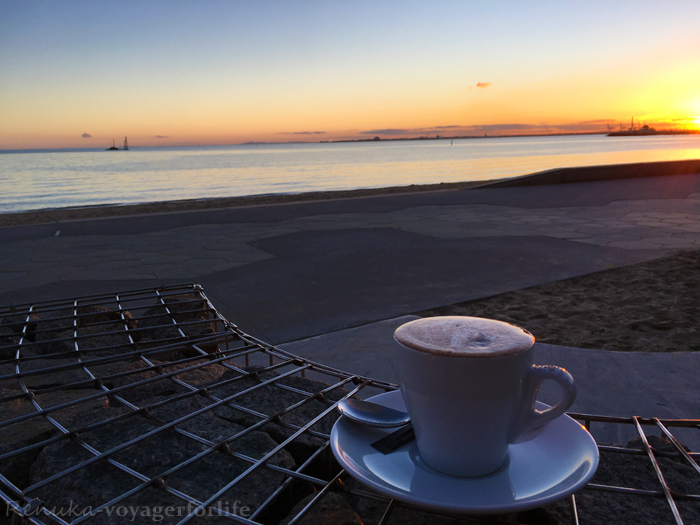 WATCH THE SUNSET AT KILDA BEACH – Take the tram No. 96 from Southern Cross Station or Bourke St to get to Kilda Beach. It's a lovely place to take a stroll, romance, sip coffee or wine, watch the sunset and forget about the world… the water is so blue and gorgeous.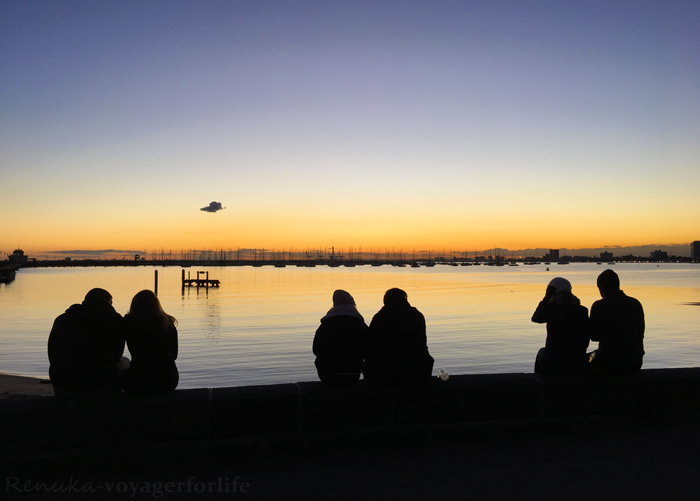 Try Kilda Beach for a romantic evening. I'm sure you will thank me.
What would be your top things to do in Melbourne?

If you enjoyed this post, you can –
Subscribe to receive 'new post' updates through Email.
---
---