Dandeli – My Foray Into The Wild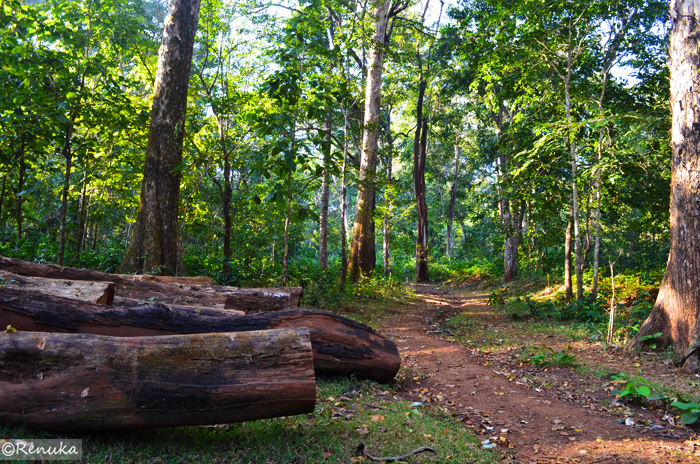 Dandeli turned out to be a perfect gratification of my craving to visit a 'less touristy' destination. The only thing that I knew about Dandeli was that it's a place with lots of flora and fauna, but I had little idea about its real potential.
To begin with, it's a small town in Northern Karnataka, which has lots of forests and villages. The first thing that I liked about Dandeli was its raw, natural state. Thankfully, it is still relatively 'undiscovered'. It is clean, modest and calm. Some of the spots and sights made me gasp at its untainted beauty.      
Things to do in Dandeli –
Hike down to the Syntheri Rocks
Syntheri Rocks is a huge single granite stone with a height of 300ft. The river Kaneri flows at its base.
Syntheri Rocks was our first spot to explore. Our guide educated us that it was discovered by an English lady named Cynthia and thus, people called it Syntheri Rocks. We had to step down from a height to visit the main spot, where there is a unique waterfall adjacent to the imposing rocks.
I have to admit that I expected it to be a regular touristy spot with nothing much to talk about, but I was amazed by its remarkable beauty. The experience of hiking down to the rocks and then hiking back up was certainly out of the ordinary.
Morning trek into the forest
I would say it was the most enriching part of my holiday in Dandeli. We set out at around 7:30 am for our trek into the forest with guide Harman leading us. The forest remains moist because of the dense rainfall it receives every year. While the forest has a variety of trees, Bamboo is the highlight. There were many trees in a dilapidated state too. 
It's refreshing to walk through the forest in the morning while the mild sunlight glistens through the trees.
We reached Bison River resort just in time when a group of rafters were ready to plunge into the water. White river rafting or white water rafting is one of the exciting adventure activities enjoyed by the tourists in Dandeli. Bison River resort is one of the locations where river rafting sets off.
I'm sure it's an amazing experience for those who like adventure activities.
Delve into the flora and fauna on a Coracle boat
Coracle ride is an excellent way to explore the lush vegetation around River Kali and spot different species of birds. We initiated our Coracle ride from the banks of Kali Adventure Camp. We were told by our guide that River Kali is mainly known for crocodiles. I was lucky to spot a big crocodile resting on a rock, while many quickly hid away under the water. We covered around 3 Km of distance on the water and finished our ride at another end of the river.   
I'm glad I experienced this coracle ride, which is an interesting way to bird watch and get closer to nature.
It's quite usual to see a typical village scene in Dandeli – huts, rice paddies, coconut trees, cows and people engaged in their daily chores. Although we couldn't interact with the villagers, it was easy to comprehend their way of life. They lead very basic lives, but with a lot of productivity.  
Pick a thing or two from the tribal shop
There is a tribal shop in the village area of Dandeli where you can find various home décor pieces made from the forest wood, different kinds of spices and other natural products. We checked it out and ended up buying a packet of Shikakai powder, which is a natural hair shampoo and conditioner.
So, even the shopping experience in Dandeli was very nature driven!
Relaxation at the forest resorts
Kali Adventure Camp
Dandeli is a kind of place where you would want to lay on a hammock and enjoy a blissful afternoon nap. There are quite a few resorts built to give a forest-like feel. You may choose to do whatever you like – sit by the river or enjoy slow saunters in the resort; the idea is to soak in more and more of nature.
We visited Dandeli Tiger Reserve on an open jeep. Our guide educated us about the measures being taken to preserve the tigers in the jungle. I asked him if there was a possibility to spot a tiger. Although reluctant to answer, he told me that the tigers were difficult to spot during winters.
Nevertheless, we spotted a jackal, a serpent eater bird, a wild bull, an elephant, peacocks and quite a few rare birds. They all seemed to be too shy to pose for a photograph. The moment they hear a murmur they quickly slip away into the dense bushes.

When you think of places to visit in Dandeli, there are many of them. And each one reflects nature at its best.
Practical Information –
Dandeli can be a quick weekend getaway from Bangalore. It's an overnight train journey fro
m Bangalore to Alnavar, and then it takes 1 hour by taxi to reach Dandeli. If you choose to go by road, it's around 460 km from Bangalore and only 150 km from Goa.
Would you like to visit Dandeli? What do you look forward to the most?  
Note: I was invited by
Dandeli.com
 – 
the Official Travel Organizers for Dandeli. But, all the views and the photos shared are my own. 
---
---