The Pleasures of Slow Travel At Bob's Place, Nathuakhan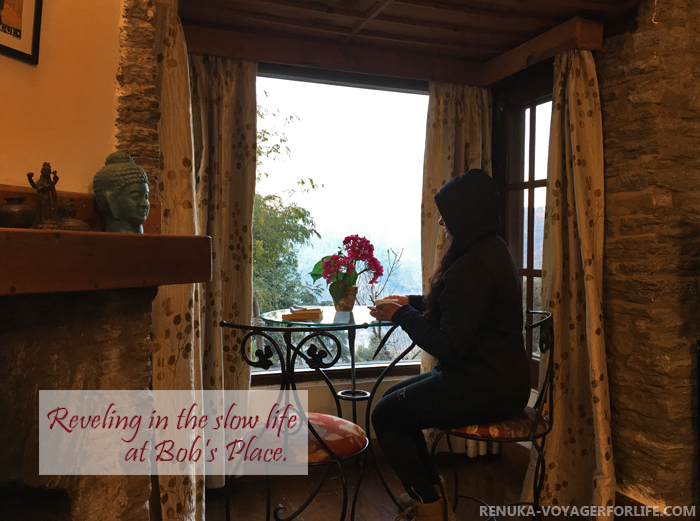 Let me begin by saying that Bob's Place is created for slow travel. It's a quiet mountain resort in a small village called Nathuakhan (Kumaon, Uttarakhand), where you can live for a few days, the good old times. The mountain views from your room, the crackling fireplace, the old books, the hot tea and the peace of not rushing through anything make Bob's Place a lazy traveller's abode.
Also read: The Most Charming Homestays in Uttarakhand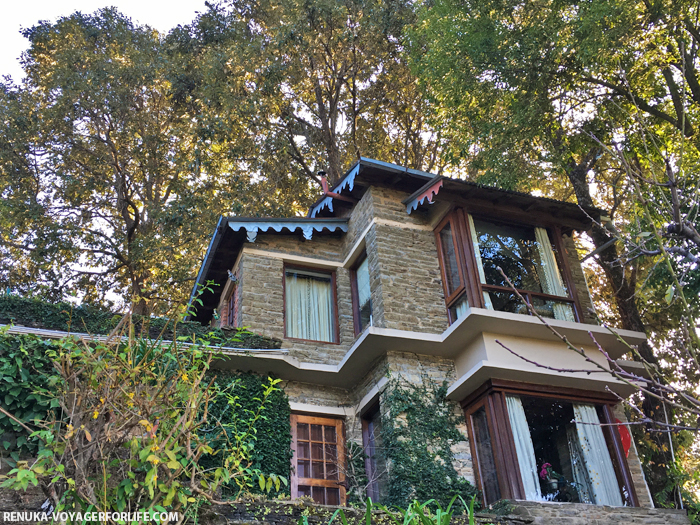 Well, being lazy can be really good sometimes. In fact, you should be lazy when you are exploring a new place. Why rush? Your curiosity will make you walk, wander and talk to people. But, don't aim to finish off something like a task. Get rid of the fear of missing out. Just don't have any agenda. Listen to your heart and take in the beauty of the mountains the way you should – slowly.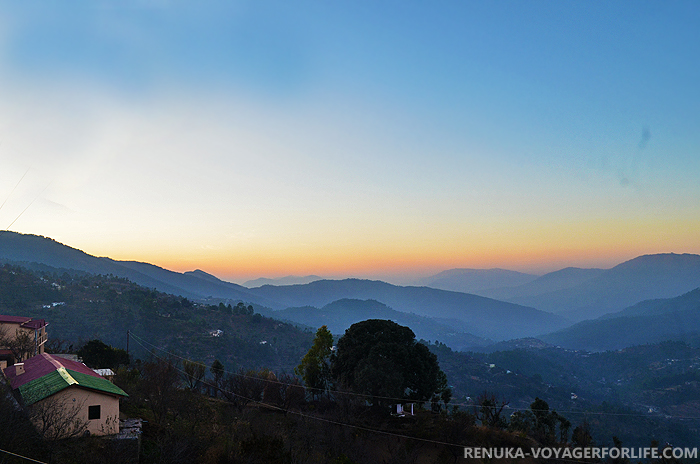 Also read: My Favourite Places For Slow Travel
The first thing that hooked me on to Bob's Place was the atmosphere it exuded. WiFi connection isn't offered here (which actually might be a good thing). It was an excuse for me to put my freelance assignments on hold and happily give in to the charms of the place. I didn't feel the need to do anything more than just laze around at the lounge, flip through the books if not read, sit close to the fire, and relish the hot and scrumptious local food.
Can you picture a blissful winter break?
My days would mostly begin with a late breakfast along with the mountain views, of course; and then I'd linger around and admire the orchard of lemons, maltas and other fruits at the property. I'd also soak myself in the warmth of sunshine to comfort myself, as it was quite cold.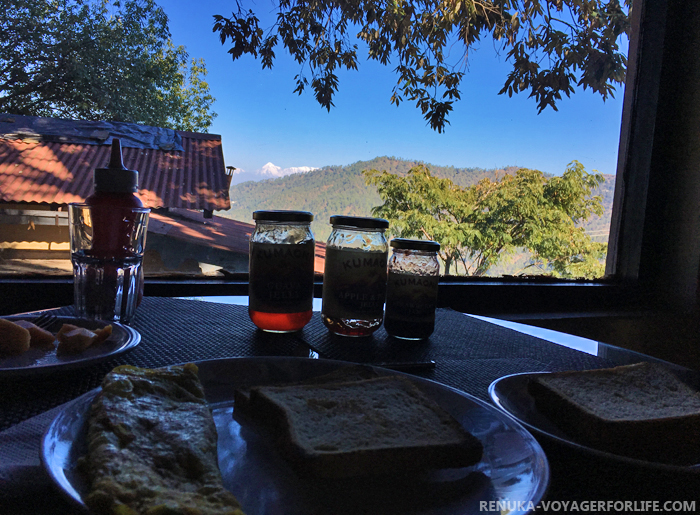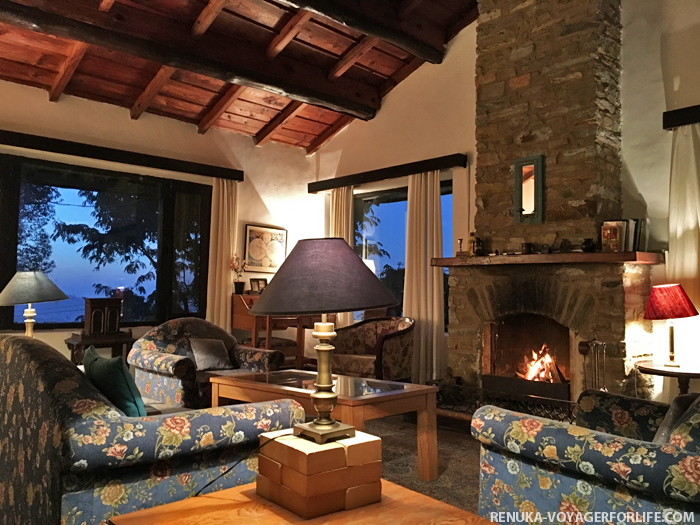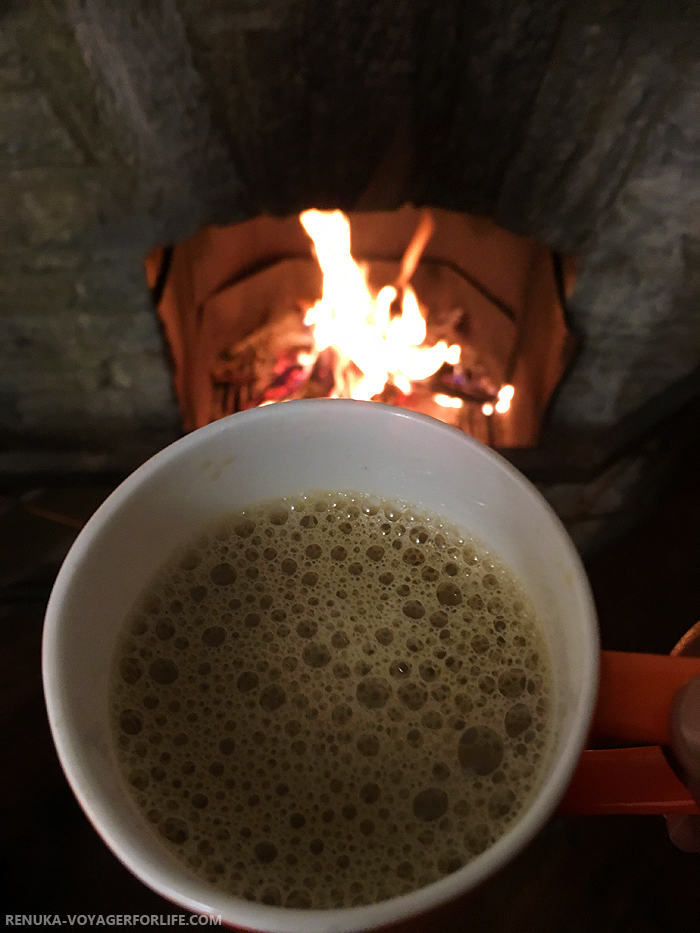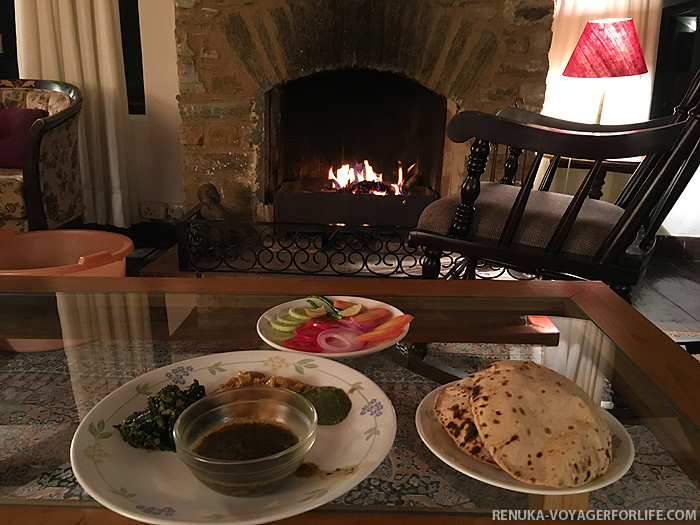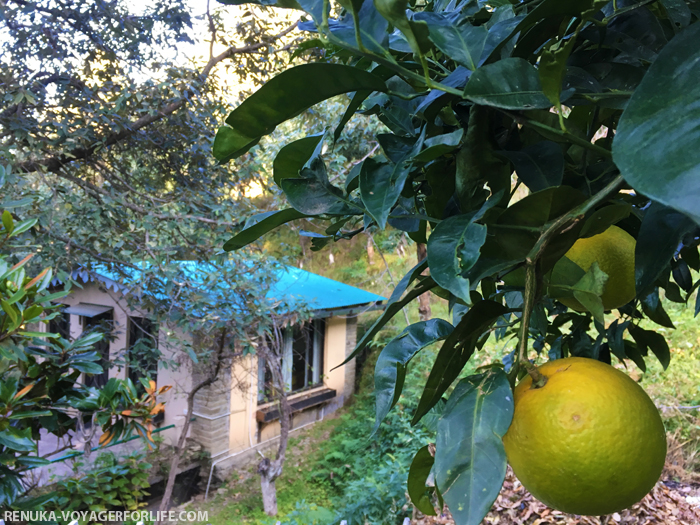 Bob's Place is crafted in a traditional style with beautiful stone exteriors and with lots of plants and trees in the vicinity. The staff mentioned to me that the owner, Mr Bob Anand Kumar, did not want even a single branch cut. The love for all the good things in life was quite evident in the way the resort was designed. I loved the photographs framed on the walls in each room, which I was told were works of Bob's wife.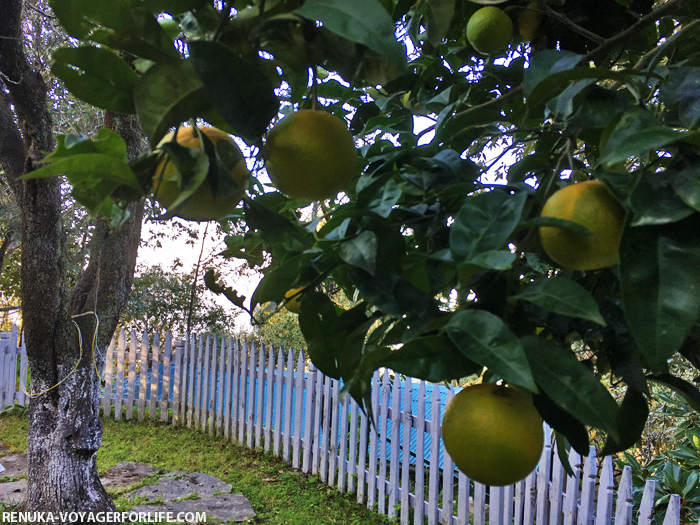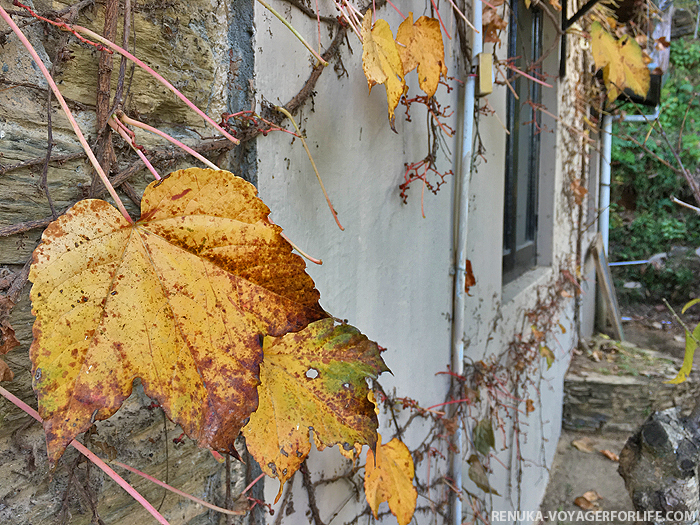 So yes, I spent a lot of time doing nothing at Bob's Place. But, I also had a day out, which I consider as my most beautiful nature expedition to date. I treaded through the village of Nathaukhan with my guide Manish, who's one of the staff at Bob's Place. I must mention that the staff at the resort was exceptionally good and attentive. They took care of me really well.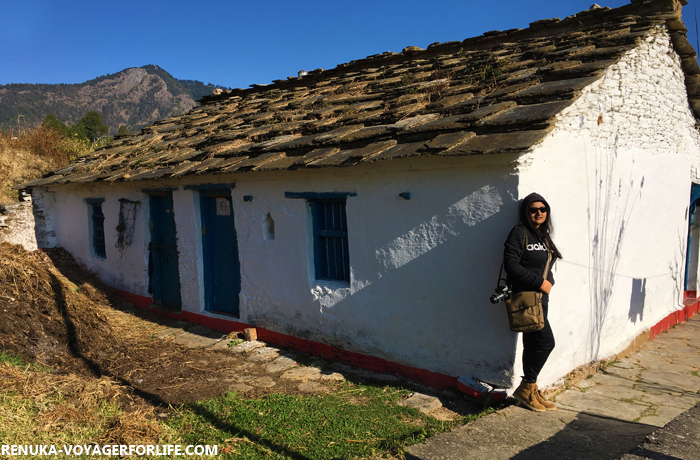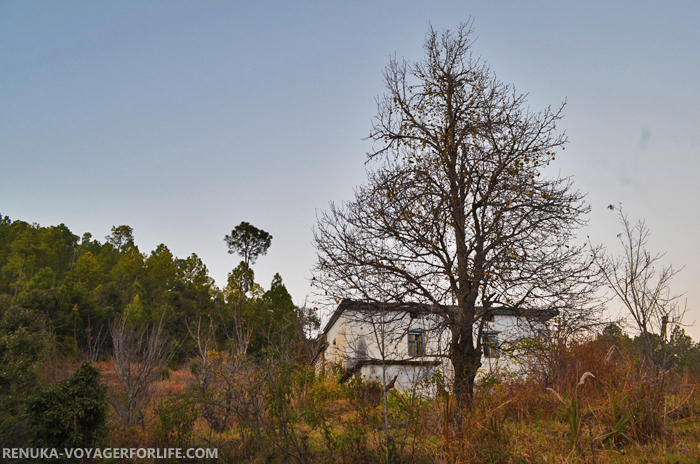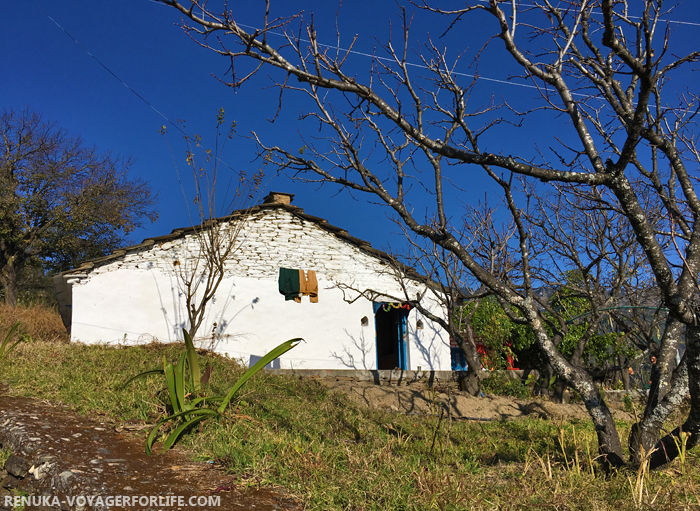 I wasn't sure if I'd be able to walk up till the river, because I don't work out in my daily life. But, I guess my Pahadi roots kindle my spirit to tread through any hilly terrain. Manish told me that there was a river called Sufi, which was our main destination. It was mostly straight or downhill walk, so it wasn't difficult at all, except a few uphill and making-a-way-out-of-no-way kind of paths, which these mountain folks create out of the blue. There were many orchards of apples, apricots and peaches along the way, which were bare-branched because summer is the season for fruits. November is the season for lemons and maltas.
Also read: The Colours Of Kumaon – In Photos
I was emotionally low when I started walking, but the moment I got deep into the forest, my mood was elevated. I sat down under a tree for a while and simply immersed myself in the surroundings. I travel for such moments. There was a small temple, a bridle path, blue sky, fresh air and a few nonchalant villagers. I was amazed at almost everything that I passed by. I just couldn't help gasping at the gorgeous village homes (These village folks have a great aesthetic sense. They really know how to beautify their homes and their lives).
Also read: 12 Reasons To Escape To Villages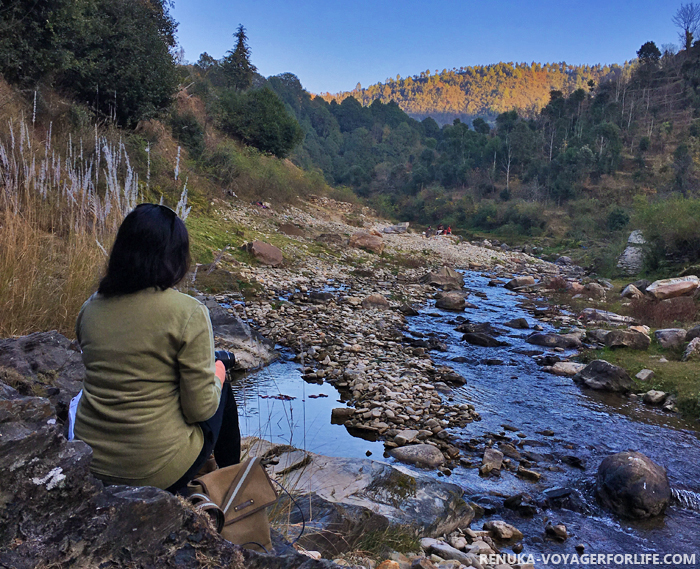 The river was soothing. It played a very potent melody for me. I simply loved the sound of it in my ears. I chose to sit down on a big rock to enjoy the comfort and calmness that the flowing river so lovingly offered me. There's nothing better than the love of nature. Is there? Manish, the very cordial chap from Bob's Place, had packed some lovely sandwiches and coffee for me, which made the whole experience even better.
Also read: Longing For The Mountains – Uttarakhand
On my way back, I had to walk uphill, which made me out of breathe. But, I still enjoyed it for the wild beauty all around me. Manish wanted to head back to the resort as quickly as possible, but I'd get mesmerised by the village charms and would ask him to stop and let me take pictures and have quick chitchats with the locals. It was lovely to be offered tea by a gracious village lady. The moment she saw me, she got the kettle ready in no time! Such is their innocence, generosity and love that they show to strangers. So, I sipped tea with the moonrise view.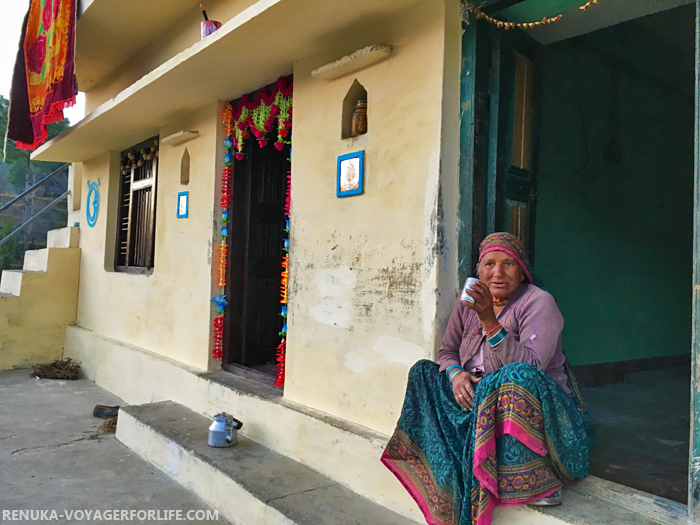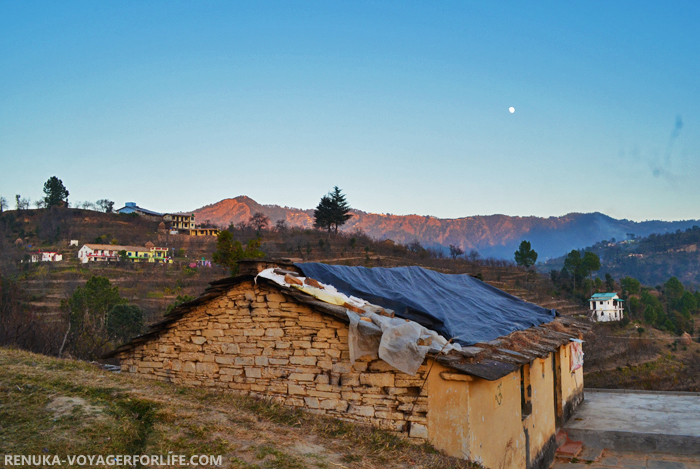 By the time we reached Bob's Place, it was already dark. But, it was not at all scary. A beautiful day ended on a beautiful note. Now it was time for tea and fire.
Do you enjoy slow, nature-driven escapes over "things-to-do" trips?
Enjoyed this post? Subscribe to receive 'new posts' straight in your inbox!
---
---