How To Travel Alone And Not Feel Lonely (12 Tips)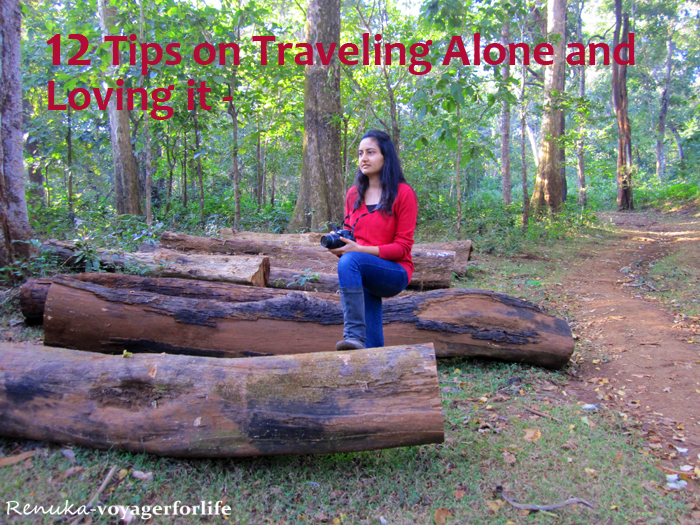 Are you keen on travelling alone, but scared to be lonely? Most people have this notion that solo travel can be lonely. But, let me assure you that 'alone' doesn't always mean 'lonely'. There are many myths associated with solo travel and one of them is loneliness.

How can you feel lonely when you really crave to explore a place? Your curiosity will keep you too occupied to feel lonely.

I want to begin by saying that it's important to start your solo journey with an open mind. You need to shrug off any preconceived ideas and be ready to embrace situations spontaneously. However, it's also important to be on your guard and take care of yourself. There has to be a balance of caution and spontaneity.

So here are my 12 tips on being solo on a trip and enjoying it –

Choose home stays or guesthouses over hotels
When you start planning your solo trip, don't even consider staying in a hotel. Search for home stays and guesthouses, where there will be more likelihood of connecting with people, such as your hosts and fellow travellers. You don't necessarily need to keep to yourself in such a scenario. You can come out of your room and have conversations with your host over tea, and go out for sightseeing with like-minded fellow travellers.
Always be open to talking to strangers
You can brush aside the childhood teaching, "Don't talk to strangers" and feel free to exchange a few pleasantries with anybody that you bump into. When you are travelling, everybody is your friend. You don't have to pick and choose people on the basis of their looks, status or background. Be open to talking to just about anybody – your driver, waiter, shopkeeper, hotel attendant, or any random stranger. Of course, if you are suspicious about someone, please stay away!
Pursue a hobby
Is there a hobby that you always wanted to pursue, but maybe your studies or your job didn't let you? Take advantage of the solo time that you have got and pursue that hobby. It could be anything – singing, writing, poetry, painting and so many other things.

Join a trek
If you like hiking, there is nothing better than joining a trek, which will give you a chance to know new people and possibly become friends with them. You won't even feel that you are doing it solo. Meeting new people and doing an activity together makes your travel even more memorable.
Stay connected to your people back home
Let your friends and family travel with you virtually by seeing your trip photos and updates on Facebook. You can also call them up and give them little titbits of your experiences. Staying connected to your people back home keeps you happier and more refreshed throughout the trip. There is an undercurrent of energy that you feel within as you narrate an adventure story to your sibling and make them feel deprived of a pleasure.
Enjoy café hopping
Do you like coffee? If not coffee, then maybe cakes and smoothies? Set out on a café trail and explore different noshing places. Carry a good book in your bag or maybe your laptop. Order some nice coffee and get engrossed in your favourite novel. Remember, it's cool to be on your own!
Do something new and different
If you really want to learn something of value on your trip, consider doing something different that people don't usually do on vacations. There are opportunities to volunteer, join yoga or cooking classes. I guess there are too many options. It's hard to be alone!

Practice photography
In this digital age, photography is not a cumbersome task. If you have even a slightest of love for photography, your solo time is the best time to nurture it. I always find photography a little challenging when I am travelling with companions, because I have to adhere to their schedule. It's not possible to hang on at one spot for very long when you have to take care of the interests of others. But, when you are alone, you can take your own sweet time to take pictures the way you want and feel good about it.
Don't spend too much time in your room
The more time you spend in your room alone the lonelier you are going to feel. So rise up early to set out for a morning walk, have tea while looking at the mountains or whatever is the view from your balcony, and listen to some good music. The idea is to soak in the outdoor beauty and just chill out.
Try the local cuisine and learn a bit about its history
Gorging on food is a good way to drive the lonely blues out. And what better way to do that than trying the local cuisine? So pick a restaurant that serves authentic local cuisine and have a sumptuous gourmet time. Besides, you can request your host to prepare a traditional dish for you and also give you insights on the culture and history related to it.
Visit a local market
There is no better way of grasping the local essence of a place than touring its local market. Walk in the midst of chaos and colours of a busy market and lap up the buzz of a regular day. The idea is not 'shopping' (I know some people detest shopping while travelling), but to connect with the place and its people.
Wind up your day with a good movie or a great sitcom
If you are wondering how to kill time in the evenings before you go to bed, catch up on a good movie that you always wanted to watch. Don't even bother to find out what's being aired on TV, because it's even more frustrating to swap channels and find nothing concrete to watch. The better idea would be to store some good movies and sitcoms in your laptop to be able to watch whenever you feel like.

Have you travelled alone? Did you ever feel lonely?

If you enjoyed this post, you can –
Subscribe to receive 'new post' updates through Email.
---
---