It's Easy To Fall In Love With Srinagar!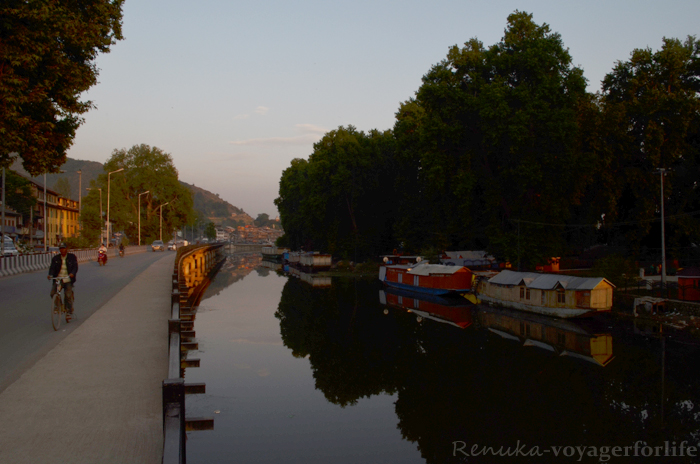 I had no idea I'd love Srinagar so much! I thought it would merely be a doorway to explore the other places of Kashmir. But, I found Srinagar absolutely charming. It has its own quirks and nuances that I began discovering right from day one. Some people may get exasperated by the usual bustle of shops and vehicles, but there's a calm side to Srinagar that remains unruffled.  
My sightseeing in Srinagar was more about knowing its people and observing their traditional way of living. I chose to skip the Mughal gardens, for I knew I wouldn't gain anything there. What I wanted to discover about Srinagar was there on the streets, in the market alleys and in the little pleasantries that I exchanged with the locals. 
The 'lush' boulevard walk
There's a sophisticated air to Srinagar, which you get acquainted to as you walk along the Boulevard road. It's a long tree-lined street that has quite a few security guards posted, for it's a 'high society' area. If you keep going further ahead, there's chief minister's residence that you will pass by. But, that's not so important. What I loved about the Boulevard road is the lushness of trees, golf course, the apple orchards and the fresh aroma they exuded.
The Boulevard Road 
Spotting bakeries everywhere
I am a big confectionery lover and Srinagar has quite an eminent bakery culture. So, there couldn't be an easier way to woo me. I couldn't resist the temptation of noshing on the traditional plum cakes that Kashmiris enjoy with tea. (I'll write a separate post on the food in Kashmir)
Bakery culture of Srinagar
Sneaking in to a cherry farm
Devouring cherries right from a cherry tree was the best thing I did in Kashmir. It was my guest house manager, who suggested that I should visit his farmhouse in the outskirt of Srinagar. I'm glad I accepted his invitation! Though the farmhouse was in a rundown state, the cherries were in full bloom. And yes, they were delicious.
If that was not enough, I also had a chance to sneak into a big cherry farm, where they grow cherries for the market. The caretaker allowed me to take pictures and also dumped a huge bunch of cherries in my hand.
A Cherry Farm near Srinagar
It's a farm managed by the horticulture department of Kashmir.
A private farm house of New World Guest House
Dal Lake turned out to be much bigger than my imagination and it captivated me in an instant, though I was a bit let down by the cemented pavement that they have built. But, I have to say that despite the commercialisation around the lake, it has its charisma intact.
I wasn't sure if I wanted to take the 'classic' Shikara ride. I kept brushing aside the Shikara riders until one day, one of them managed to convince me. He charged me way (INR 300) less than what is usually charged (INR 500). Forget about the rate though, for the Shikara ride was a blissful experience. I highly recommend it to anybody going to Srinagar.
Apparently, everybody around was amused to see me taking the ride alone. But, I felt like a queen and I just savoured the moment. 
Shopping on Shikara
The most enriching aspect of my journey in Srinagar was my conversations with Kashmiris. From quick chit-chats to endless tête-à-têtes, I had interactions with quite a lot of people. Most people were happy to see me in Srinagar. They were delighted about the fact that someone really cared to know them.
The usual words I got to hear in Srinagar were 'aram se' (sure) and 'koi baat nahi' (no problem).
A conversation over a cup of tea
… few conversations just go on
Shops on Dal Lake
My everyday auto rides were also quite an experience. The autos in Srinagar have doors and curtains. Though I knew it's something to do with tradition, I still asked an auto guy about the purpose of a door. He explained it to me very sweetly that it was meant to keep dust away and also to protect women from unwanted attention. Well, I simply smiled about it because I hadn't seen such a provision anywhere else in India.
One of the scenic corners of Srinagar
Pari Mahal for city views
If there's any place from where you can grasp the entire city of Srinagar through your eyes, it's the top of Pari Mahal. Besides being a great vantage point, Pari Mahal is a lovely place to chill out, romance and watch the sun set (if there are no clouds, of course).
But, it's not very economical to reach there. The auto guys charge a whopping fee (INR 500) for a return drive. As a solo traveller, it was a bit expensive for me.
Pari Mahal
What do you have to say? Is Srinagar the kind of city you'd love to visit?
If you enjoyed this post, you can –
Subscribe to receive 'new post' updates through Email.
---
---