Jaipur In 24 Hours – From 'Hawa To Jal Mahal'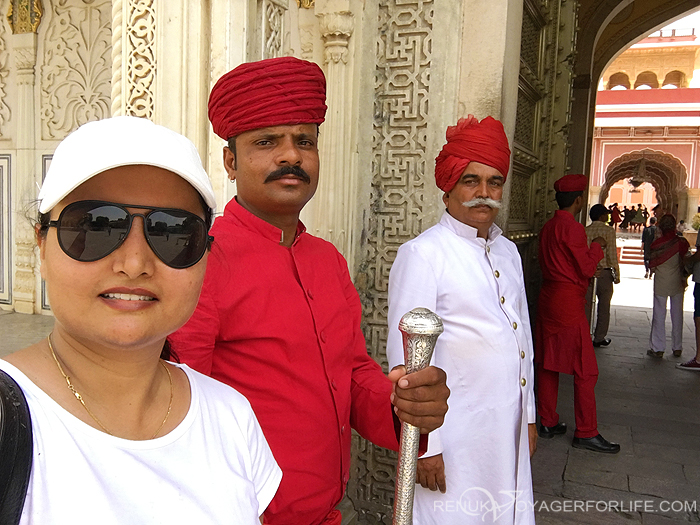 Jaipur turned out to be even better than my expectations. I had been to other places of Rajasthan – Udaipur, Pali, Jodhpur, Jaisalmer, Ajmer and Pushkar, but had never been to Jaipur, which is quite ironic given the fact that I have lived close to Jaipur (in Delhi) for a decade. Anyway, I absolutely loved the capital of Rajasthan. It's vibrant, regal and so full of colours just like it's supposed to be.
Although Jaipur was a layover (our main destination was Ajmer), we extracted the best of Jaipur in a day with Trident Hotels, which I think is one of the best heritage hotels in Jaipur. While our first half of the day was packed with sightseeing, we enjoyed slow travel post lunch at Trident Jaipur.
Visiting Jaipur in summers! Is it sane or stupid?
Well, to be honest, I had never thought of travelling to Rajasthan in the summer. However, impromptu trips make you experience a lot of new and unexpected things. Isn't it? So when this trip to Ajmer came into being, I knew we had to visit Jaipur, too. And, it turned out to be absolutely fantastic.

Of course, it's hot and you wouldn't really enjoy roaming around. You will feel dehydrated. But, you don't really have to sightsee in the heat of the day. We landed in Jaipur at 7 in the morning, which gave us enough time to visit some of the attractions while the sun was still balmy. So, I'd say it wasn't a bad idea to be in Jaipur in the month of May.
Besides, there are alternative ways to travel, and there are pros and cons of all seasons. So, if you plan your trip carefully, even though it's a short one, you can enjoy it to the fullest.
Things to do in Jaipur in 24 hours – From Hawa to Jal Mahal
Hawa Mahal – I thought I wouldn't like it much.
Our first place to visit was obviously Hawa Mahal, one of the most photographed palaces in India perhaps. I must admit that Hawa Mahal never fascinated me. I had no idea that it was about so much more than what I had usually seen on the internet. Anyway, I loved Hawa Mahal. So, here's the benefit of travelling in the offseason – you don't get the crowd. You have all the famous attractions all to yourself.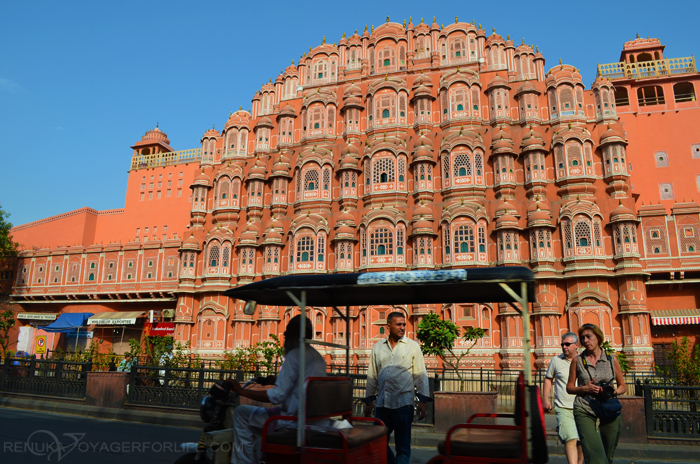 The moment I had the first glimpse of Hawa Mahal, my instant reaction was "it's far more beautiful than what's captured in the pictures". To which my husband appropriately reacted, "Obviously". Hawa Mahal is about the atmosphere that it exudes. It's a lovely place for a stroll. There are lots of shops, eating places and other attractions like snake charmers and traditional singers. You should care to visit Hawa Mahal not just for the palace, but for the entire vicinity. The name of the road is Hawa Mahal Road, which has an array of uniform 'red and pink' coloured shops.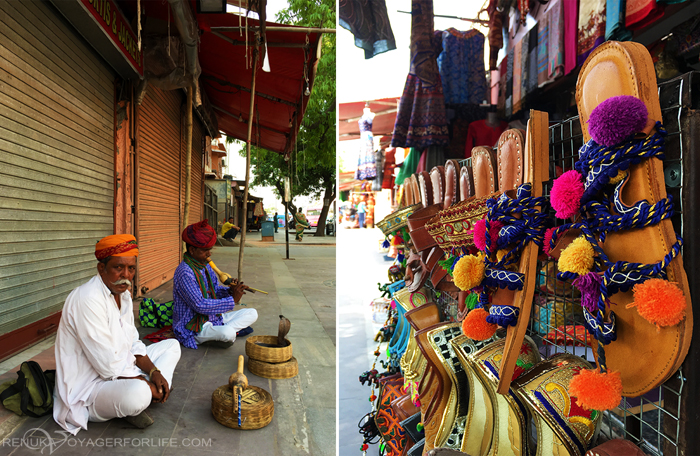 Breakfast at The Tattoo Café
After soaking in the culture and aura around Hawa Mahal, we settled down for a nosh at The Tattoo Café, which is right opposite the Mahal. So, if you want to enjoy a view of Hawa Mahal while sipping coffee, you know where to go. There's another café called The Wind View Café, next to The Tattoo Café, which is also a good place to savour the Hawa Mahal view and take some good pictures.
Rooftop views of historic Jaipur
Hawa Mahal is a five-storey palace with Jharokhas (windows) overlooking the main street. The purpose of such windows was to let the regal ladies enjoy the outside view without being watched. It's interesting to do a tour of the entire palace, especially the rooftop from where you can have an overview of the city, the historic part of Jaipur – Jantar Mantar and City Palace can also be seen.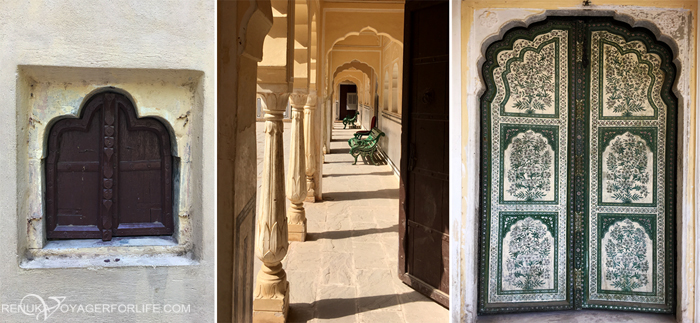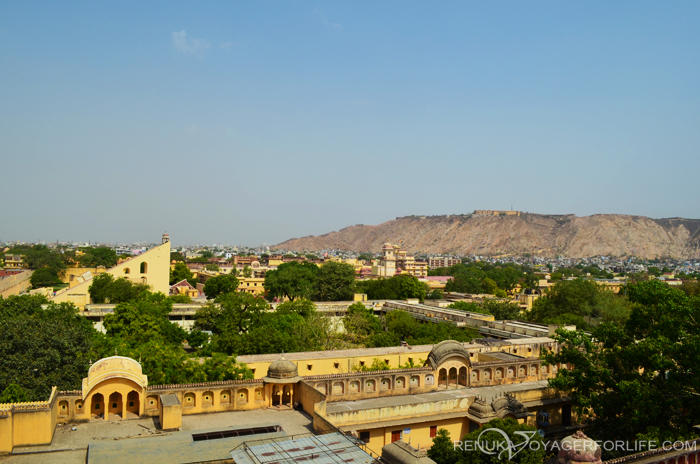 I got to record a traditional folk song by local Rajasthani singers
It was so cushy to prance around in Hawa Mahal with barely any other tourist around, and then we got to listen to a couple of beautiful traditional folk songs by local singers. They had set up a beautiful puppet shop in the palace courtyard. It was really gracious of them to sing for us. So, Rajasthan doesn't forget to charm its visitors even in the low season.
City Palace – I loved being clicked with the royal darbans (doorkeepers)
City Palace and Jantar Mantar are in close proximity to Hawa Mahal. So, you can visit all three in a few hours. When I entered City Palace, the first thing I loved was the sight of doorkeepers dressed in regal attires. The royal ambience of the palace was very much evident. And, as I walked a little inside the courtyard, I found a few young girls and women practicing traditional Rajasthani dances. It was such a delight to watch them. I was amazed to see the undeterred spirit of Jaipur.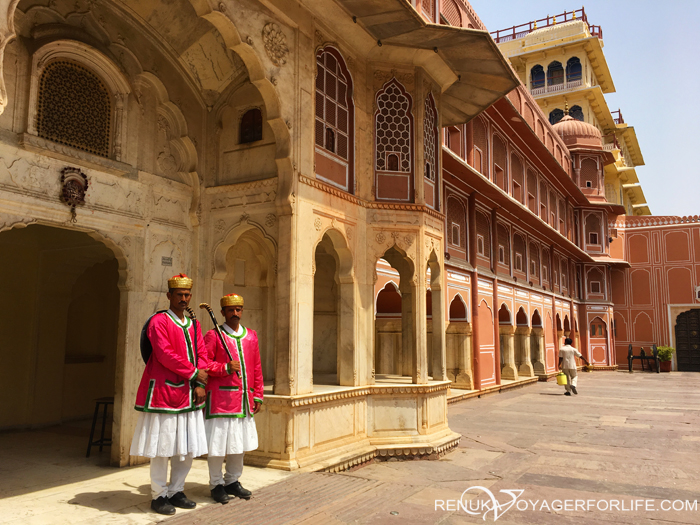 My fun rickshaw ride
Now that was my favourite part. It was fun to ride on a rickshaw with my husband, while the rickshaw guy revealed a few insights about the historic monuments along the way. I believe a rickshaw ride is the best way to absorb the city vibe. Although our ride was short, we enjoyed looking around. And, I liked my rickshaw guy's cheek when he asked to be clicked.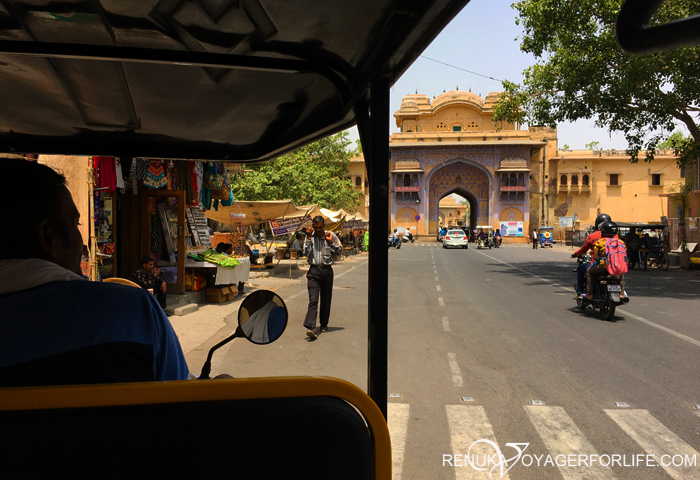 The much-needed Lassi at 'Lassiwala'
After wandering around a few sights, we stopped at Lassiwala at MI Road for a cool and rich Lassi, the much-needed respite on a hot summer day. It's a simple, no-frills shop where you can see your Lassi being made and poured into Kulhad glasses.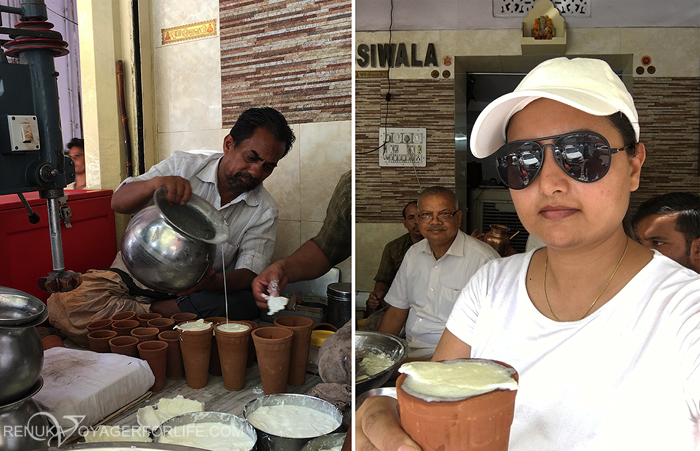 I had a chance to dabble in carpet-making
The rickshaw guy took us to an emporium in Jaipur, where we quickly browsed through a few traditional items before we spotted an old man weaving carpets. He was very much game for a photograph. He made me sit next to him and learn how to weave a carpet. And, I must say it was fun. It's a toilsome job, and the old fellow was extremely displeased with the low pay that he received at the end of it.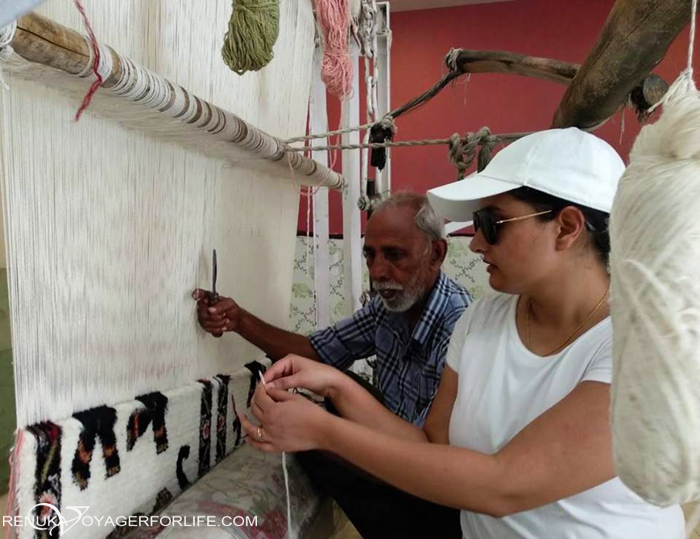 Albert Hall Museum
Well, museums are not my thing, but I visited Albert Hall Museum for my husband. He loved it, so I guess it's good. Besides, museums are a good escape from the heat outside. So, I guess visiting museums once in a while is a good idea.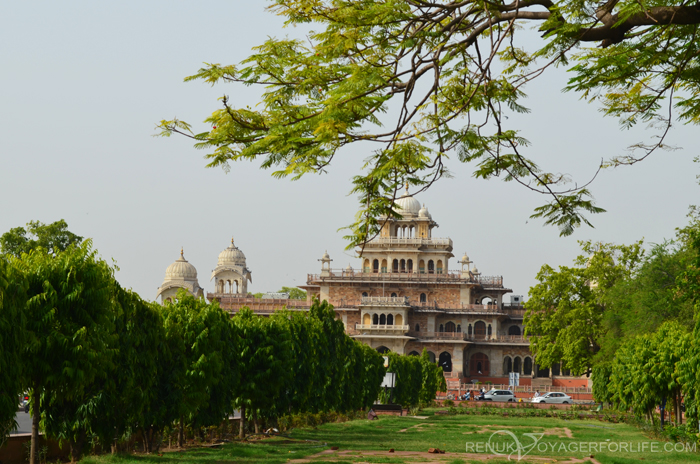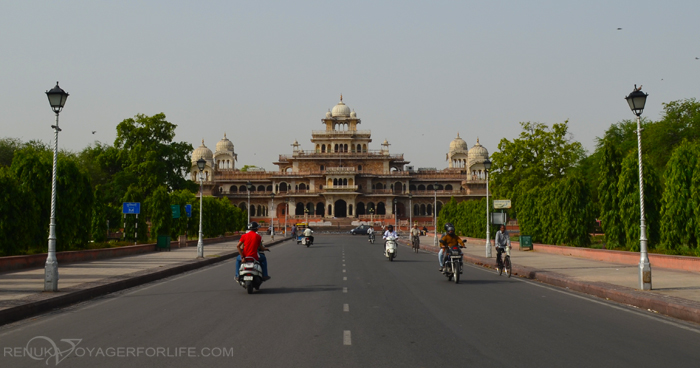 Laal Maans and Keema Bati at Spice Court
We chose Spice Court for lunch, and we ordered all the traditional Rajasthani dishes like Laal Maans and Keema Bati. I decided to go to Spice Court because it's recommended by Lonely Planet and TripAdvisor, and I did like the look and feel of it. Keema Bati was good. But, Laas Maans was average. I wouldn't say that I had a great dining experience. I'm sure there are better, more authentic local eating places in Jaipur that one should go to.
My rendezvous with heritage at Trident Jaipur
Trident Jaipur takes you closer to the heritage of Rajasthan. The obvious bait for staying at Trident is that you have the beautiful Jal Mahal for view all the time. The moment we entered the hotel, we were greeted with the trademark royalty of Rajasthan. From welcome drinks and Tilaks on our foreheads to being escorted to our room, everything exuded the graciousness that Rajasthan is renowned for.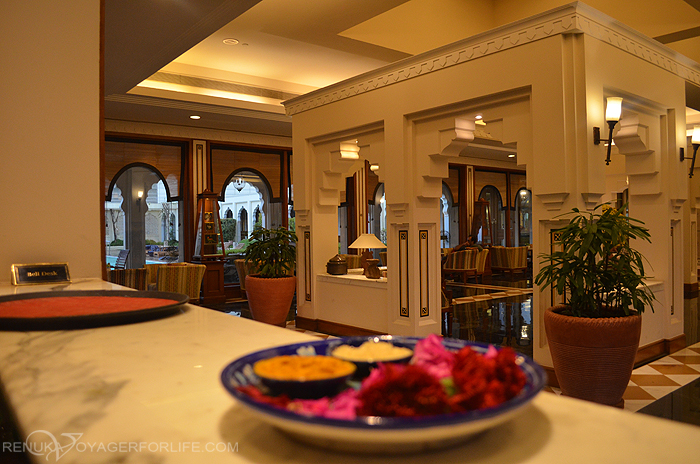 I loved the little things that the staff at Trident Jaipur did for us like the sweet welcome platter in our room – chocolate depicting the miniature Hawa Mahal was really a thoughtful gesture. Also, the way we were cared for was heartwarming. Rudraksha, our personal manager made sure that we were at absolute ease. He made me take a tour of the entire property and introduced a few special amenities to me, such as the gymnasium, spa, swimming pool, restaurant, bar, café and the kids' zone. The hotel is quite compact, yet lives up to its regal image.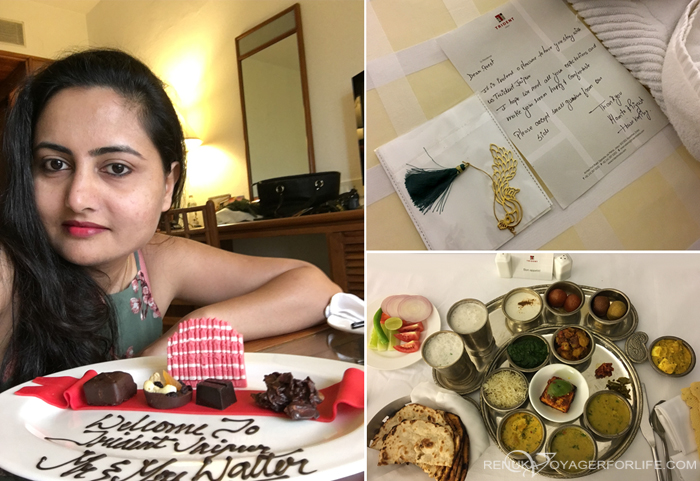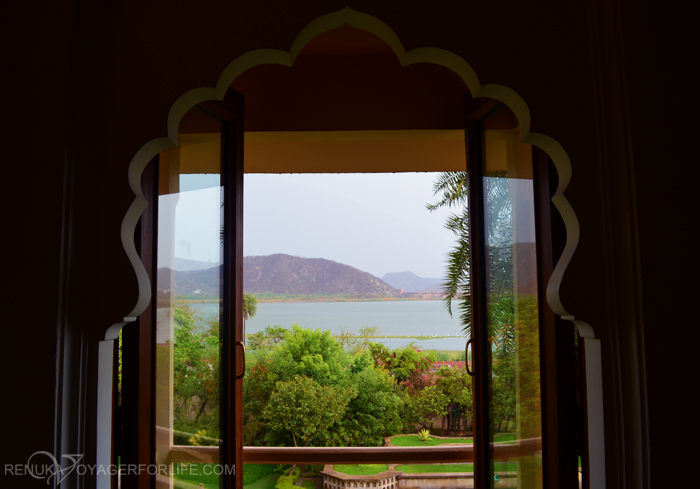 And, it started raining…
The real bonus of my trip in Jaipur was the rains. While we were relaxing in our room, it started raining after a bit of a storm. It was beautiful to just enjoy the rains and the cool breezes from our balcony. The view of the Mansagar Lake and Jal Mahal is mesmerising when it's raining. Well, an early monsoon shower was a real bargain on this trip. The weather turned so cool and pleasant for the rest of the day that we just savoured the comfort and hospitality of Trident without really thinking much about what to do next.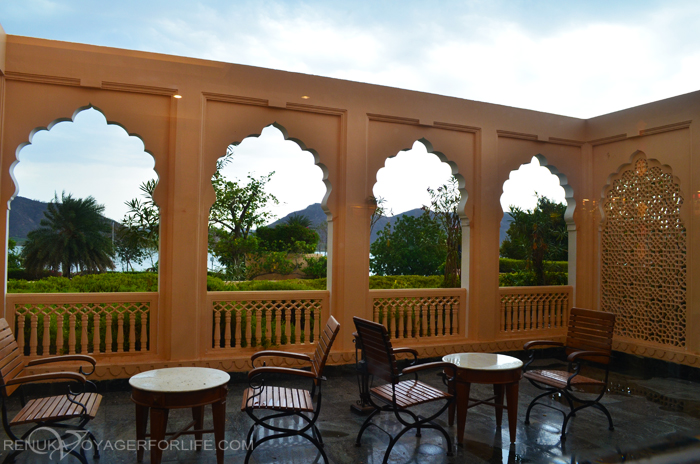 We spent the evening sipping coffee in the lobby
As I mentioned, we didn't really care much for any activity, we simply sat down at the café in the Trident lobby overlooking the swimming pool. It was the perfect time for random conversations, and just soaking in the royal heritage.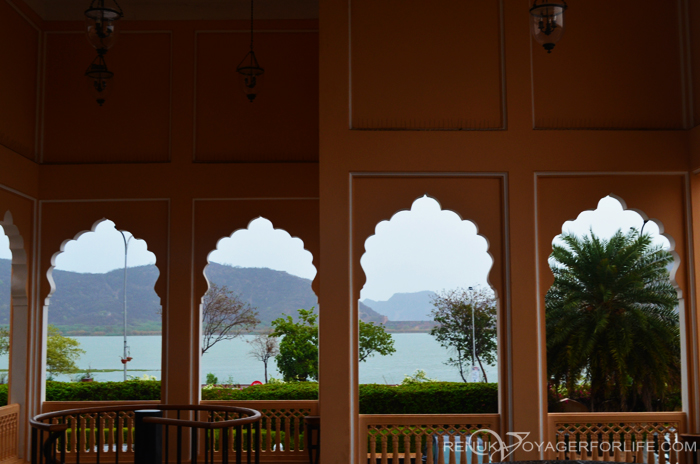 Jal Mahal at twilight and sunrise
We also enjoyed a stroll along the lake at dusk. What displeased me however was the garbage thrown all over the pavement and on the banks of the lake. The site that looked so dreamlike from afar was quite dirty when you go close to it.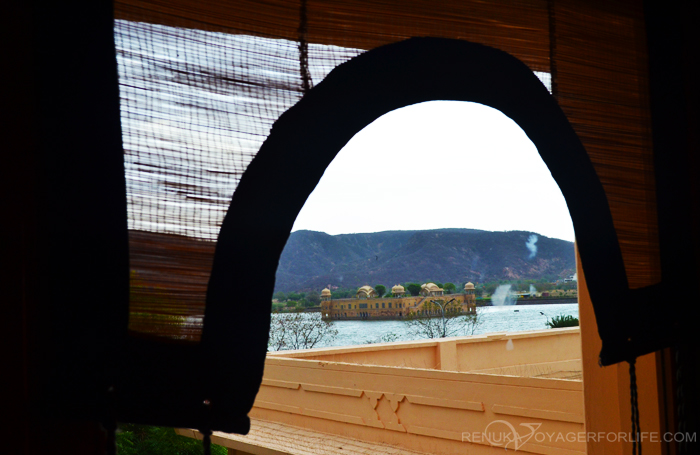 So, our day began with Hawa Mahal and ended at Jal Mahal. But, that's not all. We also witnessed the sunrise from our balcony at Trident Jaipur. And yes, I couldn't keep myself from going for a morning walk along the lake.
Do you enjoy such short, impromptu trips?
Enjoyed this post? Subscribe to receive 'new posts' right in your inbox!
---
---