16 Reasons I Want To Go Back To Fort Kochi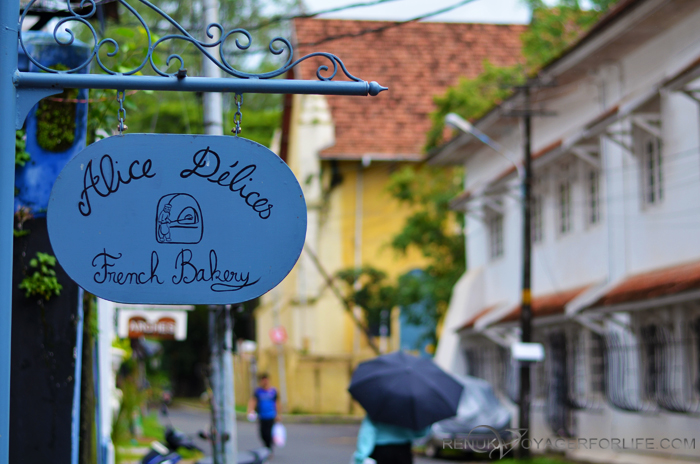 I can easily say that Fort Kochi is one of the top heritage destinations in India. It's a place where history, art and culture happily shake hands with new age cafes. It's an ideal abode for solo travellers, writers and photographers. There's so much of inspiration to take in.
I had always wanted to visit Fort Kochi, because I found it quite charming in the pictures that I had seen and whatever I had read about it. And, I have to say that Fort Kochi turned out to be exactly what I had imagined it to be – charming. I'm still recovering from its magic (let me stick to the cliché).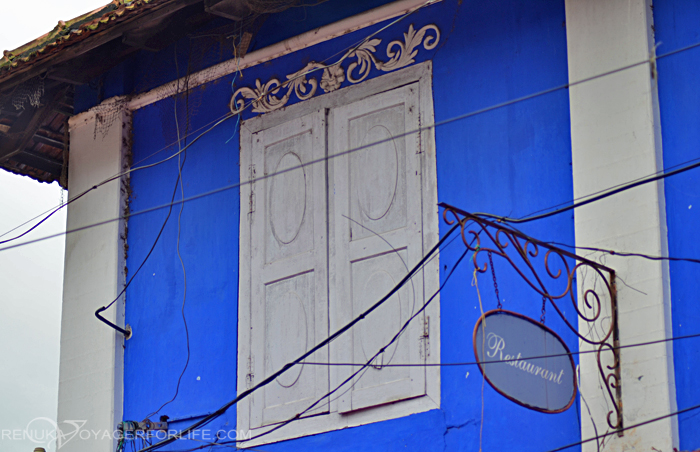 The kind of traveller that I am, I get intoxicated by places like Fort Kochi. There's so much to do, and so much not to do. I like places where I can happily not do anything, yet experience a lot. Besides, it's loved by both Indian and foreign travellers. So, if you are planning a trip in India, make sure Fort Kochi is on your radar. You can easily apply for visa India online.
Also read: Solo Female Travel In Kerala – Is It Safe?
Top things to do in Fort Kochi
Wander till your feet ache.
The most interesting thing to do in Fort Kochi is to wander without a purpose. Let your Google map take a nap, and you just follow your instinct. Fort Kochi is a highly photogenic place, and thus, you don't really need to find places to visit. It's like wherever you go, there's something to draw your attention – the old, Portuguese architecture, the cute streets and the lanes, and so much of character.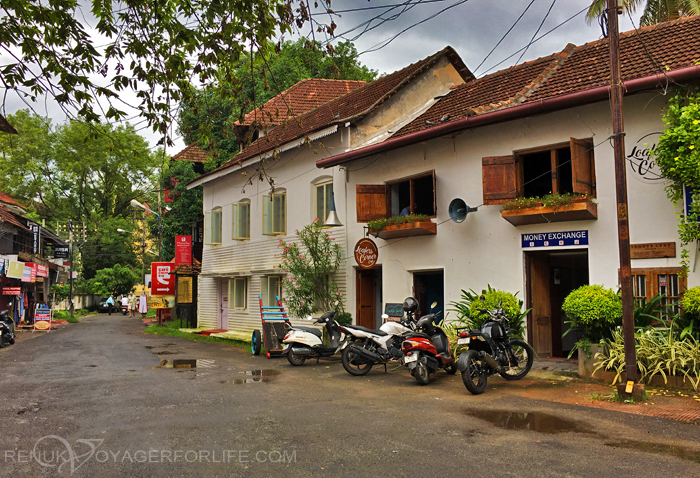 Snap lots of photos.
As I mentioned earlier, Fort Kochi is a place for photographers. The moment I stepped out of my home stay, all I wanted to do was to take as many photos as possible. But I have to admit, I have missed out on many good frames. I really think that my trip should have been longer. I have to go back to Fort Kochi for a few more pictures.
Also read: 10 Most Photographable Places In India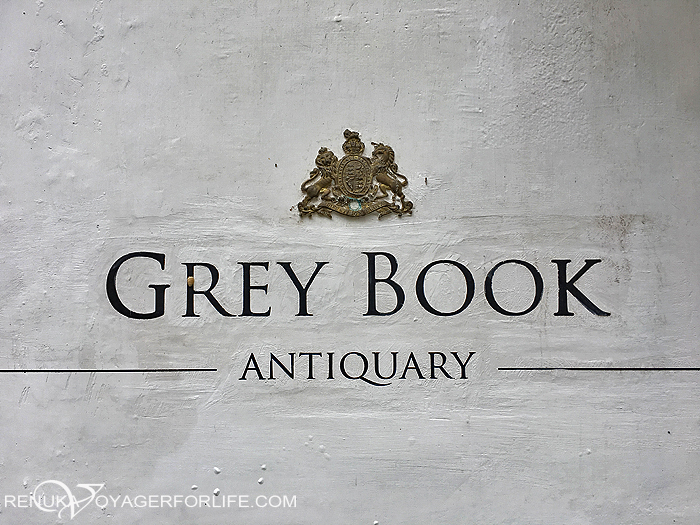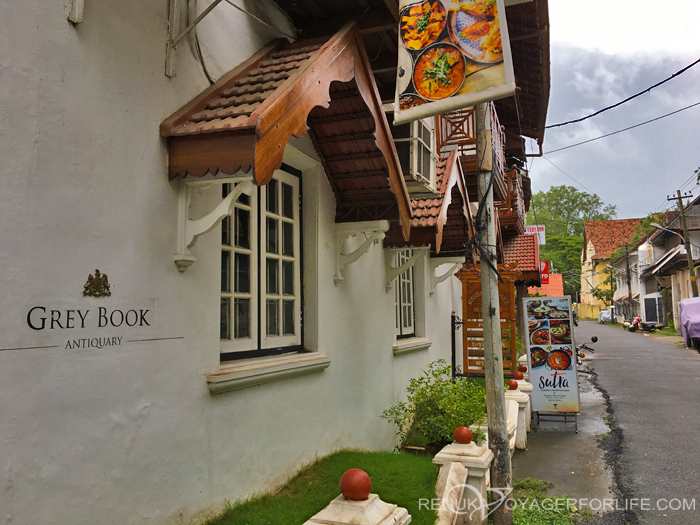 Marvel at the primeval churches.
There are quite a few historic churches in Fort Kochi, which you would want to visit, such as Santa Cruz Cathedral Basilica, St Francis CSI Church, St George's Marthoma Church and many others. I spent quite some time at Santa Cruz, which was founded in 1505. So, it's really old! I'm usually not too fascinated by churches and temples, but I really liked the grandeur of Santa Cruz and also the interiors, especially the biblical paintings on the ceiling.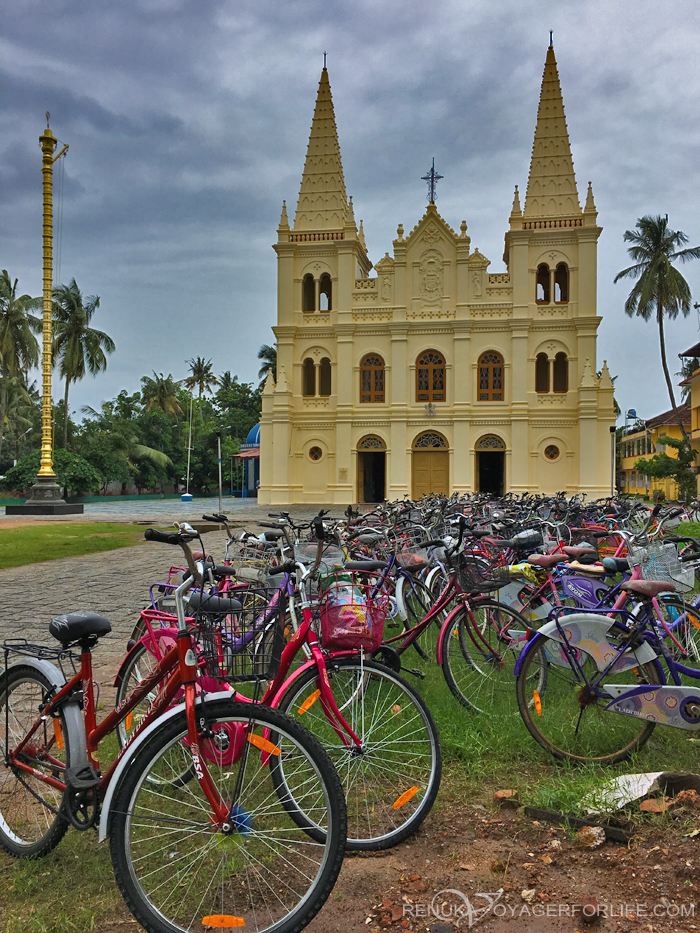 Soak in the aura of the streets, the signposts and the vintage charm.
As you walk the streets of Fort Kochi, you would feel a certain aura in the air. It's amazing to see some traces of the long lost, forgotten times. There's so much of prettiness to admire – the signposts, the old Govt. buildings like the post office, the old bungalows adorned with flowers, the Old Dutch and Portuguese buildings and the slow pace of life.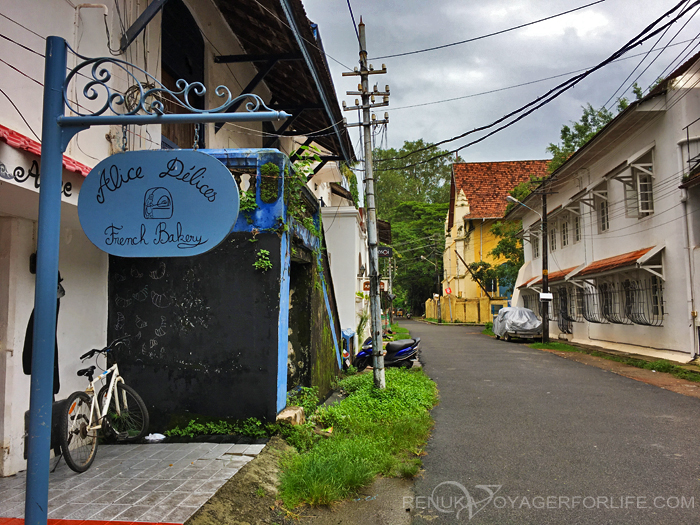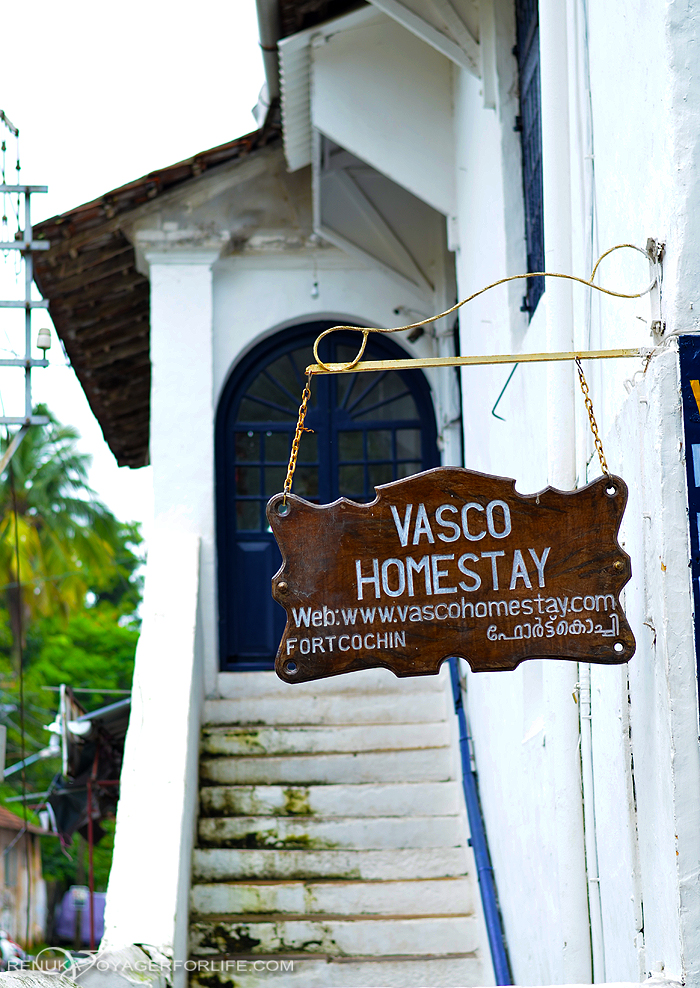 Browse through an old library.
As it began to rain, I happened to sneak inside an old library in Fort Kochi. There's something about old books. There are quite a few good libraries in Fort Kochi, which you'd spot as you wander with a purpose to explore.
Be observant to some unsung graffiti along the way.
Fort Kochi is quite quirky, too. Besides the heritage of colonial buildings, there's a lot of off-the-cuff modern art to see in Fort Kochi. I got to see a few flashes of wall arts. So, it was like an extra dose of fodder for my lens.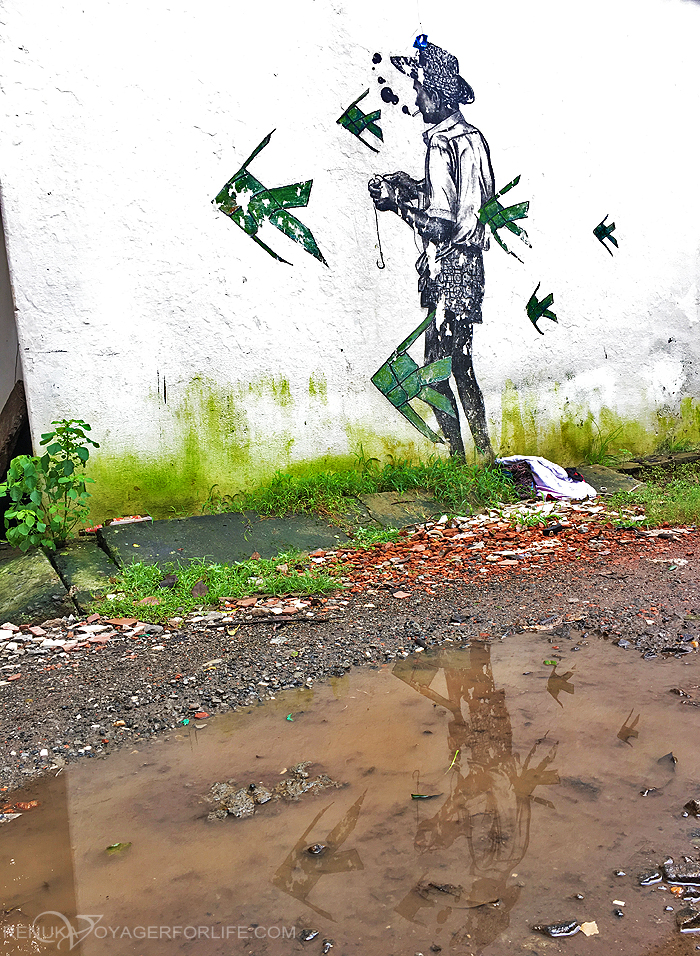 Spend a lot of the Garfield kind of 'do-nothing' time in the cafés.
Oh, the cafés of Fort Kochi! I want to go back to Fort Kochi just for the cafes. What I found different about the cafés was the artsy soul embedded in each one of them. Each café that I visited had something distinctive to exude. Most of the cafés in Fort Kochi have paintings or photographs exhibited. There's an evident love for art that you will find in every café and elsewhere in Fort Kochi.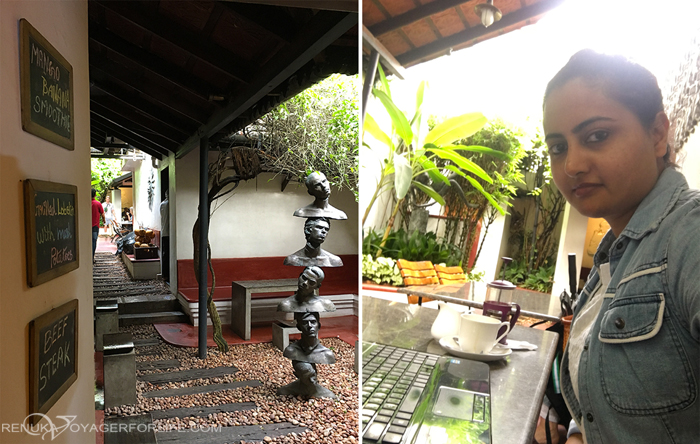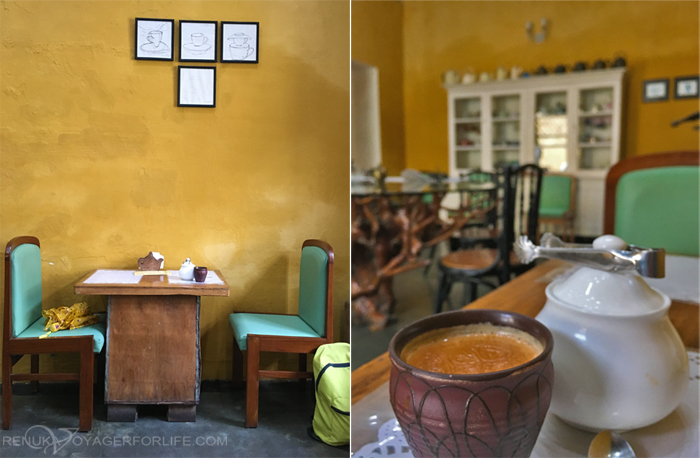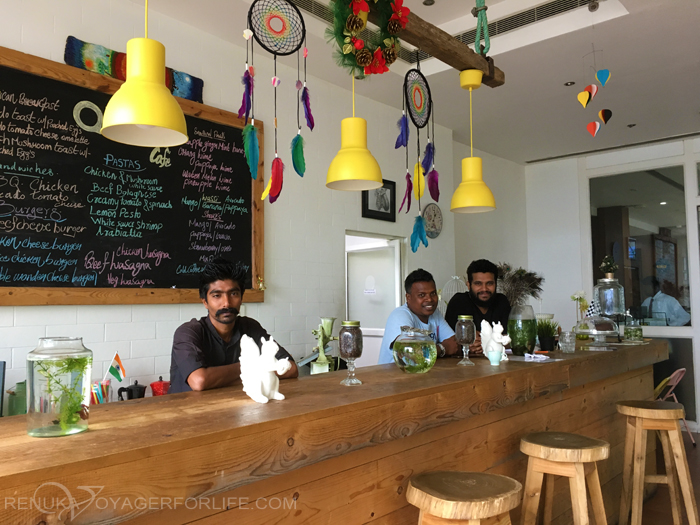 Eat a lot of good food.
I had delectable food almost everywhere in Fort Kochi and around. Besides the traditional Kerala cuisine, the restaurants in Fort Kochi serve some great continental food, too. I had one of the tastiest chicken open sandwiches at Pepper House, and one of the nicest breakfasts at Qissa Café.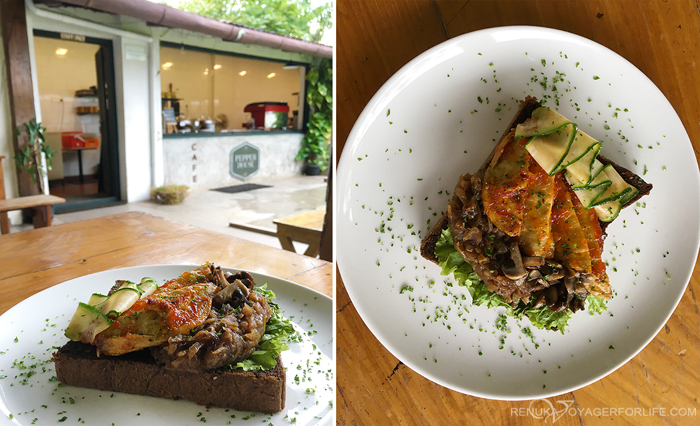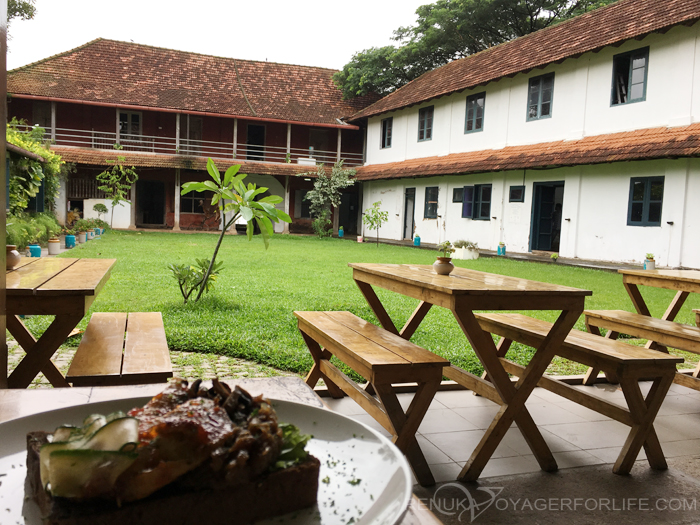 Embrace the sea breeze at the waterfront.
It was so lovely to stroll along the harbour in Fort Kochi. I went to the waterfront to take photographs of the much-talked about Chinese fishing nets and the sunset view through them. However, the overcast sky and the dirty surroundings of the nets made me walk ahead and enjoy the sea breezes instead. The waves were high and wild, but the air was still quite calm. It was nice to see the locals let their hair down.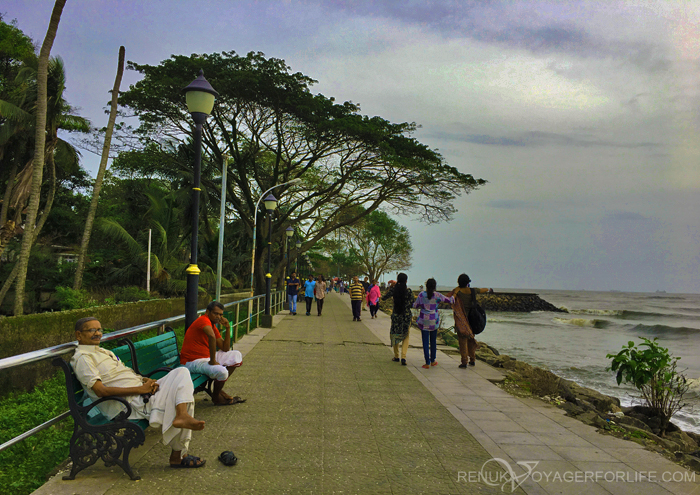 Enjoy a cultural evening at Kerala Kathakali Centre.
I had watched Yakshagana dance in Karnataka, which I had enjoyed quite a lot. So, when I got a chance to watch a Kathakali performance in Kochi, I was all excited about it. The special thing about the performance is that you can also watch the artists do their makeup on the stage. The show begins with each artist sitting on the stage and applying makeup followed by the narrator telling about the colours used in the makeup, explaining the meaning behind different facial expressions and gestures, and then the actual story and the dance take place.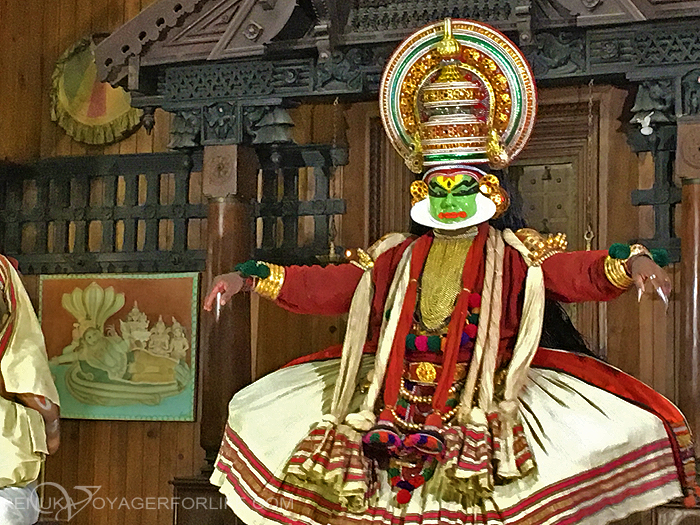 Visit the Mattancherry Palace and the surroundings.
I was quite curious to visit the Mattancherry Palace aka the Dutch Palace, but to be honest, I wasn't so impressed because I expected to be much bigger. But, wait! I loved its surroundings. The palace has been converted into a museum. There are some interesting collections from the past, such as the Palki (Palanquin) used in those times.
I have to mention that even the royal buildings in Fort Kochi look understated. There's a blend of Dutch, Portuguese and British architecture everywhere, which is fascinating.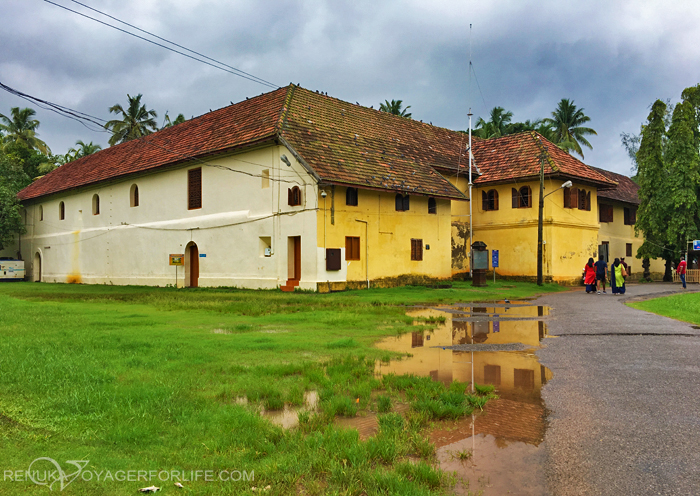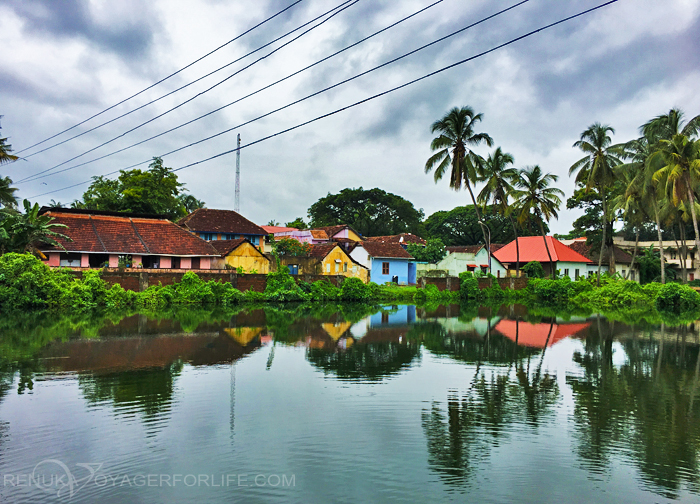 Get lost in Jew Town.
After you have admired the Mattancherry Palace, walk towards Jew Town. I hadn't recovered from the magic of Fort Kochi, and here I discover another stunner called Jew Town. Sauntering through Jew Town feels like being in another country altogether. It's a totally different side of Kerala that you will experience. Although it looks like a big shopping place on the surface with an array of antique shops and various other items, there's a lot more to gasp at if you really care to explore.
Jew Town is a place to get lost. Seriously, the old Jewish houses, the rundown walls, the doors and windows made me gasp in amazement. I was like "this is crazy"!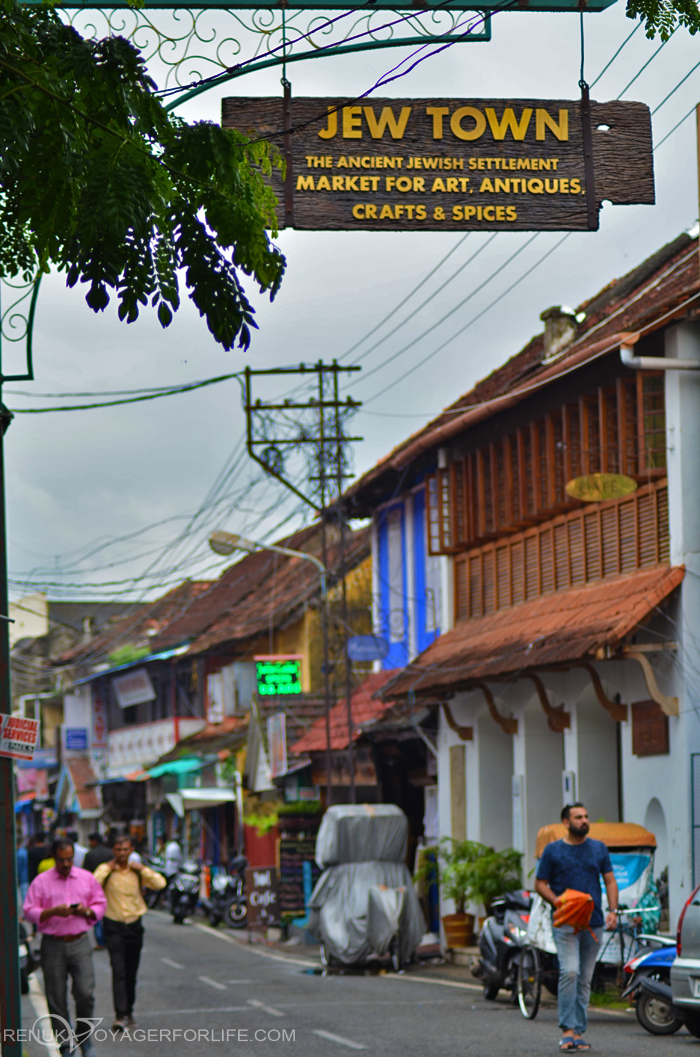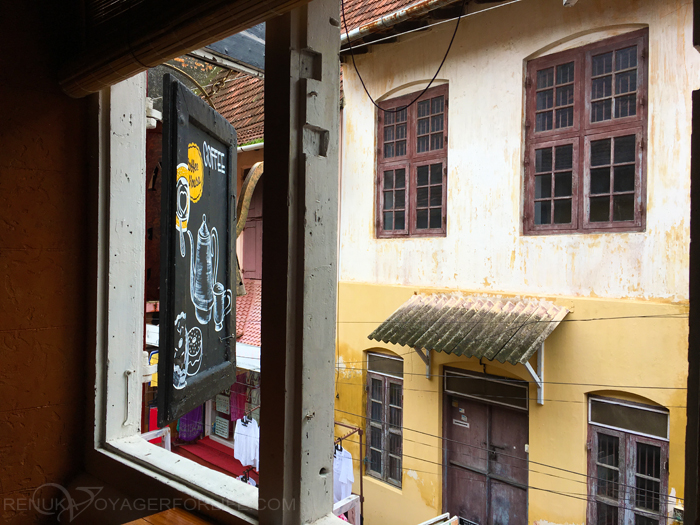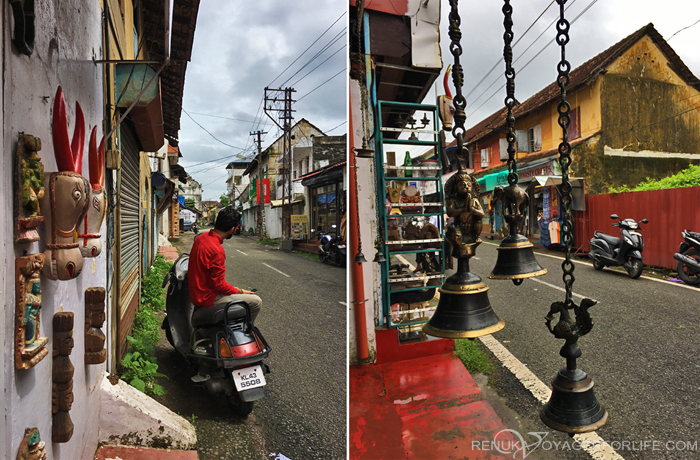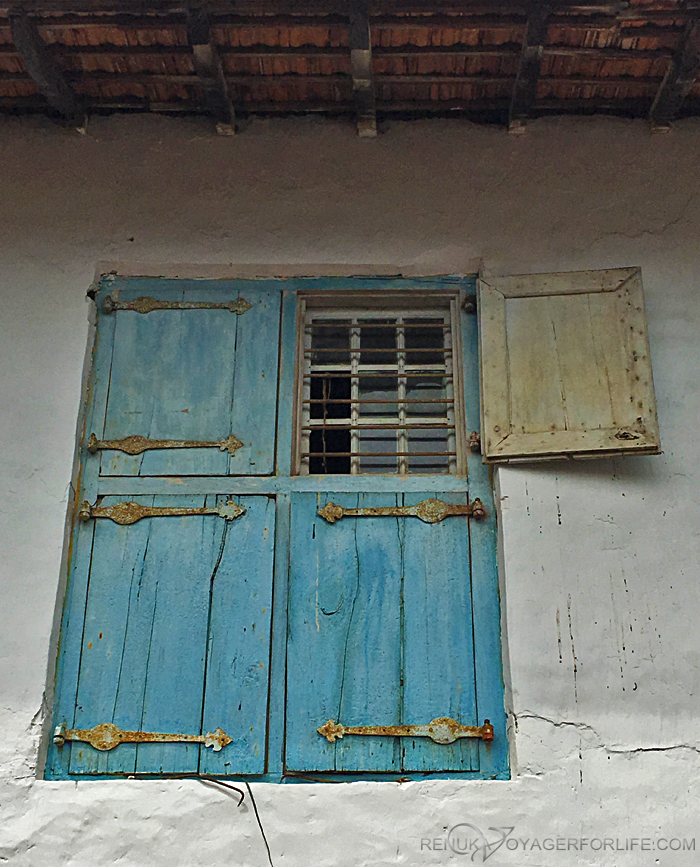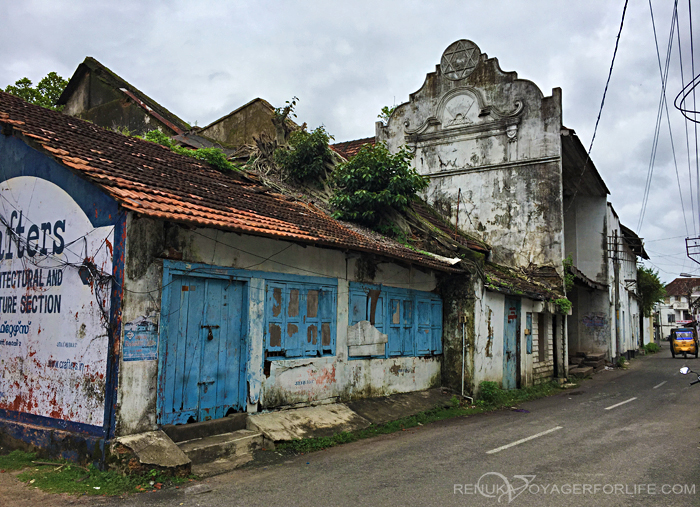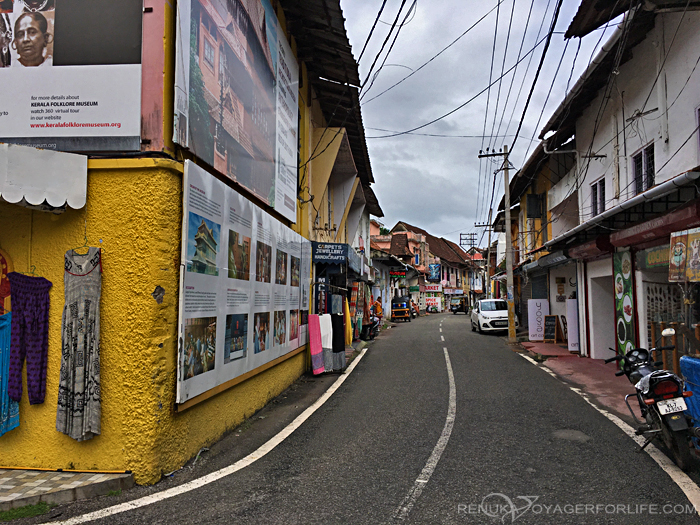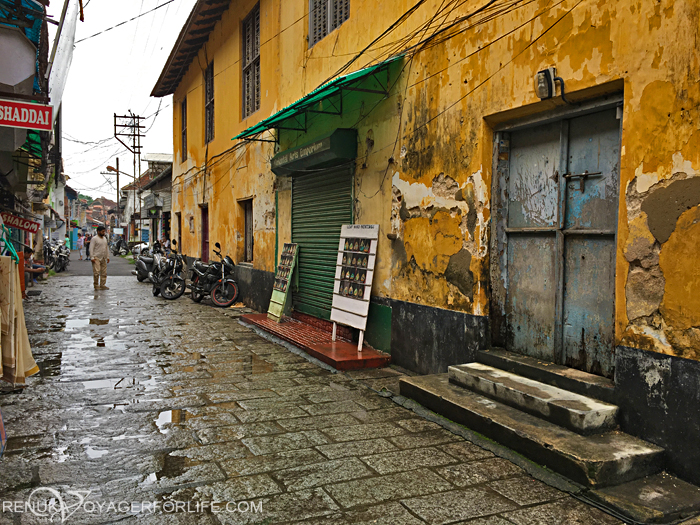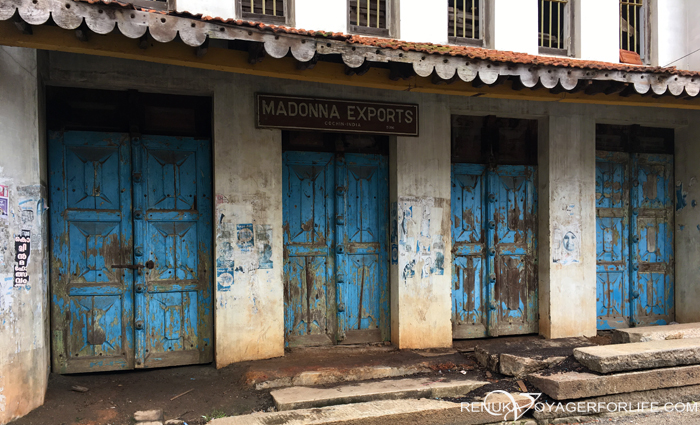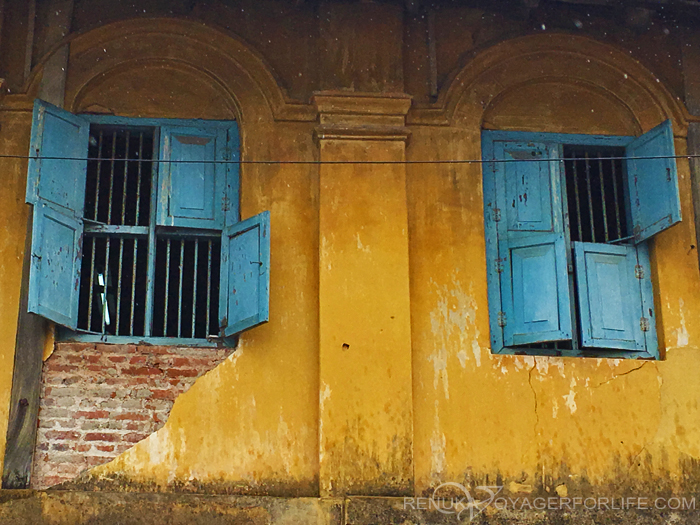 Visit the oldest synagogue of Cochin – Paradesi Synagogue
Paradesi Synagogue was built in 1567 in Cochin. Although the synagogue is still active, it has been converted into a museum. There's a very intriguing collection of paintings that narrate how the Jews came to India, the trade that happened between the two countries and other things. I must say that Paradesi Synagogue is the first museum that intrigued me and I read each and every word written below each painting.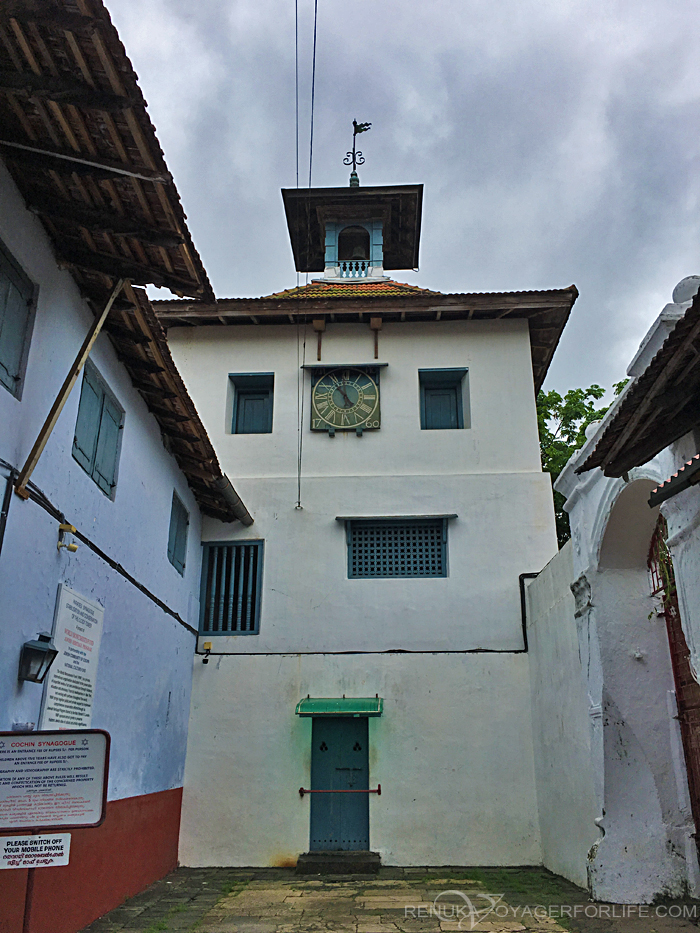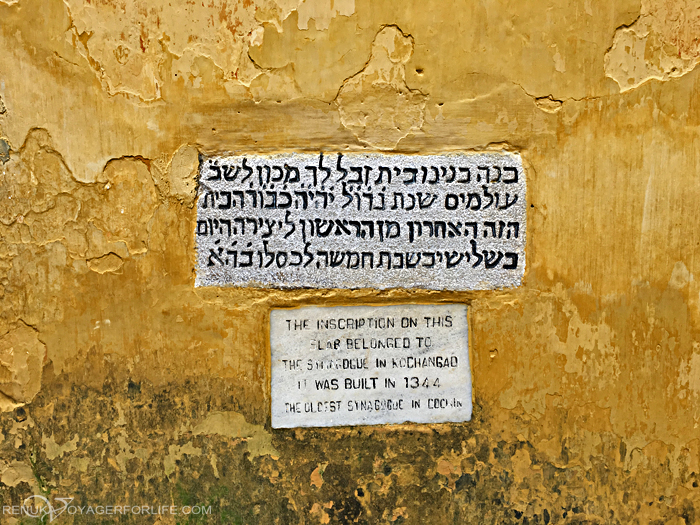 Buy spices from the 600 year old factory shop.
Although there are lots of spice shops in Jew Town, you should definitely pay a visit to this old factory shop called 'All Spices Market'. The shop is on the first floor, and you have to climb the old, creaky wooden ladders for it. The place reminded me of my granny's house. And yes, I shopped a lot. I mean I usually don't shop too much on my travels. But this particular shop has so much to offer that you get carried away. So, be careful what you buy!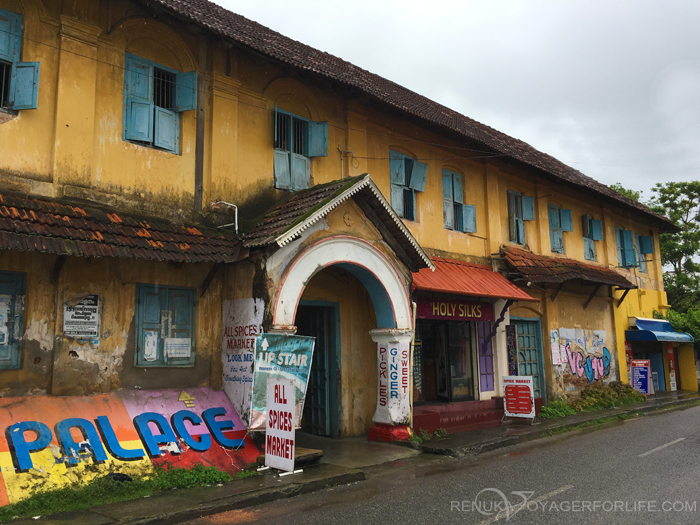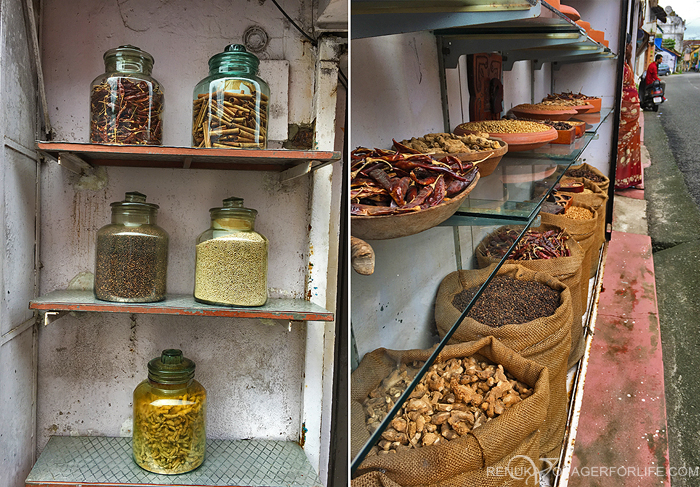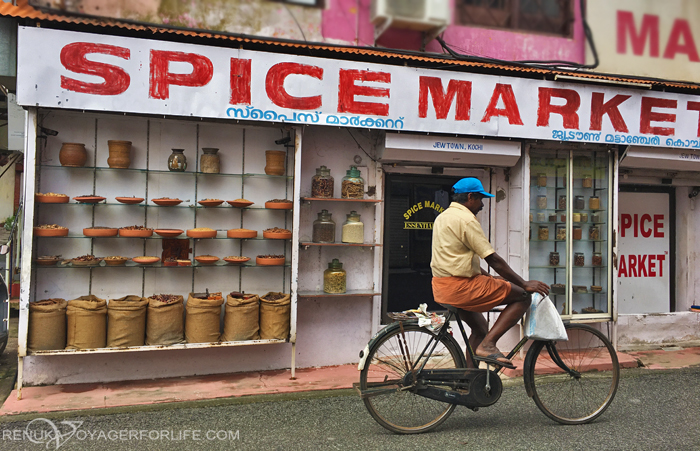 Sneak into the old Ginger factory.
Besides the spice market, make sure to visit the dry ginger factory in Jew Town. I happened to discover it while I was casually wandering, and taking photos. I sneaked inside the factory as it started to rain. The aroma of ginger wafted in the air, the workers smiled at me hoping to be photographed by me, while I just savoured the refreshing whiff and lingered around.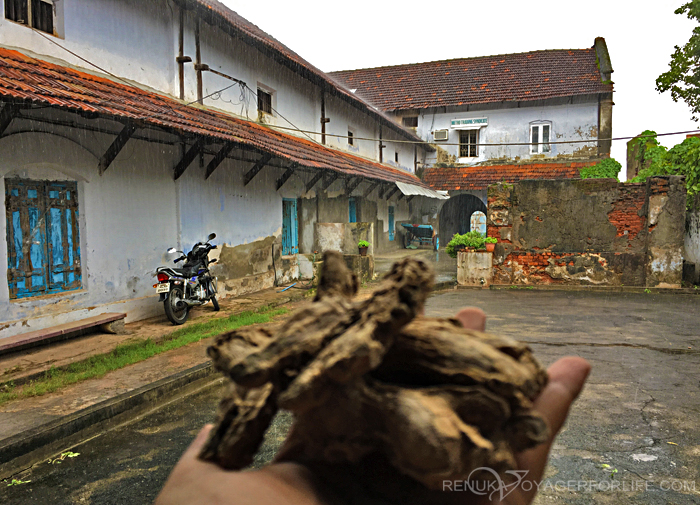 Talk to the locals
Make it a point to have a chitchat with the locals of Fort Kochi because it's going to add more dimension to your overall experience. I enjoyed my conversations with the folks at David Hall Art Café, Pepper House and Teapot café. It's nice to get a few insights from them and learn how the love for art in Fort Kochi has evolved over the years.
Is there a place you want to go back to?
Enjoyed this post? Subscribe to receive 'new posts' right in your inbox!
---
---